Thu May 3, 2012 12:17pm
By the National Football Post

Tommy Rees made a bad decision at a very inopportune time.
The Notre Dame quarterback, who is the incumbent in the team's battle for the starting quarterback gig, was arrested and jailed on a preliminary felony charge following a confrontation with police trying to break up an off-campus house party early Thursday.
The 19-year-old was arrested on charges of resisting law enforcement, felony battery to law enforcement, minor consumption and public intoxication. He was being held without bond until formal charges are decided, police said.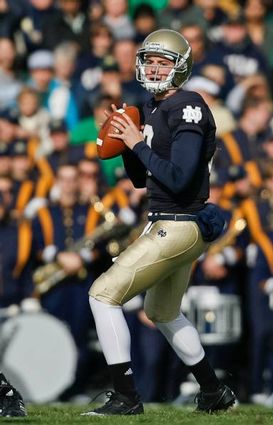 ICONA poor off-the-field decision may mean bad news for Tommy Rees in Notre Dame's QB derby.

Police also arrested 20-year-old Carlo Calabrese on a misdemeanor charge of disorderly conduct. The linebacker was released after posting $150 bond.

So how does the arrest of Rees affect his chances to start the season opener in Dublin against Navy?

We've obviously seen plenty of college football players have run-ins with the law and still return to the field immediately, but one would have to think some disciplinary action will be taken by head coach Brian Kelly.

Will Rees be shelved for any game time? Quite possibly not, but the fact that this arrest comes at a crucial time in his career does not bode well for the signal-caller whose grip on the starting job was slipping away as he continued to turn the ball over in 2011.

A little over a week ago I argued that Kelly and the Fighting Irish offensive staff should turn the offense over to rising sophomore Everett Golson, who along with Andrew Hendrix and Gunner Kiel is locked in a battle with Rees. Golson performed like he was the best quarterback on the field and the best fit for this offense in the team's spring game, as the 6-foot, 185-pounder brings the most athleticism, excitement and intrigue to the position out of all of the signal-callers vying for the starting job.

Golson was also the only QB to not throw an interception in the game, and Kelly has maintained throughout the spring that ball protection is the biggest criterion in this derby. The Fighting Irish ranked 118th in turnover margin last season, and ND will not be able to win many games with a brutal schedule in the fall if the Irish turn the ball over consistently as they did last year.

My guess is that Hendrix has the slight edge on Golson because of his experience, but I believe Golson will get plenty of snaps this fall. As for Rees, he put himself in an even more difficult spot with a poor off-the-field decision early Thursday morning. He now must wait and see how Kelly responds to this incident.

Email dave.miller@nationalfootballpost.com or follow me on Twitter at Miller_Dave

Follow @footballpost on Twitter for the latest news