Sun May 20, 2012 7:00am
By the National Football Post

If Russell Wilson or Kellen Moore had Andrew Luck's size, the first round of the draft might have looked a little different. As it was, the two little guys found homes much later, Wilson going to the Seahawks in the third round and Moore signing with the Lions as a free agent.
The reports from each team's rookie camp indicated both players might have an NFL future worth monitoring. Seahawks coach Pete Carroll even is saying Wilson could contend for a starting job.
So what I wanted to know is what the Seahawks and Lions saw in Wilson and Moore that others did not. Or more specifically, why they thought Wilson and Moore could compensate for being 5-10 and 6-0, respectively.
Wilson was almost universally rated considerably higher than Moore. Even though Moore is about an inch and a half taller, Wilson plays like a bigger quarterback. He has a thicker build and bigger hands (10 ¼ inches to 9 ½). And he has a much stronger arm.
"They are completely different types of players," an AFC scouting director said. "The biggest difference is arm strength. You saw it very clearly at the Senior Bowl. And Wilson is short but he is built like a bigger guy."
They deal with their height deficiencies in different ways. Wilson relies more on his athleticism; Moore relies more on his mind.
"He is the closest player I've done to Drew Brees and Jeff Garcia in terms of sliding, finding lanes and creating for himself," Seattle general manager John Schneider said of Wilson. "He can slide and he has quick eyes. From an accuracy, anticipation standpoint, he is the closest to Drew Brees."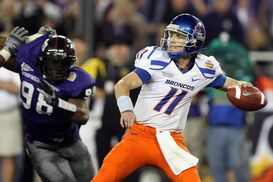 Sometimes, smaller quarterbacks like Moore can play like bigger ones.
The name of Drew Brees also came up in the Lions draft room, where Moore was deemed a draftable prospect. "You like to get guys who don't have to develop as much in the mental game," Lions offensive coordinator Scott Linehan told me. "Kellen has some physical things he will have to work on, shore up, adjust. But the guy has what it takes, the 'It' factor or whatever people want to call it, to get it done. I think he's ready to come in and transition to the NFL game right away, do it his way. He has a really good understanding of football. He controls the whole system they ran in college. You aren't going to last long as a quarterback in the NFL if you don't have it upstairs. That won't be an issue for him."
This is what an NFC personnel director said of Moore: "He is a horrible athlete, but he might have the best mind in draft. He has amazing accuracy. He's more accurate than Luck. He doesn't have a strong arm, but it's enough for a West Coast offense."
After the Lions' rookie camp, Linehan raved about Moore's accuracy and also said he had a "sneaky good arm."
What is interesting is neither Moore nor Wilson had a problem seeing over linemen or getting off passes in college. Of course, the NFL is a different game, but some things remain the same at the next level.
These numbers, courtesy of the Stats Ice system, might surprise you. Only two of Wilson's incompletions were deflected at the line of scrimmage last season and only five of Moore's were batted at the line. Moore threw 439 passes; Wilson had 309.
That compares favorably to the four first round quarterbacks. Luck had two passes batted down at the line (404 attempts). Robert Griffin had nine (402 attempts). Ryan Tannehill had 19 (531 attempts). And Brandon Weedon had eight (531 attempts).
"Obviously Wilson's height is an issue," the AFC college scouting director said. "But he has not had a problem with his vision."
It will be up to Linehan and Seahawks offensive coordinator Darrell Bevell to find ways to minimize their new QBs' shortcomings. "We have a saying around here, 'Don't let the things you can't do get in the way of the things you can do,'" Linehan said. "Kellen is a great example of somebody who has a real good idea of what he can do, and he does it very well. People focus on a lot of his deficiencies as far as height. He has a good enough arm, it's not a great arm. He can get things done in a different way,"
There is a lot to like about Moore and Wilson, but a lot of teams looked past their strengths because they couldn't see past their height. "We can go down the list of quarterback attributes, and you get done with it, and everyone says, Wilson is short," Schneider said. "Let's talk about presence, leadership, poise, accuracy, delivery quickness, arm strength, ball handling skills, movement in the pocket, escapability. He has all of that."
It will be interesting to see if it those traits become apparent in the NFL.
Things I Didn't Used To Know
*Mario Williams was a right defensive end the last time he had his hand down, but the Bills are moving him to the left side on his request. Sources tell me Williams, who played left end in college, told the Bills he is more comfortable on the left than on the right, where he played in Houston. This will enable the Bills to put their speed rushers on the right side. Mark Anderson and Shawne Merriman will compete for time at right end. Merriman, by the way, has gotten outstanding reviews in his comeback attempt from an Achilles injury, and looks like he will be able to help the Bills if he can stay healthy.
*Despite Jerome Simpson's legal troubles, he is not perceived as a bad kid. Maybe a gullible one, but not a bad one. That's why the Bengals tried to re-sign him, and why one team thought he would have made $5 million a year if he had not been arrested last fall. Many people who know him spoke up on Simpson's behalf during the free agent process. It's worth noting that even though Simpson was sent two and a half pounds of marijuana in the mail, he has not tested positive and is not in the NFL substance program. As a player, Simpson has unusual ability to stretch the field. If he can clean up some of his dropped passes (he had eight last year), he could make a real impact for the Vikings.
*Not much attention was paid to the Colts selecting 6-4, 335 pound offensive lineman Justin Anderson in the seventh round, but the pick was telling. In the Peyton Manning era, the Colts were known for acquiring undersized, athletic blockers who weren't the best in power matchups. Anderson is the opposite of that, and his selection is an indicator of where the Colts offense is heading. With Bruce Arians running the offense and Harold Goodwin in charge of the offensive line, the Colts are looking for bigger, more physical blockers who can help the team have a balanced offense so they don't have to ask too much of their rookie quarterback Andrew Luck. A little size on the offensive line also will help the Colts match up with the AFC powers who run 3-4 fronts.
My Sunday Best: Short Quarterbacks
The list of great short quarterbacks is, well, a short one. I defined "short" as 6-0 or shorter. I did not include quarterbacks who played before the 1960s because the game has changed so much since then. There were many great short quarterbacks pre-1960, including hall of famers Dutch Clark, Paddy Driscoll, Benny Friedman, Arnie Herber, Sid Luckman and Ace Parker. Here are my best short quarterbacks. Who would you add to the list?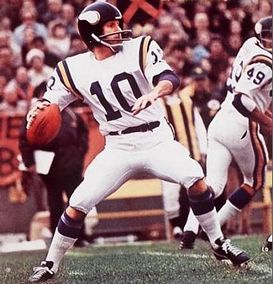 Tarkenton was fun to watch.
1. Fran Tarkenton, 6-0. This hall of famer was voted to nine Pro Bowls, played in three Super Bowls and is a former MVP. When he retired, he had every significant passing record. He won 124 games, which is tied for fifth most in NFL history even though he played the bulk of his career when the season was shorter than it is today. With his mobility, "The Mad Scrambler" probably would have fit in well in today's game.
2. Sonny Jurgensen, 5-11. This great former Eagle and Redskin won three passing titles on his way to the Pro Football Hall of Fame, including one at the age of 40. Some thought he was the best passer of his era.
3. Drew Brees, 6-0. A six time Pro Bowler, an offensive player of the year, a Super Bowl MVP and a comebacker player of the year, Brees will be discussed as a candidate for the pro football hall of fame one day. Last year he threw for more yards than any quarterback in history. He has benefited from playing for a great coach in a great system in an ideal environment, but there is no disputing he is a great quarterback who finds ways to compensate for lack of height.
4. Len Dawson, 6-0. The MVP of Super Bowl IV and a hall of famer, Dawson was known for his accuracy and poise. He struggled early in his career with the Steelers and Browns before his career took off with the Dallas Texans, and then the Chiefs.
5. Joe Theismann, 6-0. He was NFL MVP in 1983, made it to two Pro Bowls and helped Joe Gibbs win a Super Bowl. He went 77-47 as a starter. Theismann was an athletic quarterback who could avoid pressure, but he wasn't athletic enough to avoid Lawrence Taylor on the play that ended his career.
6. Michael Vick, 6-0. We think of Michael Vick as many things, but rarely do we think of him as a short quarterback. But he is. Vick gets away with being short because he is the greatest running quarterback ever. He has been invited to four Pro Bowls and won the NFL comeback player of the year award in 2010.
7. Eddie LeBaron, 5-7. The Little General is in the Redskins ring of fame and made it to four Pro Bowls. The Redskins listed him at 5-9, but LaBaron has fessed up to being 5-7. He was unprotected by the Redskins in the expansion draft in 1960, and the Cowboys claimed him, making him their first ever quarterback. The veteran of the Korean War never had a winning season, and he threw 37 more interceptions than touchdowns in his career.
8. Billy Kilmer, 6-0. He backed up both Jurgesen and Theisman at different points, but started 124 games himself and made it to the Pro Bowl in 1972. He is in the Redskins ring of honor.
9. Doug Flutie, 5-10. Flutie was a great college player, a great Canadian player, but an uneven NFL player. He had his moments over 12 NFL seasons for four teams (five if you count the Patriots twice), winning comeback player of the year and making the Pro Bowl in 1998, and winning 70 percent of his starts for the Bills over three years. His record as an NFL starter was 37-28, but he was 0-2 in the postseason. Flutie had exceptional movement skills, and ran for 1,634 yards in his career.
10. Pat Haden, 5-11. The current Southern Cal athletic director had a nice two year stretch with the Rams in 1977-78. He made it to the Pro Bowl in 1977 after taking over for Joe Namath, and won a playoff game in 78 before losing in the NFC Championship game to the Cowboys. He couldn't stay healthy after 1978, and his career lasted only six years.
11. Bob Berry, 5-11. He started 53 games for the Vikings and Falcons, backing up another short QB, Tarkenton, in his second stint in Minnesota. Berry had a 106.5 passer rating in 1969 and was selected to the Pro Bowl when he played for the Falcons.
Scout Talk: Short Quarterbacks
If anyone knows about short quarterbacks, it's Chargers general manager A.J. Smith. He was involved in the Bills' and Chargers' acquisitions of Doug Flutie as well as the Chargers' drafting of Drew Brees—two of the best short quarterbacks of all time. So I asked Smith his thoughts on short quarterbacks.
"Being short is a detriment to a quarterback, no question," Smith told me. "You cannot ignore that there will be limitations if they are a starter or if they are playing in the league for awhile."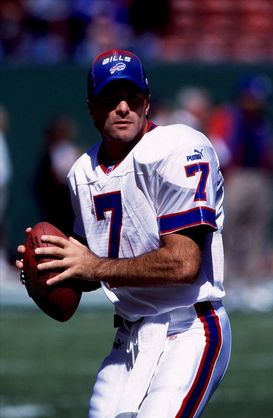 Doug Flutie defied conventional scouting wisdom.

Smith said shorter quarterbacks have to compensate for their lack of height in other areas. And he believes there are necessities for shorties. They are: great vision; great instincts; the ability to move and shuffle to find passing lanes; and a quick release. "If a short quarterback doesn't have those things, I'd lean away from him," Smith said. "Flutie had all those things."

Evaluating Flutie in 1998 was different than evaluating Russell Wilson in 2012, Smith pointed out, because Flutie had been a professional, both in the NFL nine years earlier, and in the Canadian League. Flutie was more of a known commodity.

But he defied conventional scouting wisdom. "Doug had a knack," Smith said. "Big hand on the ball. See the windows, ball would come out right now. I don't know how he actually threw. I used to stand behind him just to get a feel. I couldn't figure it out, even the long balls."

Smith differentiates between Flutie short (5-10) and Brees short (6-0). "At 5-9 ½, it's almost a different animal," he said. "But at 6-0, or even 6-1, you still are in a category where lack of height is a problem."

Smith notes that Brees has become better at compensating for his lack of height as he has become more experienced. "With Sean Payton in New Orleans, Brees gets himself back [in the pocket] to get that vision," Smith said. "The arm is better now, the release better. You can do that as a pro. Drew figured out his deficiencies and improved."

You might even say he grew as a quarterback.

One Man Yelp: The Power Of Habit

We all have the ability to choose what we want, and to chart our own destiny, right? Well, kind of. In the best selling The Power of Habit: Why We Do What We Do In Life and Business, New York Times journalist Charles Duhigg demonstrates that we develop habits that essentially rule our lives, often without even realizing what we are doing. One researcher concluded that 40 percent of the actions people performed each day were habit. The hows and whys of habit formation and change are dissected with help from more than 300 scientists and business leaders.

The point is if we can understand how habits become habits, we can control them, or obliterate them if we so desire.

One of the most powerful parts of the book is about Tony Dungy. One of the reasons Dungy was passed over for many head coaching jobs before being hired by the Bucs is he kept telling people in interviews that he thought the key to winning was changing players' habits. He thought if he could reduce decision making and make reactions automatic, or habitual, he could win big.

"Champions don't do extraordinary things," Dungy said in the book. "They do ordinary things, but they do them without thinking, too fast for the other team to react. They follow the habits they've learned."

But Dungy did not want to create new habits in players, he wanted to change old habits by altering their routines. It might have come across as too much new age psychology for a lot of meathead NFL minds. But then-Bucs general manager Rich McKay bought it, and Dungy eventually turned around the Bucs and won a Super Bowl with the Colts.

Duhigg uses businesses, societies and people to illustrate his points. The stories are fascinating.

Understanding habit loops—the cue, the routine and the reward—is is the foundation Alcoholics Anonymous is built on. The department store Target figured out how to tell when women were pregnant—in some cases before the women themselves knew—based on their buying habits. In the case of aluminum company Alcoa, Duhigg recounts how a new corporate emphasis on safety had wide ranging effects on all areas of operations, and turned Alcoa into a much more profitable company. In the case of Starbucks, instilling discipline in baristas, and then giving them authority, has resulted in a place many of us can't wait to go back to. We learn how Rick Warren went from just another preacher to the leader of the world's biggest megachurch, Saddleback.

This book will take your mind to a place it probably has not been before. Like a good book should.

Hot Reads

*If you haven't read the George Koonce piece on transitioning to post-NFL life, you should.

*Some interesting thoughts from Jason Whitlock on how to save football from itself.

*Check out Pete Prisco's list of the top 100 players in the NFL. Good stuff here.

*Unless Jonathan Vilma truly was a ringleader in the Saints' bounty program, and not just a stooge who was doing what he was told, he should not have been suspended for an entire year, and he will have a case against the league in court. But the NFL clearly believes it knows something we do not.

*How can Brett Favre's number be retired when we can't be sure if Favre will stay retired?

*One of the first things most football players learn is to keep your mouthguard in place. Wes Welker apparently did not, and now it might cost him.

Dan Pompei covers pro football for the Chicago Tribune. Follow him at Twitter@danpompei

Follow @footballpost on Twitter for the latest news