From The Godfather: FSGA Champions Draft
Mon Mar 15 9:39am ET
By CHARLIE WIEGERT
Contributing Writer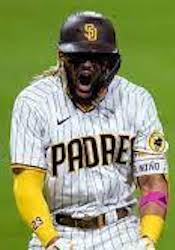 High hopes for Tatis this year
It has been my good fortune to participate in two fantasy sports industry experts drafts, a 14-team SiriusXM FSGA Champions League and a 15-team Tout Wars League draft. Hopefully, my analysis of these drafts can be helpful for you with drafts for your coming season.
Based on last year, and that's risky because it was only sixty games, I adjusted my targets for these leagues. Once again in 2020, stolen bases were down and home runs were up. Also, wins and saves were down, and I expect that to continue, along with strikeouts with a loss of innings. Many teams are talking about limiting their starting pitchers innings, and some are going to a six-man rotation. That can only mean less strikeouts! What this has also meant in my two drafts is an abundance of starting pitchers taken early because everyone seems to want at least one ace and a 180-plus innings guy. There were 11 starters that went in the first two rounds of the FSGA and 12 in Tout Wars.
Those pitchers taken stayed close to the same order with Gerrit Cole, Jacob deGrom and Shane Bieber the top three. Trevor Bauer, Walker Buehler, Yu Darvish, Lucas Giolito, Max Scherzer, Aaron Nola, Luis Castillo and Jack Flaherty following those top guys. Clayton Kershaw and Brandon Woodruff were both taken in the second round of Tout Wars. And Flaherty and Zac Gallen fell to the third round in Tout. Perhaps Flaherty's slow spring start has dropped his value.
I'm hoping Flaherty rebounds with an ace like year since in the FSGA draft he was my second pick. Drafting out of the No. 2 spot and after taking Fernando Tatis with my first pick, I was looking at 11 starters already gone before my second pick. I followed up with White Sox outfielder Eloy Jimenez and then 25 picks later I decided to take the first reliever, Liam Hendriks. The player I was hoping for was taken a pick before me by USA Today's Steve Gardner, Aaron Judge. It was one of those spots where no other player jumped at me, so I decided to take one of the few sure thing save guys. Three picks later, I took a guy that could help in all five categories, Trent Grisham. And 25 picks later and with 27 starting pitchers gone, I realized I was one of three teams without a second pitcher and took Hyun Jin Ryu.
Next, I needed to address my middle infield position other than shortstop. My hope is Jose Altuve rebounds with a big year. And 25 picks later I covered two other infield spots with third baseman Matt Chapman and first baseman Anthony Rizzo. All of a sudden, after nine rounds, my team was looking solid. A full infield, a couple outfielders, a couple starters, and a top reliever.
It was now time to look for the best value. In the 10th round, I took my third Padre, Tommy Pham, a guy going five rounds earlier last year. I think it is a great value if his health is back and performs like he is capable. Next, a couple starting pitchers, David Price and Marco Gonzales. Nothing spectacular about either, but the two will combine for 330-plus innings, 22 wins, 300 strikeouts with respectable ERAs and WHIP. Not bad for third and fourth starters.
Catchers were getting thin. There were12 already gone, so I went with another Padre, Aaron Nola. Can he continue what he was he was doing last year? If so, this is a great value. Next was Nolan Arenado's replacement at third base for the Rockies, Ryan McMahon - 25 home runs and 75 RBIs please. Most of the reliable closers, those that will get saves were gone at this point. But with Hendriks, I figure I only need 30 more saves, so taking a chance on one or two maybe guys could do it. Richard Rodriguez should close for the Pirates and Daniel Bard for the Rockies. Neither team is a favorite to win a lot of games, but both have a shot at 20 saves.
Next was a fourth outfielder, Jesse Winker, who seemed like the best guy left and a good bet for 25 home runs, 60 runs scored and RBIs. CJ Cron looks to take over first base in Colorado. He is another 25 home run and 75 RBIs guy, which is not bad for the 17th round. My next two picks I wish I could have back, Nate Pearson and Kwang Hyun Kim. But who knows, it might turn out. Baltimore starter John Means and Cardinals rebound candidate Miles Mikolas filled out the pitching, so I've got some waiver-wire work to do with the pitching.
Other end game players were Joey Wendle and Brandon Belt. Both are capable of helping the offensive stats. In the reserve round, still in need of a fifth outfielder and second catcher, I took four maybes in hopes one will get enough play in the outfield. The wild card, diamond in the rough, Robbie Grossman, Willie Calhoun, Shogo Akiyama and Tyler O'Neill. Plus, a need for stolen bases and any of the four could be good for 20. Waiting till the end doesn't offer a lot in catchers, so Francisco Mejia offers a chance for good numbers. If he doesn't pan out, there's always the waiver wire.
The end game lesson, especially if your league rules allow it, is not to worry about filling your starting roster until the last picks. I felt it more important to take a Joey Wendle that can cover at second, third and shortstop, which means middle infield and corner infield eligibility. And Miles Mikolas, who can be a solid starter. I thought they were better gambles than any of the options left at catcher and outfield. I really don't have an idea of which of the four I took at the end that will pan out, so why take them earlier?
So, how did I do? My projections (actually Baseball HQs) is .265 average, a bit low of the .270 target, 312 home runs, a bit above the 290 target, 935 RBIs, a bit shy of the 975 target, 111 stolen bases and 986 runs scored, short of the 1,030 target. Pitching, with Bard on the bench and Means in the starting lineup, projects to 81 Wins, right on target, 60 saves, 3 short of the target, 3.95 ERA (3.65 target) 1.25 WHIP (1.19 target) and 1,218 strikeouts (1,340 target). The best part of this exercise is I know where improvements need to be made. This is an exercise that every fantasy manager should do with every team they have!
Here's a link to the FSGA draft board: FSGA draft board.
My next article will examine my Tout Wars draft.
Charlie Wiegert was the sixth person to be inducted in the Fantasy Sports Hall Of Fame in 2001. He is a founder of CDM Fantasy Sports and Fantasy Sports Trade Association. He has been playing and winning fantasy baseball leagues since 1984. If you have any questions for Charlie, email them to cwiegert@cdmsports.com. Follow him on Twitter @GFFantasySports.