Pitching Primer: Week 27
Sun Sep 26 9:08pm ET
By MIKE BARNER
Contributing Writer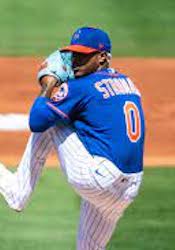 Stroman has been bright spot
We've made it to the final week of the regular season. If you're still battling it out in your fantasy league and need help on the pitching side of things, a key couple of starts this week could be the difference. The problem is, with most teams off Monday and a lot of teams moving to six-man rotations, there aren't many pitchers projected to take the mound twice. Things could also change over the course of the week as the playoff picture comes more into focus. As things currently stand, let's highlight the following five pitchers who are listed to start twice each.
Zack Wheeler, Philadelphia Phillies: at ATL, at MIA
Wheeler couldn't have pitched much better than he has. In fact, his 2.61 FIP across 206.1 innings is one of the main reasons why the Phillies are still in the hunt for a playoff spot. One of the biggest reasons for Wheeler's improvement this season is his 29.2 percent strikeout rate, which is more than five percentage points higher than his career mark.
The Phillies have to be ecstatic that they have their ace lined up to start twice, especially with how important their series with the Braves is. While that might be a tough matchup for Wheeler, they have only scored four runs across 26.2 innings against him this season. If he also takes the mound against a Marlins team that has the third-lowest OPS in baseball, he could push his fantasy managers over the hump to earn a championship.
Marcus Stroman, New York Mets: vs. MIA, at ATL
While the Mets' starting rotation has seen its share of injuries this season, Stroman has been a constant for them. He's already made 32 starts, which is the fourth time that he's reached that threshold in his career. They have been mostly excellent starts, as well, given his 3.00 ERA that is supported by a 3.43 FIP. The one downside to him in fantasy is that he only has a 21.7 percent strikeout rate.
A second-half collapse has all but ended the Mets' playoff hopes. With that in mind, there's a chance that Stroman doesn't start their final game of the season against the Braves. The good news is that at least his first start against the Marlins is a favorable one. The two other times that he faced them, he allowed a total of three runs over 12.1 innings.
Wade Miley, Cincinnati Reds: vs. PIT, at PIT
Miley's otherwise stellar season has been marred by some struggles down the stretch. He's allowed at least five runs in three of his last four starts, but it shows how good he was early on that he still only has a 3.37 ERA and a 3.96 FIP. Part of the problem might be that he's logged 163 innings after pitching just 14 1/3 last season.
A stiff neck forced the Reds to push back Miley's last scheduled start, although the ailment is considered to be minor. As long as he doesn't suffer any further setbacks, he's lined up to face the Pirates twice. There is certainly some risk in starting him given his neck issue and the fact that he could be rested in their final game if the Reds' playoff fate has been decided. However, the risk could be worth the reward given that the Pirates have the second-lowest OPS in baseball.
Cal Quantrill, Cleveland Indians: vs. KC, at TEX
The good news for Quantrill is that he's recorded a sparkling 2.82 ERA this season. The bad news is that his 4.16 FIP indicates that he hasn't been nearly as impressive. Still, in a season filled with injuries to their starting rotation, Cleveland has to be pleased with the progress that Quantrill has made and the prospects of him slotting into the back end of their rotation again next season.
Of all the pitchers who are scheduled to start twice this upcoming week right now, Quantrill figures to be one of the safer ones to actually make both starts. Cleveland has moved to a six-man rotation, but they don't have any off days on the schedule. With the Royals and Rangers both ranked inside the bottom-six in the league in OPS, Quantrill could provide plenty of value in fantasy.
Josiah Gray, Washington Nationals: at COL, vs. BOS
Gray was one of the key pieces that the Nationals received in the deal that sent Max Scherzer and Trea Turner to the Dodgers. Even though he's a promising young pitcher, he's really struggled during his first season in the majors. His main issue has been his inability to keep hitters inside the ball park given that he has allowed a whopping 18 home runs across only 59 1/3 innings.
If you're looking for one of the few possible streaming options this week, don't even think about rolling with Gray. With his home run issues, a matchup at Coors Field could be disastrous. Things won't get much easier against the Red Sox, either, given that they have hit the second-highest slugging percentage in baseball.
Mike Barner has been covering fantasy sports since 2007. His work has appeared in Sports Illustrated, Yahoo, SportsLine and RotoWire. Mike was also a finalist for the 2018 FSWA Basketball Writer of the Year award. Follow Mike on Twitter @rotomikebarner.