Pitching Primer: Week 10
Fri May 26 11:43am ET
By MIKE BARNER
Contributing Writer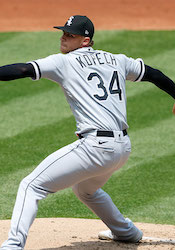 Kopech is trending the right way
It's hard to believe we have reached Week 10 already. With it comes the beginning of June. As we sift through all of the projected two-start pitchers for the week, let's highlight five of them and discuss what their matchups could mean for fantasy.
Sandy Alcantara, Miami Marlins: vs. SD, vs. OAK
Alcantara was one of the bets pitchers in baseball last year, which has made it strange to see him get off to such a slow start. His ERA sits at 4.86, which is a stark contrast from the 2.28 ERA that he finished with last season. If there is a silver lining, it's that his 3.80 FIP shows his ERA will likely improve. His 6.0 percent barrel rate allowed is also on par with his 5.2 percent rate last season.
Alcantara is showing signs of improvement, allowing three or fewer runs in four of his last six starts. These two matchups should afford him with a favorable opportunity to improve his ERA further. Despite the big names in their lineup, the Padres have scored the sixth-fewest runs in baseball. The Athletics have been even worse, scoring the third-fewest runs while striking out the third-most times.
Michael Kopech, Chicago White Sox: vs. LAA, vs. DET
Over his first five starts, Kopech had a 7.01 ERA and a 1.71 WHIP. Over his last five starts, he has a 1.99 ERA and a 0.82 WHIP. What has been the difference? Well, the schedule has certainly worked in his favor. Three of his first five starts came against teams that rank inside the top-10 in baseball in runs scored. In his last five outings, three of his five opponents ranked inside the bottom-half of baseball in runs scored. Three of them also rank inside the top-10 in most times striking out.
The schedule brings a mixed bag for Kopech in Week 10. With Shohei Ohtani and Mike Trout leading the way, the Angels rank ninth in runs scored. However, the Tigers have scored the second-fewest runs. The Tigers matchup alone likely makes Kopech worth deploying in most leagues.
Bryce Elder, Atlanta Braves: at OAK, at ARI
With the Braves dealing with injuries, Elder has likely cemented a place for himself within their starting rotation. He has been excellent, allowing two or fewer runs in eight of his 10 starts. He has been taken deep just four times over 58 1/3 innings, while recording a 1.17 WHIP. The youngster has also been giving the Braves length, logging at least six innings in six of his starts.
This is another great week to roll with Elder in fantasy. As previously mentioned, the Athletics' lineup is terrible. The Diamondbacks won't be as easy, given that they have scored the seventh-most runs. However, Elder has shown that he can shut down potent lineups, including when he held the Dodgers to one run over six innings in his last outing.
Tyler Wells, Baltimore Orioles: vs. CLE, at SF
On the surface, Wells has a 3.47 ERA and a 0.84 WHIP that makes him look valuable in fantasy. However, there is plenty to be concerned with here. First, his 5.03 FIP likely indicates that there is some regression coming for his ERA. Second, he can't keep batters inside the ballpark. Over his 57 innings, he has already given up a whopping 13 home runs.
Facing the Guardians might not be that difficult for Wells because they have hit the fewest home runs in baseball. However, the Giants are tied for the sixth-most homers. Wells only has a modest 22.5 percent strikeout rate for his career, so the risk that comes with starting him might not be worth the potential limited reward.
Bryce Miller, Seattle Mariners: vs. NYY, at TEX
The Mariners continue to churn out promising young starting pitchers. Their latest gem has been Miller, who didn't pitch above Double-A before getting called up to the majors. However, he has dominated over his five starts, going at least six innings in each of them. He also gave up one or no runs four times.
As good as Miller has been, let's look at who has he faced. Three of his five starts have come against the Athletics and Tigers, who are two of the worst hitting teams. His most difficult foe was the Braves, who scored three runs off him over 6 1/3 innings. This is a difficult two-start week against a dangerous Yankees lineup and a Rangers team that is tied for the most runs scored in baseball. Benching him might be extreme, but for fantasy mangers who do decide to start him, it might be wise to temper your expectations.
Mike Barner has been covering fantasy sports since 2007. His work has appeared in Sports Illustrated, Yahoo, SportsLine and RotoWire. Mike was also a finalist for the 2018 FSWA Basketball Writer of the Year award. Follow Mike on Twitter @rotomikebarner.