Training Camp Preview: AFC West
Mon Jul 20 9:39pm ET
By JEFF PAUR
Sr Fantasy Writer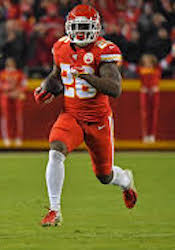 Williams still hopes to play role
This is the fourth preview in a series of training camp previews. We will continue to release the previews throughout the week. The previews give you a quick look at each team, going over position battles and injuries to watch in camp. The season is right around the corner.
Raiders
The Raiders made strides last year and will look to take another step forward this year. Much of the season might depend on Derek Carr, who has not been super consistent since joining the league. Carr will need to take his game up a level if the Raiders hope to compete in the very tough AFC West. Carr and his teammates will attend training camp at Raiders Headquarters in Henderson, Nevada.
Position battle: The Raiders were a mess at receiver last year and looked to correct that this offseason with moves in the draft and free agency. There is a lot yet to be sorted, though. Henry Ruggs is the only likely starter out of the group. After Ruggs, the Raiders have Tyrell Williams, Zay Jones, Nelson Agholor, Bryan Edwards and Lynn Bowden looking for playing time at the position. All these players have their positives and negatives, so it should be an interesting battle this camp for playing time at the receiver spot.
Injury watch: Running back Isaiah Crowell tore his Achilles' before the start of last year and missed the entire season. He is trying to return from the injury and win a roster spot with the Raiders. He has 850-plus rushing yards two of the last three seasons he has played. Crowell can be a solid backup if healthy. He will need to prove he is all the way back from this injury if he hopes to win a role with the Raiders.
Broncos
Denver is hoping to take a step forward this year, hoping many of their young players continue to get better. The Broncos have a lot of young, offensive talent, so much of their season might depend on the development of those talented youngsters. Denver will need these guys to improve if they hope to make the playoffs, especially second-year quarterback Drew Lock. Denver holds training camp at Paul D. Bowlen Memorial Center in Dove Valley, Colorado.
Position battle: The Broncos signed Melvin Gordon this offseason, pairing him with Phillip Lindsay at the running back spot. Lindsay has been a 1,000-yard rusher each of the past two season for the Broncos, so don't discount him for a big role again this year. He won't just sit back and let Gordon take over as the lead back for the Broncos. Remember, Gordon did not look like himself last year, so he has a lot to prove in camp and preseason action if he hopes to start and get a ton of work in the Broncos offense this year.
Injury watch: Phillip Lindsay is expected to be just fine for training camp but is recovering from offseason wrist surgery. It is something to at least watch a little, especially since Lindsay has a lot to prove with Gordon now on the roster. Lindsay can't afford any setbacks if he hopes to have a decent role with the team this year.
Chargers
The Chargers have a new quarterback for the first time in a long, long time, so the quarterback position should be the focus of this training camp. Tyrod Taylor is expected to start this year with Justin Herbert getting groomed to take over at some point in the near future. The two quarterbacks will battle it out in training camp at the Jack Hammett Sports Complex in Costa Mesa, California.
Position battle: Melvin Gordon is gone, leaving Austin Ekeler as the starting back for the Chargers. The Charges like to rotate backs, though, so the backup has good fantasy value. And that backup job is up for grabs between Justin Jackson and rookie Joshua Kelley. Jackson impressed with his limited work last year but isn't going to be handed the backup job. Kelley is a talented rookie that could unseat Jackson as the No. 2 back.
Injury watch: Hunter Henry missed four games last year because of injury and is yet to play a full season since entering the NFL in 2016. He is not recovering from any injury at this point but his injury history makes him a player to keep an eye on in camp. Henry can play a big role in this offense as long as he is healthy and on the field.
Chiefs
The Chiefs are the defending Super Bowl champs, so expectations will be high for this team. Every team in the NFL will be gunning for the Chiefs. Kansas City will need to try to play with the same intensity of last year and maybe even up their game even more if they hope to repeat. The Chiefs quest for back-to-back championships begins at the Kansas City Chiefs Practice Facility in Kansas City, Missouri.
Position battle: The Chiefs took the first running back in the draft, selecting Clyde Edwards-Helaire in the first round. Edwards-Helaire is a capable three-down back that seems a great fit for the Chiefs offense. Damien Williams is still around, though, and done well with his chances in past seasons for the Chiefs. He is not going to just roll over and let Edwards-Helaire start. This two should have a legit battle for the right to be No. 1 back for the Chiefs.
Injury watch: The Chiefs really don't have any injuries of note, which is kind of surprising since they won the Super Bowl last year. The team played more games than nearly every team in the NFL but did a good job of staying healthy. Patrick Mahomes missed some time last year because of a knee injury, so he might be a player to watch in camp to make sure he is back to normal after that scare last year. Obviously, the health of Mahomes is key to the Chiefs having any chance at a repeat.
Jeff Paur is a two-time finalist for FSWA Fantasy Football Writer of the Year and won the FSWA award for Best Fantasy Football Article on the Web in 2011. He also was the most accurate expert in 2012, winning the FSTA Fantasy Football Accuracy Award. If you have any questions for Jeff, email him at jeff@rtsports.com. Follow Jeff on Twitter @jeffpaur.