Lineup Prep: Week 6
Wed Oct 14 9:29am ET
By JEFF PAUR
Sr Fantasy Writer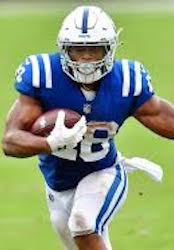 Taylor setup for big Week 6
It certainly has been an interesting first five weeks of the season and I would expect more of the same going forward. This is going to be a season like none others. Hopefully, things keep playing out the way they have and we can get in a full season. I think the league has done a good job in navigating this to date. I'm not sure if it will be too easy going forward, though, if more teams have to have teams moved. This could make for a very interesting finish to the fantasy season. Hopefully, things break your way the rest of the way.
Now for my random thoughts for the week. . . . .
I'm not selling high on Robby Anderson. I think he is the real deal in this offense. He has at least five receptions every game and 99 or more yards all but a game. I really think he can keep up his great play in this offense. His starts isn't a fluke. The Panthers are finding the right way to use him and utilizing his big-time talents. We always knew he was a talented player but consistency has always been the issue. Maybe some of that had to do with playing for the Jets.
First off, the injury to Dak Prescott was just brutal. You hate to see that happen to anyone, especially a star player like Prescott. As for the Cowboys offense, I do think it takes a bit of a hit with Andy Dalton as the starter. It won't be a huge drop, though. Dalton can still move the offense. He is more than capable based on his track record and the weapons at his disposal. I also think he can help fantasy teams on a spot start basis. Just expect the passing numbers to suffer some with Dalton at the helm. He is not going to be throwing for 400-plus yards like Prescott was before getting injured. The biggest benefactor of the offense might be Ezekiel Elliott, who could get more touches both as a runner and receiver. His numbers could get even better.
The only real logical fit I see for Le'Veon Bell right now is New England. That would make the most sense because of his three-down ability. He would seem to be a good fit for the offense. But you never know what the Patriots are thinking. And they will do their homework before making any move for a player like Bell, who has some question marks when it comes to attitude. It will be interesting to see if the Patriots make the move to acquire the veteran back.
Justin Herbert just keeps impressing. His Monday night performance was special, throwing four touchdowns on the road against the Saints. He has two straight three-touchdown games and seems to be getting better on a weekly basis. I don't think his start is a fluke. Herbert has the makings of something special, making him a possible fantasy star for years to come. He is the complete package at quarterback and has adjusted to the pro game much quicker than anticipated.
I'm not too down on Lamar Jackson just yet. His big issue is a lack of rushing touchdowns, having just one. That should change in the coming weeks. He still has multiple scores three of five games and has at least 45-rushing yards all but a game. He'll still be a top-five fantasy quarterback by the end of the season. If someone wants to get rid of Jackson, I would have no problem taking him. I think he'll get it going.
The return of Alex Smith was just remarkable last week. Just an unbelievable story. You have to root for the guy to keep it going after almost losing his leg two years ago. He might not be the starter going forward as long as Kyle Allen is healthy, but it was sure great seeing him get a chance on the field last week. This is the type of stuff that is made into movies.
I might have more shares of DK Metcalf than any other player this season and sure feel good about that. He has lived up to the preseason hype. Metcalf has at least 92 yards every game and touchdowns four of five. He is the top receiver in the Seahawks explosive passing game and should continue to play at a high level. Metcalf is a physical freak, making him a very tough cover. He can do it all. Enjoy the breakout.
I do think the Browns are for real. The offense just looks so much better, playing to Baker Mayfield's strengths. A good offensive line and top rushing attack can do wonders for the play of the quarterback. The Browns seem to have found that formula for the offense. Plus, you can't overlook the defense. Myles Garrett is one of the best pass rushers in all of football and the secondary can make plays. Cleveland is a pretty complete team on both sides of the ball and should contend for the AFC North title. The game this weekend should be a great one between the Browns/Steelers.
News and Notes: The Jets released running back Le'Veon Bell on Tuesday. He becomes a free agent and free to sign with any team. Meanwhile, the Jets will start Frank Gore at running back going forward. . . . . With the recent outbreaks in the NFL, the league has tightened the close-contact exposure COVID-19 rules, stating any player or staff member with close contact with a positive individual must be isolated for at least five days, even if the person is negative and remains asymptomatic.
HOT PLAYS
Adam Thielen, WR, Vikings. Thielen has been red hot this season. He has 26-plus fantasy points three of five games. He also has touchdowns all but one game and two 100-yard showings. He is having a big rebound season as the clear top target for Kirk Cousins in the passing game. Expect another big showing this week against the Falcons, a team 31st against the pass and allowing the third most points per game.
Myles Gaskin, RB, Dolphins. Gaskin scored his first touchdown of the season last week, finishing with 91 total yards and five receptions. It was the first time all season Gaskin topped 20 fantasy points. He has been getting more and more work in Dolphins offense, having double-digit fantasy points three straight games. He should continue his solid production this week. Gaskin plays the Jets, a team that has allowed nine rushing touchdowns and give up 129-rushing yards per game.
Ben Roethlisberger, QB, Steelers. Roethlisberger is off to a great start this year, having 21-plus fantasy points all four games. He has multiple touchdowns every game and at least 229-passing yards all four games. Roethlisberger also has just one interception on the season, doing a great job of taking care of the ball. He should continue his hot ways this week against the Browns. Cleveland is 30th against the pass and has allowed 12-passing touchdowns this season.
Mark Andrews, TE, Ravens. Andrews has been solid once again for fantasy teams. He has 17-plus fantasy points three of five games. He also has scores three of those games. He is about a must start for fantasy teams in this explosive Ravens offense. Andrews has a great matchup with the Eagles, a team that allows the third most fantasy points to tight ends. Philadelphia is average against the pass, allowing 241-passing yards per game.
Johnathan Taylor, RB, Colts. Taylor hasn't exactly lit it up his rookie year but has been consistent. He has double-digit fantasy points four of five games. Taylor also has scores three of this games. He has topped 70-rushing yards just once, though. But with the Colts passing game struggling, it might be time for the Colts to use Taylor more often. And that could start this week against the Bengals, a team that struggles to stop the run. Cincinnati is 29th overall against the rush, allowing 159-rushing yards per game.
COLD PLAYS
Tyler Boyd, WR, Bengals. Boyd has been the best receiver for the Bengals this year. He has two games with 20-plus fantasy points and seven or more receptions. He has endured a couple down games, though, having fewer than double-digit points two times. He has fewer than 45 yards each of those two games. It would not surprise to seem him have another down game this week against a very good Colts defense. Indianapolis is first overall against the pass, allowing just 180-passing yards per game.
Travis Fulgham, WR, Eagles. Fulgham had a breakout game last week, catching 10 passes for 152 yards and a touchdown. He has scores two straight games and has come out of nowhere to lead the Eagles in receiving. He is no sure thing, though, despite his great recent play. And the likely return of Alshon Jeffery clouds things just a little bit more for Fulgham. It would not surprise to see him come back down to earth this week against the Ravens, a team that allows the fewest amount of points in all of football.
Jamaal Williams, RB, Packers. Williams had his best game of the season his last time out. He caught eight passes for 95 yards, getting a big workout in the passing game with the Packers missing some options at receiver. This was his first game of the season with double-digit fantasy points, though. And the return of Davante Adams this week should take some targets away from Williams in the passing game. He should see a drop in fantasy production, getting around eight or so fantasy points. Don't expect a repeat of Week 4. Plus, he plays the Bucs, a team that is first overall against the run.
Brandon Aiyuk, WR, 49ers. Aiyuk is starting to make waves in the 49ers passing game. He has double-digit fantasy points two of three games. He has more than 50 total yards two of those games and found the end zone in two games (both times on the ground). The 49ers are finding ways to get the ball in his hands and he is producing. Aiyuk has a tough matchup for success this week against the Rams, though. There is a chance Jalen Ramsey shadows him all day, which could be bad news for Aiyuk. Plus, the 49ers are third overall against the pass, allowing just 216-passing yards per game.
Nick Foles, QB, Bears. Foles has been a little all over the map since taking over as the starter for the Bears. He has shown flashes of some really good things but made some poor throws as well. He is a hard player for fantasy teams to trust because of his inconsistency. And he has fewer than 16 fantasy points each of his two starts this season. His only game with more than 20 fantasy points was the game he came in relief of Mitchell Trubisky. Don't expect Folks to get going this week against the Panthers. Carolina has been stingy against the pass, ranking fourth overall. Plus, the Panthers have allowed just six passing touchdowns all season.
SLEEPERS

Chase Edmonds, RB, Cardinals. Edmonds doesn't get the workload of starter Kenyan Drake but he makes more plays with his touches. It just seems a matter of time before Edmonds starts getting more work. He has 15-plus fantasy points two straight and five receptions in each of those games. Edmonds has touchdowns three of five games. He is yet to have double-digit touches any game but look for that to change this week. Edmonds plays the Cowboys, a team that allows 156-rushing yards per game and seven rushing touchdowns.
Mecole Hardman, WR, Chiefs. Hardman gets a chance for more targets with Sammy Watkins out of the lineup. Hardman hasn't done much this year but hit double-digit fantasy points two games. He has four receptions two of three games and 50 or more yards two of those games. He should be involved in a high-scoring game with the Bills this week, meaning he could get some chances to make some big plays. He is a sneaky play as a No. 3 receiver.
Gardner Minshew, QB, Jaguars. Minshew has been more bad than good this year. He has been a top play all but a game. Minshew has at least 22 fantasy points four of five games. He has multiple scores four of those games and three 300-yard showings. Minshew keeps getting it done on a weekly basis for fantasy teams. Expect more of the same this week against the Lions, a team that allows 32 points per game.
Devonta Freeman, RB, Giants. Freeman got it going last week, his third with the Giants. He had 87 total yards and a touchdown. Freeman has two straight games with double-digit fantasy points. He seems to be up to speed in the Giants offense and is producing with his chances. Look for another good showing from Freeman this week against Washington, a team 130-rushing yards per game. Plus, Washington has allowed eight rushing touchdowns.
Preston Williams, WR, Dolphins. Williams finally got going last week, having his first game with more than 50 yards. He had four receptions for 106 yards and a touchdown. He has scores two of three games. He is becoming a bigger part of the offense as the season progresses. He has a matchup this week to continue his recent success, playing the Jets. New York allows 266-passing yards per game.
High/Low Scoring Games
Each week we will take a look at some of the high and low scoring games for the coming week. In high scoring affairs, get your marginal players on those teams in your lineup to take advantage of the possible points barrage. And in the low scoring games, keep those marginal players on the bench and make sure to have your defenses involved in those contests.
High Scoring Games: Texans/Titans, Falcons/Vikings, Lions/Jaguars, Chiefs/Bills, Cardinals/Cowboys.
Low Scoring Games: Bengals/Colts, Broncos/Patriots,
Bye Weeks: Raiders, Saints, Chargers, Seahawks.
Jeff Paur is a two-time finalist for FSWA Fantasy Football Writer of the Year and won the FSWA award for Best Fantasy Football Article on the Web in 2011. He also was the most accurate expert in 2012, winning the FSTA Fantasy Football Accuracy Award. If you have any questions for Jeff, email him at jeff@rtsports.com. Follow Jeff on Twitter @jeffpaur.