Lineup Prep: Week 14
Wed Dec 7 8:55am ET
By JEFF PAUR
Sr Fantasy Writer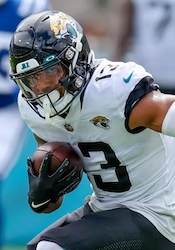 Kirk is producing big numbers
It is a little hard to believe, but this is the last week of the regular season in most fantasy football formats. And it is a tough one with six teams on a bye. The NFL schedule makers made it tough on us fantasy owners. Not fun. Hopefully, you aren't scrambling too much to fill a good lineup.
Now for my random thoughts for the week. . . . .
The NFL didn't do the fantasy community any favors by having six teams on a bye in Week 14. This is likely the last week of the regular season for many of you, so there is likely a lot on the line for many teams. And some of you could be without some key players, including Jonathan Taylor, Aaron Jones and Justin Fields. Not good. Hopefully, you can all overcome the byes and still make the playoffs. Good luck!

Amon-Ra St. Brown has moved into the elite category of fantasy seasons. He is sixth overall in fantasy receiver scoring despite missing a game and playing hurt in another. He is a target monster, getting double-digit targets six games. He is the real deal and going to be a star in this league for years to come.
The tight end position has been the most frustrating of all the fantasy positions this year. Outside of Travis Kelce, the rest of the position has been all over the map from week to week. I know I am having a hard time in many of my leagues because I have zero shares of Kelce. I would like to think I would have some kind of handle on when some of these guys have there big games, but there seems to be no rhyme or reason for when those games happen. So frustrating.
I'm really looking forward to the Bears surrounding Justin Fields with better talent next season. This guy is a superstar. He runs as well as any quarterback in the history of the game and seems to get better throwing the ball on almost a weekly basis. If the Bears get some help for him at receiver, watch out. Fields could be the top fantasy quarterback in the game before long.
With Samaje Perine playing so well, you have to wonder what the Bengals will do with Joe Mixon once he is healthy enough to play. I still think Mixon starts, but it could be more of a mix than it was before when both backs were healthy. I still think Perine will have some fantasy value, getting double-digit touches even with Mixon back. He could have some flex appeal, but might be a little more erratic for fantasy owners.
I feel like I'm beating a dead horse here, but I continued to be amazed by the season Geno Smith is having. He is sixth in fantasy quarterback scoring, ahead of Justin Herbert, Trevor Lawrence, Kyler Murray and Tom Brady. You all had that predicted, right? Smith just keeps getting it done and isn't slowing down. He has 21-plus fantasy points five straight games. His consistency has been off the charts this year. I'm anxious to see where he lands next year. He is going to cash in on this breakout season somewhere.
The Chargers are the most disappointing team in my view. I had very high expectations for them on both sides of the ball. I know injuries have been an issue, but I think coaching is a problem as well. It might be time to move on from Brandon Staley, who has failed to take this offense and Justin Herbert to heights that they deserve. It would be nice to get a top offensive mind in there to utilize Herbert better. This unit should be playing much better football in my view.
News and Notes: The 49ers signed quarterback Josh Johnson on Tuesday. The veteran quarterback should take over as the No. 1 for the 49ers and could even get some starts if rookie Brock Purdy shows any struggles. . . . .The Rams claimed quarterback Baker Mayfield off waivers from the Panthers on Tuesday. Mayfield could end up as the Rams starter as soon as he gets up to speed in the offense. . . . .Seattle signed running back Wayne Gallman to their practice squad on Tuesday. Gallman gives the team some depth at the position.
HOT PLAYS
Christian Kirk, WR, Jaguars. Kirk is having quite the first season with the Jaguars, posting big numbers as their No. 1 receiver. He has been very good lately, having 100-yard games two of three. He has 16-plus fantasy points three of four games. He has been very consistent in a suddenly potent Jaguars passing attack. He can keep up his hot ways this week against the Titans, a team that allows the most fantasy points to receivers this season.
Kirk Cousins, QB, Vikings. Cousins has been a little frustrating this year, posting some erratic numbers for fantasy owners. Even with that said, he is 12th overall in fantasy quarterback scoring, posting some big games along the way. He has 20-plus fantasy points seven times. He is capable of the huge game any given week in this offense. And he might have one of those big games this week against the Lions. Detroit allows the most fantasy points to quarterbacks and rank 27th overall against the pass.
Ezekiel Elliott, RB, Cowboys. Elliott might not be the same player as past years, but he is still getting it done on a weekly basis for fantasy teams. He has touchdowns five straight games and scored at least 15 fantasy points those five games. He also has double-digit carries every game and 15 or more eight times. Elliott might not have that monster fantasy game, but it will be above average in this offense. He should play well again this week against the Texans, a team that is dead last against the run. Houston allows 169.1-rushing yards per game.
Jerry Jeudy, WR, Broncos. Jeudy returned from his ankle injury last week and had four receptions for 65 yards. He topped double-digit fantasy points for the third straight game. He is the favorite target of Russell Wilson. And while Wilson hasn't been good this year, Jeudy has been better down the stretch. He can keep it going this week against the Chiefs. Denver should be playing from behind in this one, giving Jeudy more chances in the passing game. Plus, Kansas City struggles against the pass, allowing the fifth most fantasy points to receivers.
D'Onta Foreman, RB, Panthers. Foreman has really excelled since taking over as the Panthers starter. He had his fourth 100-yard game of the season last week, giving him 100-yard games four of six. He doesn't catch passes, but that isn't impacting his fantasy numbers too much. He is scoring for fantasy teams, having 16-plus fantasy points three times. Foreman can rack up the rushing yards again this week against the Seahawks, a team that is 31st against the run. Seattle couldn't stop a bad Rams rushing attack last week, allowing 171-rushing yards.
COLD PLAYS
Tom Brady, QB, Bucs. The entire Bucs offense remains in a bit of a funk. The team rallied late to win last week but wasn't very good much of the game, including Brady. He hasn't been quite himself this year, having seven games with fewer than 20 fantasy points. He isn't the sure fantasy starter of past year. Brady is bench material in tough matchups and this week against the 49ers is not a good one. San Francisco allows the fifth fewest fantasy points to quarterbacks. The 49ers have allowed fewer than 200-passing yards three of five games.
Dameon Pierce, RB, Texans. Pierce had a good game last week, finishing with 95 total yards on 21 touches. But remember, that came against arguably the worst run defense in football (Cleveland). Pierce was awful his previous two games, rushing 15 times for 16 yards against good run defenses. He gets another good team against the run this week, the Cowboys. Dallas has allowed just six rushing touchdowns this season and give up the fifth fewest fantasy points to running backs. Pierce could have another down showing in this one.
JuJu Smith-Schuster, WR, Chiefs. Smith-Schuster was having a fine first season with the Chiefs until he was sidelined with a concussion. Since returning from that concussion, he has six catches for 73 yards on seven targets. He has done little. We think he will get it going again in this offense, especially after playing a team high 76 percent of the snaps at receiver last week. But it might not be this week against the Broncos. Denver has one of the best defenses in football and allow the second fewest fantasy points to receivers.
James Conner, RB, Cardinals. Conner had one of his best games of the season his last time out, rushing for 120 yards. This was his first game all year hitting the 100-yard mark. Conner has done little on the ground outside of that. He has fewer than 50-rushing yards two of four games and five times this season. He is getting more work but that might not translate this week to more production. Conner plays the Patriots, a team that has allowed fewer than 60-rushing yards three of five games. New England allows the second fewest fantasy points to running backs.
Amari Cooper, WR, Browns. The return of Deshaun Watson didn't lead to better production for Cooper last week. The two weren't quite on the same page, connecting on four of nine targets. It was good to see Cooper targeted so much from Watson, but it might take some time for the two to get it going. We would not be surprised to see a similar result this week for Cooper against the Bengals. Cincinnati has a great pass defense and allow fifth fewest fantasy points to receivers. The Bengals kept a great Chiefs passing attack in check last week, holding them to 211-passing yards.
SLEEPERS
D.J. Chark, WR, Lions. Chark is becoming a factor in the Lions offense after battling injury much of the year. He had his best game of the season last week, catching five passes for 98 yards. He has 9-plus fantasy points each of his last two games, getting 11 targets during that stretch. He is the starter opposite Amon-Ra St. Brown in the Lions fairly explosive offense. Chark can have another good showing this week against the Vikings, a team that allows the second most fantasy points to receivers.
Jerick McKinnon, RB, Chiefs. McKinnon found the end zone last week and has double-digit fantasy points three of five games. Isaiah Pacheco might be starting, but McKinnon finds the field plenty, mainly because of his work in the passing game. He might get some good matchups this week against the Broncos, a team that is strong in the secondary. This might cause the Chiefs to dump the ball off more than usual, giving McKinnon a few more targets. He might be worth a flyer as a flex option in Week 14.
Van Jefferson, WR, Rams. With all the injuries at receiver, Jefferson is suddenly the top option in the Rams passing game. He has touchdowns two of four games and at least three receptions three of those games. And while he caught just two passes last week, he was on the field for all of the Rams snaps offensively. He is playing a lot and getting some weekly looks. He can do some damage this week if that happens against the Raiders. Las Vegas really struggles against the pass, ranking 30th overall. The Raiders allow 258.1-passing yards per game.
Ryan Tannehill, QB, Titans. Tannehill has been playing some pretty good football since returning from injury. He did struggle last week, but that was against a very good Eagles defense on the road. He still has 21-plus fantasy points two of his last four games. He is getting on the same page with his young receivers and producing more consistent numbers. Look for him to rebound this week against the Jaguars, a team that allows the eighth most fantasy points to quarterbacks. Jacksonville is just 29th overall against the pass.
Hunter Henry, TE, Patriots. Henry has been like much of the other fantasy tight ends this year not named Travis Kelce or Mark Andrews. He has been all over the map, producing good one week while disappearing the next. He scored 15.3 fantasy points in Week 12 and followed that with two catches on five targets last week. We like his chances for one of his good games this week. He has a plus matchup against the Cardinals, a team that can't stop the tight end. Arizona allows the most fantasy points to tight ends.
High/Low Scoring Games
Each week we will take a look at some of the high and low scoring games for the coming week. In high scoring affairs, get your marginal players on those teams in your lineup to take advantage of the possible points barrage. And in the low scoring games, keep those marginal players on the bench and make sure to have your defenses involved in those contests.
High Scoring Games: Vikings/Lions, Dolphins/Chargers.
Low Scoring Games: Jaguars/Titans, Ravens/Steelers, Bucs/49ers.
Byes: Falcons, Bears, Packers, Colts, Saints, Commanders.
Jeff Paur is a two-time finalist for FSWA Fantasy Football Writer of the Year and won the FSWA award for Best Fantasy Football Article on the Web in 2011. He also was the most accurate expert in 2012, winning the FSTA Fantasy Football Accuracy Award. If you have any questions for Jeff, email him at jeff@rtsports.com. Follow Jeff on Twitter @jeffpaur.