A's unsure when or if Kyler Murray will report
Mon Feb 11 12:29pm ET
By CARRIE MUSKAT
Associated Press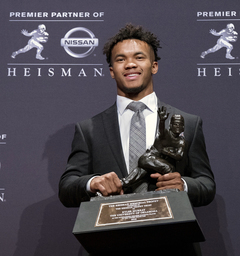 In this Dec. 8, 2018, file photo, Oklahoma quarterback Kyler Murray poses with the Heisman Trophy after winning the award in New York. Kyler Murray, the first-round Major League Baseball draft pick and Heisman Trophy-winning Oklahoma quarterback, says he is declaring himself eligible for the NFL draft. Murray announced his decision Monday, Jan. 14, 2019, in a tweet. (AP Photo/Craig Ruttle, File)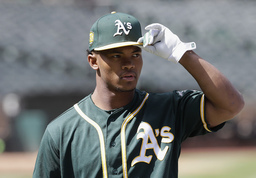 In this June 15, 2018, file photo, Oakland Athletics draft pick Kyler Murray looks on before a baseball game between the Athletics and the Los Angeles Angels, in Oakland, Calif. The A's still expect Heisman Trophy winner Kyler Murray, the former Oklahoma quarterback and first-round Oakland draft pick, to show up at spring training. He would report right away to big league camp, too. While Murray declared for the NFL draft, A's manager Bob Melvin hopes to manage him in Arizona. (AP Photo/Jeff Chiu, File)
MESA, Ariz. (AP) Kyler Murray's locker remained empty on Monday in the spring training clubhouse of the Oakland Athletics, who say they are uncertain when or if the Heisman Trophy winner will report to the baseball team he signed with last summer.
Billy Beane, Oakland's executive vice president of baseball operation, said talks are continuing with Murray, who may drop baseball to pursue an NFL career. The outfielder was selected ninth overall last June and agreed to a minor league contract that included a $4.66 million signing bonus.
The A's start full-squad workouts Saturday, a day after their position players report.