Twins acquire veteran OF Michael A. Taylor from Royals
Mon Jan 23 9:33pm ET
By DAVE CAMPBELL
AP Sports Writer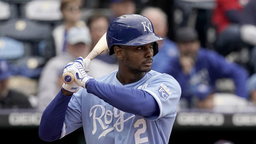 Kansas City Royals' Michael A. Taylor bats during a baseball game against the Minnesota Twins Thursday, Sept. 22, 2022, in Kansas City, Mo. (AP Photo/Charlie Riedel)
MINNEAPOLIS (AP) The Minnesota Twins acquired veteran Michael A. Taylor from the Kansas City Royals on Monday night, adding depth and defense to their outfield in exchange for two relief pitching prospects, according to a person with knowledge of the trade.
The person confirmed the deal to The Associated Press on condition of anonymity because the teams had not yet announced it.
Taylor batted .254 with nine home runs and 43 RBIs in 414 at-bats last season for the Royals, his second year with the club after spending his first seven major league seasons with the Washington Nationals. Taylor was a Gold Glove winner in his Royals debut in 2021 and gives the Twins a third outfielder on their roster who has won the award, joining Byron Buxton (2017) and newcomer Joey Gallo (2020 and 2021).
The Twins sent 23-year-old right-hander Steven Cruz and 25-year-old left-hander Evan Sisk to the Royals.
Cruz, a native of the Dominican Republic, went 1-4 with a 5.14 ERA, 35 walks and 72 strikeouts in 56 innings last season for Double-A Wichita.
Sisk, who was originally drafted by the St. Louis Cardinals in the 16th round in 2018 out of the College of Charleston, split last season between Wichita and Triple-A St. Paul. He went 5-1 with a 1.57 ERA, 29 walks and 76 strikeouts in 63 innings between the teams.