From the Godfather: Late Round Picks
Mon Feb 25 9:29am ET
By CHARLIE WIEGERT
Contributing Writer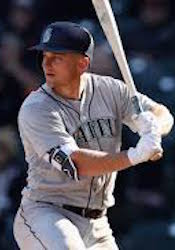 Seager can bounce back
Everybody likes to talk, and write, about the stars of baseball. They are the basis for your fantasy team, and will set the foundation. But many fantasy leagues are won with the players you pick after the 15th round. This article will go back and look and some of those players from last year as examples, and note some players to look for this year that could make valuable contributions.
In one of my leagues from last year, where five keepers can be rostered again the following year in a round earlier, I noticed my last pick in that draft in Round 29 was Atlanta starter Mike Foltynewicz. In Round 28, I selected OF David Peralta and Round 21 was Walker Buehler. While I didn't finish in the money in this league, these late round choices did provide a lot value (and stats) to my team, and they now provide a great start to this year's team. Peralta was coming back from a less than spectacular 2017, which was partly due to rebounding from an injury marred '16 season. He was projected to be an everyday starter, and proved worthy of the late-round pick.
Buehler and Foltynewicz were guys who impressed with late-season call-ups, showed great strikeout potential and had spots in their teams rotation. These are the type guys you should be looking for, players who had shown some level of success and appear to have good playing time this coming season. We'll look at some of those players below.
Other players who turned out to be good late-round picks were Gleyber Torres, Michael Brantley, Jack Flaherty, Travis Shaw, Patrick Corbin and J.A. Happ. A good mix of rookies, returning veterans from injuries, and players finally getting an opportunity. Again, areas where you should be looking for this year's late-round picks.
Here's a look at some of the players that could be this year's good late additions by position.
Catchers: Most are all late picks already anyway, but be careful not to take a catcher that can hurt your team, one with 400 plus at bats and under a .230 average. Danny Jansen looks to get the majority of the time behind the plate in Toronto, and while his counting stats might not be much (eight HRs, 40 RS, 40 RBI, two SBs), he should a .260 hitter. Another sleeper I talked about in my FSTA draft is the Tigers John Hicks, who played 21 games at catcher last year. He won't overwhelm anyone with his stats, but could hit 10-15 HRs and have a good batting average, albeit with less than 300 ABs. Jonathan Lucroy is another of the last catchers going off the board, another non-spectacular but safe catcher.
First Base: Tyler White looks to get a lot of playing time in Houston at 1B and DH, and I see 25 HRs and a .265 avg. Peter Alonso has a chance to play a lot of !B for the Mets, another 25 HR guy, but probably with a .240 avg. Wilmer Flores, who qualifies at 1B but will be the everyday 2B in Arizona, could be a 15-60-60 guy with a .265 avg. CJ Cron, Yonder Alonso and Justin Smoak have not been getting any respect in early drafts, but all three are a good source of HRs and RBI. Others are Justin Bour, who should see a lot of ABs for the Angels early on, Ryan O'Hearn, a super-late sleeper who will get a chance in KC, Ryan Zimmerman and Brandon Belt bouncing back from injuries, and Kelly Thames, who probably will need an injury from someone else to get much playing time in Milwaukee.
Second Base: Garrett Hampson is a guy to keep an eye on in Spring Training. He is fighting for the starting 2B job in Colorado, and we're always interested in any hitter in Colorado, right? But if Hampson wins the job, his most impressive stat will be SBs, look for 20 to 30. Ketel Marte will be the everyday center fielder for the Diamondbacks, a solid contributor in all five categories. Don't forget about Asdrubal Cabrera, slated for everyday duty in Texas, and another solid contributor. Joey Wendle is another solid player that can help your team, along with Jed Lowrie manning 2B for the Mets. Niko Goodrum, DJ LeMahieu, Starlin Castro and Ian Kinsler are all going late in drafts, but all three would make solid contributions to your team. As you can tell, 2B is a deep position this year. The really late sleepers are a couple young guys looking for playing time, Keston Hiura, Jeff McNeil and David Fletcher. And an old guy, Jason Kipnis, looking to rebound from injury. All could provide value to your team.
Third Base: Assuming Maikel Franco, Jake Lamb, Miguel Sano and Rafael Devers were part of the 18 taken earlier in drafts, the pickings are pretty slim with what is left. This might be a good time to make note that the third base position is weak this year and to draft one early.
Seattle 3B Kyle Seager will be looking to bounce back from a subpar 2018. He's only 31, so he should have some fuel left in his tank. His two-year average before last year were 28 HRs, 93 RBI, 81 RS, two SBs with a .260 avg. Jeimer Candelario will handle the hot corner and possibly bat leadoff for Detroit, which could lead to 80 runs scored. Add 20 HRs and 60 RBI to the good side, but a projected .240 batting average is a negative. Depending on your league rules, Nick Senzel could qualify at 3B. He had 14 games at 3B in the minors last year, and 28 at 2B. Cincy is rumored to play him in centerfield. He's a projected .300-plus hitter, with 15 HRs and 15 SB potential.
Shortstop: Another position with not a lot of seemingly productive players. Marcus Semien seems to be overlooked in most drafts, but the Oakland SS had a solid 2018 with 15 HRs, 14 SBs, 89 RS, 70 RBI and a .255 AVG. There's no reason the 28 year old can't replicate those stats this year. Dansby Swanson was highly touted, and should be back from last year's wrist injury. Same with Didi Gregorius, coming back from Tommy John surgery, but don't look for him before the All-Star break.
Three rookies are worth a bench spot because they could make major contributions this year if given the chance; Fernando Tatis Jr. in San Diego, Brendan Rodgers in Colorado and Bo Bichette in Toronto. It is worth noting, in the Manny Machado signing news, Machado was announced as their starting 3B, leaving the door open for Tatis when he's ready.
Outfield: There were 50 outfielders taken in the FSTA draft after the 15th round. Granted all will not be great contributors, but there are some great opportunities to get late-round values. Some of these players have a clear path to playing time, some will be platooning, and some will be waiting for the call up. I'll start with those who have a clear path to playing time, and projected to hit in the middle of the order (3-4-5): Trey Mancini, Steven Souza Jr., Shin-soo Choo, Dexter Fowler, Randal Grichuk, Teoscar Hernandez, Nick Markakis, Jorge Soler, Max Kepler, Jake Bauers, Franmil Reyes, and possibly Adam Jones. Those expected to bat lead off, a good source of runs scored are Brett Gardner, Kevin Kiermaier, Delino DeShields, Cedric Mullins and Nick Martini. Other outfielders who could provide some significant production are Jesse Winkler, Hunter Renfroe, Kole Calhoun, Kevin Pillar, Alex Verdugo, Matt Kemp, Joc Peterson, Avisail Garcia, Marwin Gonzalez, Jay Bruce, Daniel Palka, Jose Martinez, Bradley Zimmer and Keon Broxton.
That's a lot of interesting players, with a lot of unknowns. If I had to pick my top-five from this group, it would be Randal Grichuk, Max Kepler, Steven Souza Jr., Shin-soo Choo and Cedric Mullins.
Starting Pitchers: Again, there are plenty of players that will be in their teams starting rotation. Those that I think are worthy of producing positive stats (and 150-plus Ks) for your fantasy team are Julio Teheran, Trevor Williams (great second half last year), Ross Stripling, Jakob Junis, Steve Matz, Marco Gonzalez, Tyler Skaggs, Jimmy Nelson (rebounding from injury), Jesus Luzardo, Kyle Gibson, Hyun-Jin Ryu, Michael Wacha, Vince Velasquez and Michael Pineda (returning from injury). In addition, a couple others who might not start with the big league club, but I expect to contribute at some point are Forrest Whitley, Josh James, Brent Honeywell, Julio Urias, Mike Soroka, Touki Toussaint and Corbin Burnes.
My top five out of this group are Marco Gonzalez, Michael Wacha, Jesus Luzardo, Forrest Whitley and Julio Urias.
Relief Pitchers: I look for those who could get 15-plus saves and are worth stashing if the primary closer goes down with injury or loses the job due to poor performance. Ryan Brasier (could win the closer job this spring), Seranthony Dominguez (competing with David Robertson), AJ Minter, Brad Boxberger (has the closer job as of now), Pedro Strop (will open as Cubs closer until Morrow comes back), Brandon Morrow (will be back at some point), Alex Colome (competing with Kelvin Herrera for closer job), Ryan Pressly (If Roberto Osuna falters), Jordan Hicks (will share closer role with Andrew Miller) and Greg Holland (currently has closer job). Of course, Craig Kimbrel signing with any of these guys teams will make someone insignificant.
Charlie Wiegert was the sixth person to be inducted in the Fantasy Sports Hall Of Fame in 2001. He is a founder of CDM Fantasy Sports and Fantasy Sports Trade Association. He has been playing and winning fantasy baseball leagues since 1984. If you have any questions for Charlie, email them to cwiegert@cdmsports.com. Follow him on Twitter @GFFantasySports.