From the Godfather: Tout Wars, Part III 
Wed Mar 13 10:03am ET
By CHARLIE WIEGERT
Contributing Writer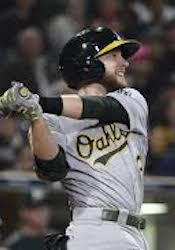 Lowrie is coming off big season
To see the draft, go to: Tout Wars draft board.
Sixteen rounds down, 13 to go! The strategy now goes to filling open slots and finding players to stash. I need a middle infielder, two outfielders, two pitchers, two catchers and six reserves. There are 240 players already drafted, so the pickings are looking rather slim.
My middle infielder choice was Jed Lowrie, who at 34 just had his second offensive explosion in a row in Oakland, was now coming to help the Mets offense. Other choices were D.J. LeMahieu, now out of Coors and in the Bronx, Ketel Marte, becoming the everyday centerfielder in Arizona, Yuli Gurriel or Andrelton Simmons. In retrospect, I think I made the wrong choice, as Lowrie is already shutdown for injury, and his status for opening day is in doubt. If I had a do-over, I'd take Gurriel.
There were 14 catchers gone, and I thought it would be a prudent idea to get at least one "safe" backstop on the roster. I have this gut feeling Jonathan LuCroy is going to have a good year for the Angels. Not only will he gain at bats because they'll want him behind the play to help out the young pitching staff, but he won't (hopefully) put up any numbers that can hurt. An expected OBP of .320 will be better than most of the sub .300 OBPs the rest of the catching group will be getting.
I filled out my pitching staff with Trevor Williams, Kelvin Herrera and Julio Teheran. Two solid starters in Williams and Teheran, who should be good for 170-plus innings and 150-plus strikeouts each. And Herrera has a chance to be the closer for the White Sox, making him well worth the risk at this point if he does win the job. My money there is on Alex Colome, who went in Round 13, so Herrera could be an early drop if he doesn't get the job.
What I was worried about early on in the draft, a weak pitching staff, has actually turned out to be alright. It won't be the best in the league, but it won't be the worst. You can never predict wins, but this group has the potential to get 95 to 100, 75 to 100 saves, 1,300-plus strikeouts, an under 4.00 ERA and 1.25 WHIP.
Next was filling the outfield, and there didn't seem to be any players that were great number fillers left. I now realize I waited too long to get outfielders, but in 15-team leagues, there are always weak spots. Nick Markakis will be solid in Atlanta, help the OBP and contribute some in the other categories. Teoscar Hernandez looks to have a full time roll in Toronto, and produce perhaps 25-plus home runs.
I filled the second catcher spot with John Hicks, another "safe" choice who will gain at bats at first base and DH in Detroit. I'm not looking for much, 300 at bats, with an OBP over .300 and 10-plus home runs. I was hoping Omar Narvaez would fall to me, but he went two rounds earlier.
With the active lineup now full, the picks are the reserves, so I'm looking to cover some team weaknesses and potential holes. Much talked about prospect Alex Verdugo could become a nice piece of my outfield at some point. With Bryce Harper not going to Los Angeles, my fear of his playing time disappeared. Here's hoping he becomes the player a lot of people are thinking he could be for the last two years.
Michael Taylor looks to be the fourth outfielder in Washington, and another player who could benefit from Harper not signing with his team. Adam Eaton doesn't seem to stay healthy, and with rookies Juan Soto and Victor Robles still young and subject to slumps, he could emerge with some significant playing time. If he does, he'll be good for 20 steals.
Now it's time to address the Lowrie injury. I did it by taking Chad Pinder, who qualifies at second base, and looks to win the starting job with the A's. His 13 home runs in 298 at bats last year projects to 25 home runs with full-time duty. I think the 27 year old is ready to make a statement in the majors this year.
Sneaky time! Tout Rules allow unlimited DL players, so taking Yoenis Cespedes in Round 28 could turn out to be a great move. There's really nothing to lose, and I can use his roster spot with a DL replacement the first week. And when he comes back after the All-Star break and hits 20-plus home runs, he could give my team the boost it needs to move up in the standings. And if he doesn't come back, I can release him and get some FAAB back for him.
Last pick, Mr Insignificant. Mine in future Hall-of-Famer Albert Pujols. Perhaps a little sentimental on my part as he has provided me with many happy moments in St. Louis. Last year, he had to deal with his share on injuries, but still managed to hit 19 home runs, his first year less than 20 since his rookie year. With Shohei Ohtani out till June, he has a couple months to show he can still produce. It will probably take an injury for him to get in my active lineup, but if he does, I'll take the home runs.
Looking back over the draft, and if I had it too do over again, I would have chosen an earlier draft spot. When I look at the teams in the five to eight spots, I like how they built their teams. I feel my team can be competitive, so it will be interesting to see how this league plays out. The draft is only part of the how your team finishes, management of the team during the season, use of FAAB and waiver pickups can make up for some drafting mistakes.
Charlie Wiegert was the sixth person to be inducted in the Fantasy Sports Hall Of Fame in 2001. He is a founder of CDM Fantasy Sports and Fantasy Sports Trade Association. He has been playing and winning fantasy baseball leagues since 1984. If you have any questions for Charlie, email them to cwiegert@cdmsports.com. Follow him on Twitter @GFFantasySports.