Hitters to Avoid
Thu Mar 14 10:27am ET
By MIKE BARNER
Contributing Writer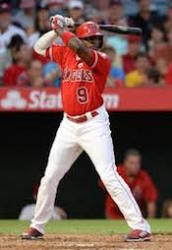 Upton trending the wrong way
Heading into every fantasy baseball season, people are looking for players who are going to have breakout years or some players who could out produce their current ADP. While finding those are important, sometimes avoiding certain players in your draft can be just as crucial in your quest for a title. With that in mind, let's discuss some players who it might be best to avoid when selecting your squad.
Ozzie Albies, Atlanta Braves: After showing plenty of promise during his first taste of the majors in 2017, the Braves handed the starting second base job to the 21-year-old Albies last season. He stormed out of the gate with nine home runs by the end of April, and had 17 home runs and 27 doubles by the time the calendar hit July. While he didn't walk much, he only had a 16.8 percent strikeout rate to go along with a 118 wRC+. His hot start earned him a spot on the NL All-Star team, but it all went downhill from there.
From July 1 on, Albies experienced a significant decline in his power numbers. His strikeout rate remained largely the same at 17.1 percent, but he posted just seven home runs and 13 doubles. After posting a 38.1 percent hard-hit rate out of the gate, he only had a 29.8 percent hard-hit rate from July 1 through the end of the season. His HR/FB rate also decreased from 14.8 percent to 7.5 percent. The end result was still a great campaign in which he hit .261 with 24 home runs, 72 RBI, 105 runs scored, 14 steals and a .324 wOBA.
There is no doubt that Albies is a talented player, but what should we expect from him this season? Well, his current ADP of 63.48 indicates people have high hopes. The problem is, that's a steep price to pay when you look at other second baseman who are being selected after him. Those names include Gleyber Torres (71.98), Daniel Murphy (89.73) and Scooter Gennett (98.62). Gennett has hit at least .295 with 23 home runs, 92 RBI and 80 runs scored in back-to-back seasons. Even Robinson Cano, who had a .364 wOBA across 80 games last year, could put up similar numbers as Albies and his ADP is 131.92. There's no reason to believe that Albies is going to have a bad year, but it might be wise to select someone else that early and cash in on one of the other second baseman mentioned later in the draft.
Justin Upton, Los Angeles Angels: Upton will turn just 32-years-old in August, so it's hard to believe that this will be his 13th season in the big leagues. He's been an excellent source for power numbers with at least 26 home runs in each of the last six years. Injuries have not been an issue for him, either, resulting in him playing at least 145 games eight straight seasons.
The problem with Upton has been his decline in batting average. He's batted .257 or lower in three of the last four seasons and posted a strikeout rate of at least 28.3 percent in each of the last three years, which is up from his career mark of 25.3 percent. His stolen base totals have also declined, leaving him to swipe just eight bases last year.
Upton is currently being selected just inside the top-100 with an ADP of 95.80. Some of that has to do with his consistent power numbers. However, with his decline in batting average and stolen bases, he might not be worth a selection that early. Some other outfielders being selected after him who could provide similar production include Michael Conforto, who hit .243 with 28 home runs last year for the Mets. He finds himself in a much improved lineup and has a current ADP of 127.06. Another intriguing name could be Aaron Hicks, who had a breakout campaign for the Yankees in 2018 with 27 home runs and a .360 wOBA. He's an injury risk, but his ADP is also just 144.05.
Dee Gordon, Seattle Mariners: Gordon has been one of the premier base stealers in the league over the last five years. Heading into 2018, he had recorded at least 58 steals in three of the previous four seasons. The only time he didn't reach that threshold during that stretch was when he was limited to 79 games due to a suspension in 2016. Even then, he managed to swipe 30 bases.
Unfortunately for those who selected Gordon with a high pick last year, he sputtered on the base paths with only 30 steals despite playing 141 games. It's hard to steal bases when you only hit .268 with a 1.5 percent walk rate. He provides virtually nothing in the way of home runs and RBI and only scored 62 runs, making him a tremendous disappointment.
Now that the Mariners have added Mallex Smith, there is the potential that Gordon hits toward the bottom of the Mariners' lineup. He can't afford to score any fewer runs with his limited home run and RBI totals. If he can't improve on his batting average, he's basically only going to contribute in one category if you play in a standard 5x5 league. With a current ADP of 91.37, buyer beware.
Buster Posey, San Francisco Giants: Once one of the premier catchers in baseball, playing the position every day seems to have taken its toll on the soon to be 32-year-old Posey. He only played in 105 games last year and posted a lowly .382 slugging percentage. His home run total has decreased in each of the last four seasons, bottoming out at just five last year. While he has a 11.4 percent HR/FB rate for his career, it was a meager 4.7 percent last year.
The good news is that Posey is still not striking out much and hitting for a high average. That's basically been his only saving grace. The Giants' lineup is lacking impact bats, so even if Posey is able to stay healthy, it's hard to envision him contributing much in the way of RBI and runs scored. His current ADP is 135.14, which is eighth highest among catchers. While that's reasonable for the position group, it's hard to justify selecting him so early. Players being selected around the same point in the draft include Cano, Victor Robles (134.52) and Eloy Jimenez (136.10). Don't overpay for a catcher just to fill the position.
Mike Barner has been covering fantasy sports since 2007. His work has appeared in Sports Illustrated, Yahoo, SportsLine and RotoWire. Mike was also a finalist for the 2018 FSWA Basketball Writer of the Year award. Follow Mike on Twitter @rotomikebarner.