From the Godfather: Week 4 Advice
Mon Apr 15 10:03am ET
By CHARLIE WIEGERT
Contributing Writer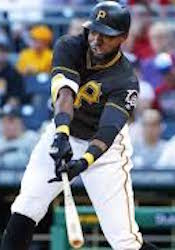 Polanco set to return this week
As we head into Week 4, we're starting to get a good idea of some players we might have misjudged. Now is a great time to rectify those mistakes. There is a lot of season left to correct those miscues.
Last week, I suggested Christian Walker, who looks to get the majority of the playing time at first base in Arizona, might be a nice add. The right handed slugger had four of his next six games coming against lefties, who he had been crushing so far this year (three home runs and a .276 avg.). In the five games so far this week (Tuesday to Saturday), he's managed just one single in 10 at bats, seven strikeouts and his average is now down to .209. He's now droppable as you can write off that mistake.
The other suggested pick up, Dan Vogelbach, is still crushing it for the hot Mariners. Hopefully, you took my advice and picked up Downtown Dan and stayed away from Worthless Walker.
Week 4 has only three teams (Oakland, Houston and Pittsburgh) with 5 game slates, and there are no interleague games where the DH will be sitting in a NL park. One nice schedule setup worth noting is Philadelphia playing four games at Coors Field next weekend. If the snow is gone from Colorado, look for Phillies sluggers Bryce Harper, Rhys Hoskins, Maikel Franco and the rest to enjoy some offensive.
The pitching matchups I like this coming week are good but not great. If you're streaming pitchers, the best bets look to be Seattle's Mike Leake (home start against a sad Cleveland lineup, road start against the Angels) and Atlanta's Max Fried (home against the Diamondbacks and road start at Cleveland). Unfortunately, both pitchers are scheduled to have their start against Cleveland with Shane Bieber on the mound for the tribe, who has been their best hurler.
Two other starters with a nice week coming up, but probably not on your waiver wire, are Detroit's new ace Matt Boyd (two home starts against the Pirates and White Sox) and Tampa's Tyler Glasnow (home start's against Baltimore and Boston).
There's always a lot of injury information. Some you're not sure of what to do. And some that could be opportunities. Mike Trout sits out with an inflamed right groin, but the hope is he returns to the lineup Tuesday, and he could do more in two or three games than a replacement player in seven, so if the Angels don't put him on the DL, he should probably stay in your lineup.
Gregory Polanco nears a return, which is earlier than expected. He probably went undrafted in most leagues, so savvy owners in need of outfield offensive help might want to grab him now.
Be wary of Nick Castellanos, it sounds like a DL trip might be coming as his big toe is not improving. Teammate Niko Goodrum suffers from the flu bug but should be playing again Tuesday.
Other players due back this week include Clayton Kershaw, Rich Hill, Todd Frazier, Francisco Lindor and Jason Kipnis (Brad Miller was released by the Tribe). In a flip of players, the Blue Jays sent Lourdes Guerriel to AAA and brought up Eric Sogard.
A couple players you might see miss the start of games this week are Harrison Bader and Andrew Benintendi.
Have a great week!
Charlie Wiegert was the sixth person to be inducted in the Fantasy Sports Hall Of Fame in 2001. He is a founder of CDM Fantasy Sports and Fantasy Sports Trade Association. He has been playing and winning fantasy baseball leagues since 1984. If you have any questions for Charlie, email them to cwiegert@cdmsports.com. Follow him on Twitter @GFFantasySports.