Pitching Primer: Week 5
Fri Apr 19 12:10pm ET
By MIKE BARNER
Contributing Writer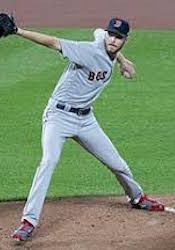 Sale is off to rough start
Offense certainly hasn't been hard to come by at the start of the season. While that might be great news for plenty of hitters on your fantasy squad, it could be just as bad for some of the members of your pitching staff. While digging through pitchers that are scheduled to start twice in Week 5, a couple of struggling pitchers stood out. Let's discuss how to handle them and a few others based on their upcoming matchups.
Chris Sale, Boston Red Sox: vs. DET, vs. TB
It's hard to believe that Sale has struggled so much in his first four starts. Let's put into perspective just how bad some of his stats are. He's already allowed 17 earned runs across 18 innings after allowing 37 earned runs across 158 innings last year. While he's only allowed 0.9 HR/9 for his career, he's already given up five long balls so far. Finally, his swinging strike rate is only 11.1 percent after it was at least 14.9 percent in both of the last two seasons. A key area of concern has been his velocity, or lack thereof. His average fastball velocity is only 92.8 mph compared to his career average of 94.7 mph. If there was ever a time for him to get back on track, it will be in his first start of Week 5 against the Tigers, who have the fourth-worst OPS (.615) in the league. Amazingly, they only have seven home runs as a team. His start against the Rays won't be easy, but Sale is still worth starting despite his early struggles.
J.A. Happ, New York Yankees: at LAA, at SF
Happ might not be as big of a name as Sale, but he's also off to a noteworthy poor start, having allowed 15 runs over his first 18 2/3 innings. His velocity is on par with his career mark, but what might be contributing to his struggles has been the increased use of his slider. While he only threw the pitch 12.7 percent of the time last season, he's thrown it on 19.7 percent of his pitchers this year. He's coming off of his best start of the season against the Red Sox on Wednesday, allowing three runs across 6 1/3 innings. The Angels have showed some signs of life with Mike Trout back, but the Giants are tied for the fourth-fewest runs scored (62), so keep Happ in your starting lineup as this could be the week that he shines.
Kevin Gausman, Atlanta Braves: at CIN, vs. COL
Gausman has to be happy about getting out of the American League, specifically, the American League East. He had a 1.38 WHIP and had allowed 1.5 HR/9 with the Orioles last year, but only recorded a 1.14 WHIP and 0.8 HR/9 over 10 starts after being acquired by the Braves. He's off to another hot start this year having allowed just six runs over 19 2/3 innings. Just as exciting is his 31 percent strikeout rate, which is a huge improvement over his career mark of 21.4 percent. Week 5 presents an excellent opportunity to lock him into your lineup with two starts on tap. First, he'll get to face a Reds team that is tied for the fourth-fewest runs (62) in the league. While a matchup against the Rockies might seem imposing, it's key that the game will be played in SunTrust Park. The Rockies only had a .665 OPS on the road last year compared to a .852 OPS at home.
Brad Peacock, Houston Astros: vs. MIN, vs. CLE
The Astros had a couple of spots open up in their starting rotation after parting ways with Charlie Morton and Dallas Keuchel over the winter. Peacock was excellent out of the bullpen with a 2.82 xFIP and a 35.3 percent strikeout rate last year, which combined with his previous experience as a starter, has helped him to fill one of those voids. He's still pitched out of the bullpen a couple of times due to off days allowing the Astros to use just four starters, but he'll be lined up to start twice in Week 5. While his second start against the Indians might seem like a great matchup, it should be noted that Francisco Lindor (ankle/calf) will likely be activated from the IL by then. Despite that complicating matters, Peacock is still a streaming option to consider starting based on his strikeout upside.
Zack Godley, Arizona Diamondbacks: at PIT, vs. CHC
Godley became a regular member of the Diamondbacks starting rotation in 2017 and pitched well with a 3.32 xFIP, 1.14 WHIP and a 26.3 percent strikeout rate. That set up significant expectations for him last year, but he regressed with a 3.96 xFIP, 1.45 WHIP and a 23.4 percent strikeout rate. Not only did his strikeout rate decline, but his walk rate also increased from 8.5 percent to 10.2 percent. Unfortunately for Diamondbacks' fans and those who drafted him in fantasy, he's looked closer to the 2018 version of himself out of the gate this year with his 5.02 xFIP, 1.39 WHIP and 19.6 percent strikeout rate. Despite a favorable first start against the Pirates, the Cubs could give him plenty of problems in his second outing. It might be best to avoid starting him until he begins to show signs of pitching well on a consistent basis.
Mike Barner has been covering fantasy sports since 2007. His work has appeared in Sports Illustrated, Yahoo, SportsLine and RotoWire. Mike was also a finalist for the 2018 FSWA Basketball Writer of the Year award. Follow Mike on Twitter @rotomikebarner.