Pitching Primer: Week 18
Fri Jul 26 10:30am ET
By MIKE BARNER
Contributing Writer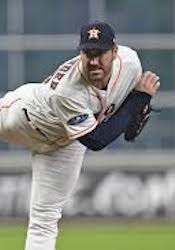 Verlander gets two starts
With the trade deadline set for Wednesday afternoon, a lot of things could change on a dime in terms of two-start pitchers for Week 18. Case in point, Marcus Stroman is in line for two great matchups against the Royals and Orioles. However, there's a chance he doesn't make either of those starts since he's one of the hot names on the trade market. Keeping that in mind, let's discuss five pitchers set to take the mound twice and decide whether or not they should be locked into your starting lineup.
Justin Verlander, Houston Astros: at CLE, vs. SEA
One pitcher who has been just about as vocal as anyone about the rumored change in the baseball this year is Verlander. He's allowed a staggering 1.7 HR/9, which is nearly double his career mark of 0.9 HR/9. Still, he's managed to overcome that to post a 2.86 ERA. The main reasons for his continued success have been his 0.84 WHIP and 32.8 percent strikeout rate.
With the Astros racing toward another AL West title, Verlander will first take the mound against an Indians team that is making a charge of their own to get into the postseason. They have hit better of late, but this still isn't a matchup to shy away from. Add in his second start coming against the struggling Mariners and he could provide a ton of value.
Caleb Smith, Miami Marlins: vs. ARI, at TB
Smith was one of the better surprises in baseball this season before going down with a hip injury in the beginning of June. After sitting out a month, he hasn't missed a beat by allowing three earned runs or fewer in each of his four starts since coming off the IL. During that stretch, he recorded 28 strikeouts over 24 innings.
While the Diamondbacks have some dangerous hitters in their lineup, it helps Smith that his first start of the week against them will come at pitcher-friendly Marlins Park. Facing the Rays in Tampa Bay means he'll have to deal with the DH, but they only have a 92 wRC+ against left-handed pitchers compared to a 105 wRC+ versus righties. While these aren't the safest of matchups, Smith still carries enough upside to warrant starting.
Jake Odorizzi, Minnesota Twins: at MIA, vs. KC
Odorizzi has hit a bit of a rough patch, posting a 7.99 ERA and a 1.71 WHIP over his last seven outings. Giving up nine runs over four innings in his last start against the Yankees certainly didn't help matters, but he also allowed eight runs over two starts against the lackluster Royals' lineup during that stretch.
Now the question is, was his excellent start to the season a fluke or are his recent struggles just a blip on the radar? If he is going to right the ship, facing the Marlins is certainly a good matchup to start with since they have scored the second-fewest runs (357) in baseball. Even with his recent struggles against the Royals, they are not a lineup that strikes fear in the hearts of their opponents. Taking a chance on this being the week he turns this around might be well worth the risk.
Kenta Maeda, Los Angeles Dodgers: at COL, vs. SD
Through 39 games last year, Maeda recorded a 3.81 ERA. He has an identical mark this season through 21 appearances. The difference is, his FIP was excellent last year at 3.22. This season hasn't been as promising with his 4.28 FIP. To top things off, he's been more homer-prone, allowing 1.4 HR/9 compared to 0.9 HR/9 last season. His strikeout rate has also dropped from 28.8 percent to 25.7 percent, further complicating matters.
At this point, it might be best only to start Maeda when he has favorable matchups. That certainly won't be the case when he faces the Rockies at Coors Field. The Padres also have plenty of power bats, so they can change the tone of a game in a hurry with one swing of the bat. There will be plenty of weeks going forward in which you'll want Maeda in your lineup, but this isn't one of them.
John Means, Baltimore Orioles: at SD, vs. TOR
The Orioles' pitching staff has been nothing short of a disaster this year. The one shining light in a sea of darkness has been Means, who has a 3.12 ERA to go along with a 1.14 WHIP. Despite his 4.46 FIP, indicating he hasn't pitched all that well, he's remained successful by limiting home runs and not issuing many walks.
Means has had a couple of rough outings lately, including when he gave up six runs over six innings against the Rays. However, he's allowed more than three earned runs in a start only two times all season. His outing against the Padres won't be easy, although he at least gets to avoid the DH with the game being played in San Diego. The Blue Jays have still scored the fifth-fewest runs (446) in baseball despite calling up some of their better prospects, making his second start of the week a bit more favorable. Wins might be hard to come by, but Means is still worth deploying in most formats.
Mike Barner has been covering fantasy sports since 2007. His work has appeared in Sports Illustrated, Yahoo, SportsLine and RotoWire. Mike was also a finalist for the 2018 FSWA Basketball Writer of the Year award. Follow Mike on Twitter @rotomikebarner.