Old Faces in New Places
Mon Jan 27 9:34am ET
By MIKE BARNER
Contributing Writer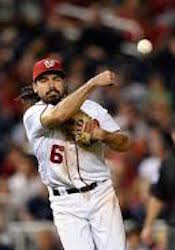 Rendon heads to the Angels
Have you thought about your fantasy baseball drafts yet? Although we're still in January, it's never too early to get a start on your preparations. Here at RealTime Fantasy Sports, we'll have a series of draft prep articles coming your way leading up to the start of the regular season. In our first article, we'll discuss some old faces that find themselves in new places and the impact it could have on their fantasy value.
Gerrit Cole, New York Yankees: The prized offseason pitcher on the free agent market was Cole, who emerged as one of the best starters in baseball during his two seasons with the Astros. He was coming off of a dominant campaign in 2019 in which he won 20 games to go along with a 2.50 ERA and a 0.89 WHIP. His 2.64 FIP backed his stellar ERA and he missed a ton of bats, leaving him with a 39.9 percent strikeout rate.
He goes from being a co-ace with Justin Verlander on the Astros to being the undisputed star of the Yankees' rotation. He has a stellar lineup to provide him with run support and a great bullpen behind him, so another 20-win season certainly seems like a realistic possibility. While his 0.89 WHIP might be difficult to duplicate, he was excellent in that department in 2017 with a 1.03 mark. If you want to draft him in your league, be prepared to take him in the first round. He's worth it.
Anthony Rendon, Los Angeles Angels: While Cole was the big pitcher on the market, Rendon was at the top of the heap on the hitters' side. He's batted at least .300 in each of the last three seasons, posting no higher than a 13.7 percent strikeout rate during any of those campaigns. He picked a great time to have the best season of his career, posting 34 home runs, 126 RBI, 117 runs scored and a .412 OBP in 2019. His wRC+ also checked in at a robust 154.
After helping the Nationals win the World Series, Rendon decided to cash in and sign a monster contract with the Angels. The Angels still have some holes in their lineup, but pairing Rendon with Mike Trout is a scary proposition for opposing pitchers in the American League. While it might take Rendon some time to adjust to his new surroundings, he should once again provide stellar production given his ability to contribute in so many different areas.
Corey Kluber, Texas Rangers: Last year was a lost season for Kluber. He entered as one of the top starting pitchers in fantasy, coming off of back-to-back seasons with a WHIP under 1.00 and an ERA under 3.00. If there was an area to be concerned, it was his ability to generate strikeouts. He exploded with a 34.1 percent strikeout rate in 2017, but regressed to 26.4 percent in 2018. That was more on par with his career mark of 27.1 percent. He struggled out of the gate last year, then went down with a broken arm. After injuring his oblique during rehab, he only ended up pitching a total of 35 2/3 innings.
With the Indians looking to cut payroll and flush with starting pitching, they decided to trade Kluber to a Rangers team that desperately needed to add depth to their rotation. The question is, which Kluber do we see this season? It's pretty safe to say that his strikeout rate in 2017 was more of an outlier that he likely won't approach ever again. However, it's not out of the question that with improved health, he could finish with an ERA around 3.50 and a WHIP around 1.15. That's still a very valuable fantasy option.
Hyun-Jin Ryu, Toronto Blue Jays: Ryu's problem hasn't had anything to do with his pitching abilities. His problem has been staying healthy. After logging 192 innings during his first season with the Dodgers in 2013, he hadn't logged more than 152 innings in any season since heading into 2019. He only pitched 126 2/3 innings in 2017, followed by 82 1/3 innings in 2018. However, everything came together for him on the health front last year, which resulted in him being one of the more pleasant surprises. He logged 182 2/3 innings, posting a 2.32 ERA and a 1.01 WHIP. He had a miniscule 3.3 percent walk rate, which was a big reason for his success. He also allowed just 0.84 HR/9.
With a career campaign in hand, Ryu cashed in to sign a four-year, $80 million contract with the Jays. While the move was good for his wallet, it might not be for his stats. Not only does he have to deal with the DH in the American League, but he'll have to battle with the Yankees and Red Sox in his own division. His 3.10 FIP indicates he is likely in line for some regression this season, although that's not exactly a scary number. What is scary is his career 22 percent strikeout rate. He can still provide value, but be careful that you aren't paying for last year's production when you draft him. His numbers are going to be on the rise.
Madison Bumgarner, Arizona Diamondbacks: Of all the players that changed teams during the winter, Bumgarner joining the Diamondbacks might one of the more difficult ones for our eyes to adjust to. He's spent all 11 years of his career with the Giants, becoming the anchor of their championship rotations. However, he's nowhere near the pitcher that he was in his prime, finishing last season with a 3.90 ERA that was backed by a 3.90 FIP. His strikeout rate was only 24.1 percent, although his 1.13 WHIP was impressive and not at all aided by his .289 BABIP allowed, which was almost right in line with his career mark.
Now a member of the Diamondbacks, there are red flags galore with Bumgarner. For his career, he has a 2.96 FIP and a 1.05 WHIP at pitcher-friendly Oracle Park compared to a 3.68 FIP and a 1.17 WHIP on the road. Those numbers have become particularly more drastic the last couple of seasons. In 2018, he had a 3.99 FIP and a 1.24 WHIP at home compared to a 4.99 FIP and a 1.45 WHIP on the road. Last season, he had a 3.48 FIP and a 0.93 WHIP at home compared to a 4.51 FIP and a 1.41 WHIP on the road. Buyer beware.
Yasmani Grandal, Chicago White Sox: It's no secret what Grandal brings to the table. He's a catcher who hits for power, but not for a high batting average. He made a big impact during his only season with the Brewers, launching 28 home runs and recording a .361 wOBA. He showed an improved eye at the plate, posting a 17.2 percent walk rate and a 22 percent strikeout rate. With regards to the home runs, he's now recorded at least 22 of them in each of the last four seasons.
Grandal's tenure with the Brewers didn't last long. He now finds himself as a member of the White Sox, playing in the American League for the first time in his career. That alone is appealing because Grandal could not only play first base, but even DH on days in which the White Sox want to give him a rest behind the plate. At a very thin catcher position, Grandal's power and consistency makes him stand out among the crowd. After J.T. Realmuto, he's right up there with Gary Sanchez in terms of the second-best option at the position. Sanchez certainly has more power upside, but he's been a drag in the batting average department the last two seasons. Either way, if you are prepared to draft a catcher early, Grandal should certainly be one of your main targets.
Mike Barner has been covering fantasy sports since 2007. His work has appeared in Sports Illustrated, Yahoo, SportsLine and RotoWire. Mike was also a finalist for the 2018 FSWA Basketball Writer of the Year award. Follow Mike on Twitter @rotomikebarner.