BABIP Trends
Fri Jan 31 9:25am ET
By MIKE BARNER
Contributing Writer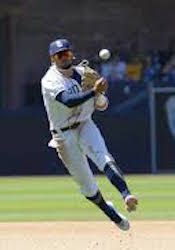 Tatis could see some regression
Fantasy baseball isn't just about looking at a hitter's counting stats and batting average. Those might still be the majority of hitting categories in some leagues, but it's important to examine advanced stats to gain an edge heading in your draft. There are a lot of great ones to consider, including batting average on balls in play (BABIP).
BABIP is certainly not the only stat that you should consider when evaluating hitters, but it can provide useful insight. Factors that come into play for this stat are a hitter's talent level, the opposing defense, and luck. If a player's BABIP in any particular season stands out from the rest of the league or his own personal track record, it could mean regression or improvement is coming in the future.
Let's look at some players who had some abnormally high or low BABIPs last year and discuss possibly what to expect from them this year.
Fernando Tatis Jr., San Diego Padres: Entering last year as one of the more highly regarded prospects in all of baseball, the Padres decided to deploy Tatis as their starting shortstop right from Opening Day. In a time when many teams try to manipulate their prospects service time, it was refreshing to see the Padres not worry about that and put their best talent on the field. He certainly didn't disappoint in his first taste of the majors, batting .317 with 22 home runs, 53 RBI, 61 runs scored and 16 steals across 88 games. Unfortunately, two lengthy stints on the IL robbed us of seeing what he could do over the course of a full season.
Tatis' advanced stats were also excellent. He recorded a .398 wOBA to go along with a 150 wRC+. However, two alarming stats are his 29.6 percent strikeout rate and his .410 BABIP. He dealt with strikeout issues coming up through the minors, so his struggles in that area were not all that surprising. While his speed does help with regards to his BABIP, his .410 mark led all of baseball. In fact, he was only one of four players to have a BABIP of at least .400. That right there indicates he is likely in line for some regression in that department. The question is, how much?
Tatis never had a BABIP above .370 in the minors, although that number is tough to gauge considering he never played above Double-A. What is encouraging is his 41.9 percent hard hit rate from last season. Still, I think it's pretty safe to say that we could see him regress at least between 35 and 45 points in terms of his BABIP. Even if he finished with a .375 BABIP, that was have been the 11th-highest mark in baseball. He is still a very valuable fantasy option given his combination of power and speed, but expect a significant decline in his batting average. Best-case scenario for him might be to hit around .280. A realistic batting average is more likely somewhere around .270.
Tim Anderson, Chicago White Sox: Talk about a season that came out of nowhere. Anderson did bat .283 during his rookie season in 2016, although he only played 99 games. However, in two full seasons after that, he batted .257 and .240, respectively. He strikes out a lot and doesn't walk much, which doesn't help him much in terms of his batting average. With that being said, Anderson shocked everyone by batting .335 last year, which made him extremely valuable when you combine that with his 18 home runs and 17 steals across 123 games.
A good sign for Anderson is that he cut his strikeout rate down to 21 percent, although he still didn't walk much, leaving him with a paltry 2.9 percent walk rate. The big difference was his BABIP, which shot up to .399. By comparison, his career BABIP is .345. His 32.2 percent hard hit rate was close to in line with his career mark, so no big outlier there. One significant change was that he only pulled the ball 32.7 percent of the time, which is down from 40.6 percent for his career. Like Tatis, his speed should help with regards to his BABIP. However, he's a clear candidate to be in line for significant regression. While I don't think he'll hit .240 again like he did in 2018 (he was somewhat unlucky with a .289 BABIP that year), he could easily see his batting average fall by at least 50 points compared to 2019.
Gio Urshela, New York Yankees: Another player who shocked us all last season was Urshela, who only played 19 games with the Blue Jays in 2018. He came up in the Indians' organization, but never played more than 81 games for them in any season at the Major League level. However, the Yankees were decimated by injuries in 2019, including losing promising young third baseman Miguel Andujar because of a shoulder injury. Urshela was known for his excellent defensive abilities, so the Yankees decided to give him a shot at third since their strong lineup could certainly absorb a weak hitter without skipping a beat.
Urshela brought the strong defense that the Yankees expected, but they could have never imagined that he would bat .314 over 476 plate appearances. He also hit 21 home runs and 34 doubles, leaving him with a .534 slugging percentage. He had a whopping 44 percent hard hit rate, which contributed to him posting a .349 BABIP that ranked inside the top-35 in baseball.
After a season like that, the Yankees have to give him another shot to start at third base, even with Andujar expected to be healthy for the start of the season. Andujar has been a mess defensively, so he might be better served to DH, anyway. With regards to Urshela's batting average, he only had an 18.3 percent strikeout rate and never really struck out a lot in the minors, either. However, a more realistic batting average for him might be around .270. Be sure not to overpay for him on draft day. If he does struggle, the Yankees have options to replace him.
Didi Gregorius, Philadelphia Phillies: While he might not have had the star power as some of the other players on the Yankees, Gregorius was a vital part of the team's success since he was acquired before the start of the 2015 season. He emerged to hit 20 home runs in 2017, which started a streak of three straight seasons with at least 20 home runs and 70 RBI. He also hit at least .268 in each of those seasons and posted a career-high .350 wOBA in 2018. He was forced to undergo Tommy John surgery in 2018, though, which forced him out until June of last year.
Even when he did return, Gregorius was not himself. He batted just .238, although he did hit 16 home runs across only 82 games. Another positive sign was his 34.4 percent hard hit rate. So, what went wrong? Well, his .237 BABIP didn't help matters. That was 22 points lower than his mark in 2018 and 41 points off from his career average. With another offseason removed from surgery, Gregorius could be in line for a better season, albeit this time as a member of the Phillies. He will have a familiar face as his manager in Joe Girardi, which should help with his transition. I expect his batting average to improve, but his power upside might not be as high. Across his five seasons with the Yankees, he hit 54 home runs at home compared to 43 on the road. With that being said, I like him to hit around .260 with at least 20 home runs, which is nothing to sneeze at if you don't grab a shortstop early.
Mike Barner has been covering fantasy sports since 2007. His work has appeared in Sports Illustrated, Yahoo, SportsLine and RotoWire. Mike was also a finalist for the 2018 FSWA Basketball Writer of the Year award. Follow Mike on Twitter @rotomikebarner.