Identifying Breakout Rookies
Thu Feb 27 10:08am ET
By LOGAN GLASER
Contributing Writer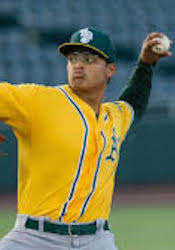 Luzardo has a ton of potential
Rookies play a very crucial role in all fantasy baseball leagues because they are the hidden gems in leagues. Most of them go unnoticed at drafts, but when they start producing in the big leagues, they fly off waivers. So how do you identify who will produce before they start generating results? There are three factors I take a look at before the season begins on all rookies: The opportunity they will have, the team/stadium they play, and the talent level they have.
Opportunity
The most crucial component is opportunity. When selecting a rookie, you want to look at players that will get the most playing time and make the most out of their opportunity. For example, Bo Bichette entered the '19 season ranked the No. 11 top prospect. However, the Blue Jays made it clear during the preseason that he wouldn't get the call-up to the majors until late into the season. While Bichette batted .311 with 11 home runs, he only had 196 at-bats, making him hard to get value from him by drafting him. This makes him a good midseason fantasy stream more than anything.
Going into the season, it is important to look at projections along with team news on possible injuries leading towards playing time for these players. A few rookies this year with good opportunities are Mitch Keller (PIT) and Gavin Lux (LAD)
Team/Stadium
I truly believe German Marquez is a top-10 MLB pitcher, but you can't draft him as such because he plays most of his games at Coors field. Marquez has played well over half his games in a hitter's ballpark, giving him a major disadvantage over the competition. If you take a look at his numbers, they are staggering. There is only one word to describe it: Coors.
When drafting rookies, you have to avoid guys like Marquez. Even though he has extremely high talent and great opportunity of being an ace with extended innings, you have to avoid him in drafts because of where he plays. If Marquez played for say the Giants, he would shoot up draft boards. He would go from pitching 60 percent of his games in a hitter's ballpark, to 60 percent of his games in a pitcher's ballpark. This would completely change his stats. The stadium plays a much bigger factor than you would think on where to draft rookies.
A few rookies with the best stadium advantages are Brendan Rodgers (COL) and Brendan McKay (TB)
Talent
Talent is the hardest of the three to predict. It is almost impossible to know how the players will transition from playing in the minors to the majors. Last year, Vlad Guerreo Jr. was the highly talented prospect coming up to the majors. Guerreo was being drafted around pick 69 in point leagues, meaning he had to have a pretty productive season to have value at that pick. He finished the year batting .272 with 15 home runs, which was very disappointing. So what happened? The initial transition can be hard for some players because it's a big change facing new pitches and velocity they aren't familiar. I tend to draft rookies that are five category players, so if they struggle in one category, they can still help out in others.
Rookies with highest ceiling this year are Luis Robert (CWS) and Jesus Luzardo (OAK).
The diagram above shows the top 10 rookies selected in fantasy drafts last year. Of the 10, only three players didn't achieve their value with Guerrero being the only one with huge negative value.
Rookies can be extremely successful at their current unknown spot as we saw last year with Alonso and Soroka. This year, that top rookie is Luis Robert. He's not going as high as Guerrero did last year, but still going in the top 100 ADP. Robert batted .328 with 36 home runs and 32 stolen bases in only 122 minor league games last year. What separates Robert from Guerrero is his five-tool ability. Robert is my favorite to win ROY and should be targeted in all fantasy leagues because of his ability to produce with power, contact and speed. Robert is currently going at 129 in point league drafts, which seems good value because he can easily put up a 20/20 season. While Robert is my favorite to win ROY, there are four other rookies I will be targeting in leagues.
Jesus Luzardo (95.72) – Luzardo got a small taste of the big-leagues last year, pitching 12 innings while recording a 1.50 ERA with 16 strikeouts. This year, Luzardo is entering the season healthy and is expected to jump into the A's rotation right away. Manager Bob Melvin has already come out and said there will be no limit on Luzardo's innings. However, coming off a lat strain injury year and past MLB teams limiting rookie innings is concerning.
2020 Projections: 154 IP 3.41 ERA 168 K's 12 W's
Dylan Carlson (300.18) – Carlson will most likely start the season in the minors, but should get the call-up quickly into the season. The Cardinals recently lost Marcell Ozuna and Jose Martinez, which should provide an opening for Carlson. Carlson will most likely start the season in the minors, but rumors going around that he is projected to get the callup in June. With the lack of talent the Cardinals have in outfield right now along with Carlson's pure talent, I expect him to have a very productive season in the middle of this lineup once he gets called up.
2020 Projections: 330 AB .274 AVG 14 HR 58 R 68 RBI 12 SB
Gavin Lux (163.63) – Lux got the callup late into 2019 for the Dodgers and even got nine postseason at bats. The Dodgers already had a scary lineup last year, but with the additions of Mookie Betts and Lux, this offense will be hard to stop. Lux hit .398 in the minors and will be slated to be the opening day second baseman for the Dodgers. Lux should get plenty of at bats with runners on and will be driven in by Betts. While Lux doesn't have alarming speed or power, I expect him to contribute in the RBI and runs categories, which should translate into a nice value pick.
2020 Projections: 510 AB .278 AVG 16 HR 86 R 84 RBI 9 SB
Nate Pearson (238.39) – Have you seen this guy pitch? If not, you have to check him out. He has one of the most electrifying pitchers in baseball with a nasty 100-plus MPH fastball. He may still be a year away, but will be hard to keep in the minors for long. Pearson is projected to get the call-up sometime during the summer, most likely in June. Depending on how many bench spots your league allows, I would stash him away at any pick over 200. Once he is called up, he will jump up into the top-100 players in baseball. Talent isn't the issue with Pearson, but just when will that opportunity will arrive.
2020 Projections: 80 IP 3.62 ERA 98 K's 5 W's