Finding Value: Good or bad
Fri Feb 28 10:54am ET
By MIKE BARNER
Contributing Writer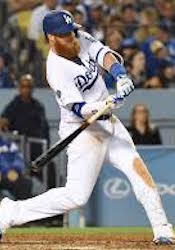 Justin Turner brings good value
With the calendar getting ready to flip to March, we are approaching peak fantasy baseball draft season. As we continue to try and prepare you for your league, it's time to take a look at some overvalued and undervalued hitters. With regards to the undervalued hitters, I generally like to avoid the term "sleepers" because there is so much information out there now that it's rare that a player flies completely under the radar. However, there are some players who could still provide excellent production compared to their ADP.
Overvalued
Manny Machado, San Diego Padres: After signing a big free agent deal with the Padres, things didn't exactly go well for Machado. He hit just .256 last season, which was the lowest mark of his career. His BABIP was a little low for his standards at .274, but part of the reason for his struggles was his career-high 19.4 percent strikeout rate. He also recorded just five stolen bases and may no longer be a significant contributor in that category.
On the positive side, he did play 156 games and slugged at least 30 home runs for the fifth straight season. He still had a 43.7 percent hard-hit rate and the Padres are continuing to try and build the team up around him. However, with a current ADP of 57.8, he's going to need to hit for a much higher average to be worth it. If he doesn't, he's a flop at his current ADP, especially when you can grab another third baseman like Josh Donaldson at his current ADP of 97.1. Donaldson is part of a loaded Twins lineup, so he could easily match, if not surpass, Machado in terms of home runs and RBI this season. Right behind him is Matt Chapman with an ADP of 97.5. He also hits for a poor average, but he provided more home runs, runs scored and RBI than Machado did last season.
Mitch Garver, Minnesota Twins: At the age of 28, Garver finally had a breakout campaign with the Twins last season. He only appeared in 93 games, but he still managed to provide 31 home runs, 67 RBI and 70 runs scored. He even hit .273 with a .404 wOBA. There's a lot to like here, so why do I think he's overvalued? For starters, his 29 percent HR/FB rate won't be easily duplicated. He was one of only 13 players to post a mark of at last 29 percent in that category last season, putting him among the likes of Christian Yelich, Aaron Judge and Pete Alonso.
I also don't think he's going to play much more than the 93 games that he played last season. Best case scenario for him is probably around 110 games. The widely accredited projection services The Bat, ATC and Steamer all have him pegged to hit between 17 and 21 home runs, which I think is a very reasonable range for him to end up in. His current ADP is 113.9, putting him higher than the likes of Nicholas Castellanos (116.6), Michael Conforto (125.5) and Miguel Sano (136.6). Don't overpay for Garver just because he is a catcher.
Undervalued
Justin Turner, Los Angeles Dodgers: If you're looking for a sexy up-and-coming prospect, you won't find one here in Turner. However, can I interest you in a player who had 27 home runs and a .219 ISO last year while batting .290 with a 16 percent strikeout rate? Did I mention his 50.4 percent hard-hit rate? Not only are those numbers impressive, but Turner has a career .292 average and has recorded at least 21 home runs and 72 RBI in three of the last four seasons. He finds himself as part of one of the most potent lineups in baseball, so his battle with injuries the last few seasons is likely the only thing that is keeping his ADP down at 153.6. I know he's a completely different type of player, but come on, even Mallex Smith is being drafted earlier with his ADP at 151.8. If you miss out on the top third baseman, make sure you don't let Turner slip by you in the middle rounds of your draft.
Kevin Newman, Pittsburgh Pirates: The Pirates are in the midst of a full rebuild, so their lineup leaves a lot to be desired. At least one appealing player that they do have left is Newman. He received his first chance at regular playing time last season and finished with 12 home runs and 16 steals across 130 games. On top of that, he hit .308 with a stellar 11.7 percent strikeout rate.
Steals are once again going to come at a premium this season, so to get a player like Newman that could easily steal 20 bases as the Pirates' leadoff hitter at his current ADP of 223.2 could make him a potential bargain. One thing I will add, though, is that with so little talent around him in the lineup, he still might struggle to score 80 runs.
Miguel Andujar, New York Yankees: Andujar looked like he was going to be a key part of the Yankees future based on his stellar rookie campaign in 2018. He showed a ton of power, producing 27 home runs, 47 doubles and a .230 ISO. While he didn't walk much, his strikeout rate was great at 16 percent and he managed to bat .297. The team was hoping for big things from him last season, but a labrum tear in his right shoulder left him to play only 12 games.
Andujar's path to playing time isn't as clear anymore considering how well Giovanny Urshela played at third base during his absence. With that being said, the Yankees are no strangers to injuries and have already suffered one with Giancarlo Stanton (calf) possibly set to miss Opening Day. They have also tried to move Andujar to other spots, giving him time both in the outfield and at first base. Between the outfield, third base, first base and DH, expect the Yankees to find a way to get Andujar's bat in the lineup. If he can play around four times a week, he could be a serious steal at his ADP of 232.4.
Mike Barner has been covering fantasy sports since 2007. His work has appeared in Sports Illustrated, Yahoo, SportsLine and RotoWire. Mike was also a finalist for the 2018 FSWA Basketball Writer of the Year award. Follow Mike on Twitter @rotomikebarner.