Middle Round Targets
Mon Mar 9 10:37am ET
By LOGAN GLASER
Contributing Writer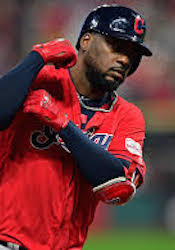 Reyes has big home run upside
At the beginning of the draft you know what to expect from your players (unless you drafted '19 Chris Sale). You are expecting top-tier production, and for the most part, that is the case. In 2019, 19 of the top 30 ADP players ranked in the top-50 players in terms of fantasy value and 27 of the 30 ranked in the top 100 for value. So while everyone is bundled up at the top, you need to look for separation from your league elsewhere.
Fantasy baseball drafts are won in the trenches of the middle rounds. This is where the "boom" or "bust" guys appear, and you need to nail these picks to compete for a championship. If you butcher on your middle-tier picks, you could be in for a long season. There's a couple of players that I will be trying to target in all of my leagues, but only if they match up with my mid-round draft strategies.
What positions to target:
This will vary based on your current roster. I like to keep a nice balance between position players and starters with a 2:1 ratio balance throughout the beginning and middle rounds of the draft. I like to throw in two closers between picks 110-160. Rather you draft hitter heavily or pitcher heavy in the opening rounds, it is important to find your balance in the middle rounds for roto leagues.
I was in a league last year where a guy drafted seven pitchers in the first seven rounds! His best position player was Puig and while he finished near the top in all pitching categories, he finished almost dead last in every single batting category, causing his team to finish 11th. This is what I avoid at all costs.
In some instances, it can be wise to throw away a category such as "saves" to load up on wins and strikeout, but normally these teams end up finishing near the middle of the pack. The top teams are balanced and perform excellent in some categories while remaining above average in the rest. So going into drafts, my strategy is to select the best players available early and balance out my roster during the middle of the draft.
Get familiar with where players are going:
You want to get familiar with several different platforms ADP, but most importantly, the ADP in your draft room. Going into drafts, I try to look at several different sites and compare where players are going on each site. You can find a lot of value plays on the site and also players that are going way too high. I find this extremely helpful when selecting middle-tier players because they have the biggest difference between rounds.
The most important thing is to familiarize yourself with your own ADP. Know what rounds players will be going and setup a diagram of when you want to target certain players.
Mix between safe picks and high ceilings:
Is there really even a safe play in fantasy sports? Well, of course there is in Mike Trout! The question is finding those safe plays in the middle tier and mixing them in with high ceiling guys. Some safer middle-tier plays this year include Tommy Pham (SD), Michael Brantley (HOU) and Michael Conforto (NYM). These are players that you know are going to put up constant numbers because they have been doing so the past several years, but don't have a super high ceiling.
However, you want to mix these constant guys with some wild cards such as Eloy Jimenez (CWS), Jorge Soler (KC) and Joey Gallo (TEX). These types of players can have extremely high ceilings if all things are clicking, but can just as easily have low ceilings. I try to find a mixture of both when drafting in Rounds 5-12 to provide a spark in my team, while also knowing what I am getting by drafting the player.
Below are some of the players that I will be trying to target in leagues. These players are young, but have also put up solid numbers from previous years. They are tapping at the ceiling and hoping at least one or more can rank in the top 10 for fantasy production this year.
Franmil Reyes (161.81). Reyes got off to one of the hottest starts in MLB last year, hitting 27 home runs for the Padres before being traded midseason to the Indians. Reyes still finished the season with 37 home runs, but the move to the Indians seemed to hurt his numbers to close out the year. It seemed like Reyes was just running out of gas at the end of the season. But he already has three home runs this spring and batting .529. He could be a dark horse to add star potential for your team.
Eloy Jimenez (83.53). Jimenez will get his first full season in the major this year after batting .267 with 31home runs in what a lot of people called a disappointing year for him. If that's a disappointing year for a rookie, then I want all of my rookies to have disappointing years. Jimenez brings raw power and will be batting in the middle of the lineup for an electric White Sox's roster. Jimenez is very capable of putting up 40-plus home runs with 100-plus RBI.
Dinelson Lamet (137.75). Lamet made his debut in 2017, but missed all of 2018 and some of 2019 from Tommy John surgery. Lamet is a strikeout machine, raking up 244 strikeouts in 187.1 career innings. As long as Lamet can stay healthy, he has a real shot at putting up over 200 strikeouts and ranking near the top of the league in that category. I expect Lamet's value to jump up throughout the drafts leading up to the season because he is being drafted way too low right now.
Robbie Ray (142.54). Over the past three years, Ray has a combined record of 33-15 with 618 strikeouts. Ray was an all-star in 2017 and finished seventh in the Cy Young, but has been going down since. He is still in his prime years at age 28, though. I expect Ray to have a bounce-back year and an ERA lower than four on the season. He is setup nicely with a good Diamondbacks roster and should be able to get plenty of strikeouts once again along with double digit wins.