Injury Impact 
Fri Mar 13 9:55am ET
By MIKE BARNER
Contributing Writer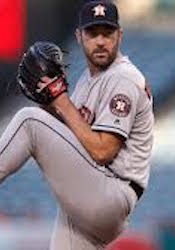 Verlander could miss little time
Major League Baseball made the announcement Thursday that they will delay the start of the season by at least two weeks as a result of the coronavirus outbreak. Do they simply tack on those games at the end of the season and extend the playoffs into November? Do they decrease the number of regular season games so they don't play too deep into the fall? These will all be questions that will be answered in the coming days.
What does all of this mean in the world of fantasy baseball? If you haven't drafted your league already, it might not be a bad idea to postpone that as well, if you can. Depending on when the season starts, things could change dramatically in terms of players who are injured right now and when they might be available. Let's discuss a few of them to keep in mind.
Giancarlo Stanton, New York Yankees: After an injury-plagued 2019 campaign, Spring Training started out poorly this year for Stanton when he went down with a calf strain. While he wasn't expected to be ready for Opening Day, the general thought was that he could return as early as some point in April. He's shown improvement in his recovery, even taking batting practice Wednesday. With the season now pushed back at least two weeks, Stanton might not miss many, if any, games. That would provide a significant boost to his draft stock, although his injury history does still make him a somewhat risky option.
Aaron Judge, New York Yankees: A timeline for Judge's return is a little cloudier than it is for Stanton. After having a difficult time figuring out what was ailing him, it was finally determined that the discomfort that he was feeling was a result of a fractured rib. The Yankees initially shut him down for two weeks to see how things would heal, although surgery was not ruled out. Like with Stanton, there has been some recent positive news on Judge. He said he's feeling better Thursday and has been cleared for workouts in the gym. It seems likely that he will still miss the start of the season, even with the delay. However, if he avoids surgery, this could be a situation in which he only misses a couple of weeks rather than a month or more.
Justin Verlander, Houston Astros: Verlander recently suffered a mild lat strain and said that it would "probably take a miracle" for him to be ready for Opening Day. Well, this outbreak is no miracle, but it does mean that Verlander might not miss any time. He's generally been a very healthy player, throwing at least 200 innings 12 times in his career. Unless he were to suffer some sort of setback, it sure seems possible that he won't miss any time now.
Mike Clevinger, Cleveland Indians: One of the top starting pitchers in fantasy, Clevinger quickly received some bad news in Spring Training that he was going to miss 6-to-8 weeks with a torn meniscus. Since he would need time to build up his arm strength again, it was generally believed that he could miss the entire month of April. His recovery has gone well so far with him even returning to throwing bullpen sessions this week. With the potential for him to now maybe only miss a couple of starts, he once again vaults back up into the top-tier of pitchers taken within the first two or three rounds of drafts.
Michael Conforto, New York Mets: Conforto has been a reliable source for power, slugging at least 27 home runs in each of the last three seasons. He had his best season yet in 2019, finishing with 33 home runs, 92 RBI, 90 runs scored and a .363 OBP. Big things were expected of him again this season, but he recently went down with an oblique strain. While the Mets hadn't officially ruled him out for the start of the season, it seemed likely that he would start out on the IL. Oblique injuries can be tricky for power hitters and there was no sense in pushing him, especially since he'd likely have to play in cold temperatures in the Northeast. Expect the Mets to still be cautious with him, but the delay now means he might not miss any games.
Willie Calhoun, Texas Rangers: Calhoun suffered a scary injury last weekend when he was hit in the face by a fastball from Julio Urias. He ended up with a fractured jaw that required surgery, which he had Monday. The Rangers said that he would be re-examined in two weeks, all but assuring that he would miss the start of the season. Given the severity of his injury, he could still very well end up missing time. However, we could again be looking at a situation in which he only misses a couple of weeks instead of possibly more than a month. He certainly is an intriguing option in what will be his first full season in the majors after hitting 21 home runs with a .351 wOBA across 83 games last year.
Mike Barner has been covering fantasy sports since 2007. His work has appeared in Sports Illustrated, Yahoo, SportsLine and RotoWire. Mike was also a finalist for the 2018 FSWA Basketball Writer of the Year award. Follow Mike on Twitter @rotomikebarner.