Would You Rather: ADP Edition
Fri Mar 20 12:15pm ET
By MIKE BARNER
Contributing Writer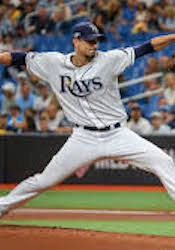 Morton can post elite numbers
If there is a bright side to the start of the MLB season being suspended, it's that it gives us time to draft more fantasy baseball teams. As we continue to wait things out, let's play a game of Would You Rather: ADP Edition. I'll discuss two players at the same position and decide which one I would rather draft based on their current ADP.
Justin Verlander (13.7)/Charlie Morton (47.1)
Verlander has been a model of consistency, posting a FIP of 3.84 or lower in each of the last 11 seasons. He's been downright dominant since joining the Astros, finishing with ERA's of 2.52 and 2.58 over the last two seasons, respectively. He also generated a strikeout rate of at least 34.8 percent in both of those campaigns. He's currently the third starting pitcher coming off the board behind only Gerrit Cole (5.1) and Jacob deGrom (8.5).
Morton might not have the same name recognition that Verlander does, but his numbers have been almost as impressive. He's finished with a 3.13 and a 3.05 ERA, respectively, over the last two seasons and has produced a FIP of 3.72 or lower in six of the last eight seasons. Strikeouts have also been his forte. In fact, he even finished with a career-high 30.4 percent strikeout rate in 2019.
As good as Verlander has been, I'd argue it's better to pass on him at his current ADP and roll with Morton instead. If we're talking about a 12-team league, then Verlander would likely be off the board with one of the first picks in the second round while Morton could be had with one of the final selections of the fourth. If you had the 12th pick in your league, you could possibly be able to draft Juan Soto (13.2) and Freddie Freeman (17.5) or Fernando Tatis Jr. (20.1) at the turn while still being able to grab Morton two rounds later. If you take Verlander with one of those two picks, the hitters that you would possibly be looking at in Morton's range include Ketel Marte (46.4), George Springer (48.4) and J.T. Realmuto (50.5). I'd rather take the two elite bats early and still have the potential to get stellar production from Morton.
Yordan Alvarez (53.5)/Nelson Cruz (91.5)
This is a battle of the new guard versus the old guard. Alvarez lived up to lofty expectations that followed him throughout the minors by slugging 27 home runs and posting a .432 wOBA across 87 games last season. He was somewhat aided by a .366 BABIP, but his 51.1 percent hard-hit rate is likely a big reason why that number is so high. This will be his first full season in the majors and he has a stellar lineup around him, which makes him an extremely appealing fantasy option.
Cruz is set to turn 40 in July, but he's showing no signs of slowing down. He launched 41 home runs in just 120 games last season, making it six straight years with at least 37 home runs. He also finished with a .417 wOBA. Like Alvarez, his BABIP was high at .351, but he also had a lofty hard-hit rate of 52.2 percent.
Make no mistake about it, both of these players should benefit greatly from being in potent lineups. The question is, which one would you rather have based on their current ADP? I want to say Alvarez, especially since Cruz is bound to slow down at some point. While I'd lean that way, going with Cruz instead is certainly a viable strategy. If you look at who is generally available in these ranges, you might be able to get Austin Meadows (55) in the range in which Alvarez has been drafted and still get Cruz later on. If you go with Alvarez, though, you could still get great hitters including Eddie Rosario (91.7) and Josh Donaldson (96.4) in Cruz's range.
Carlos Correa (115.4)/Corey Seager (153.2)
This is a story of two highly-touted shortstops that have hit some bumps in the road. After playing in 153 games in 2016, Correa just hasn't been able to stay on the field. He hasn't played more than 110 games in any of the last three seasons and even appeared in just 75 contests in 2019. Still, he slugged 21 home runs last year, posting a .289 ISO to go along with a .380 wOBA.
While not as drastic as Correa, Seager has also battled injury issues the last two seasons. He appeared in just 26 games in 2018 and followed that by playing 134 games last season. He doesn't have the same power that Correa does, although he did slug 19 home runs to go along with 87 RBI and 82 runs scored in 2019.
Even with all of Correa's injury issues, I'd take a chance on him at his current ADP over Seager. He's still managed to slug 60 home runs over 294 games the last three seasons. There have generally been some really good options on the board in Seager's ADP range as well, including David Price (153.3), Franmil Reyes (155.9) and Justin Turner (156). If Correa can stay healthy, he could have a monster season.
Mike Barner has been covering fantasy sports since 2007. His work has appeared in Sports Illustrated, Yahoo, SportsLine and RotoWire. Mike was also a finalist for the 2018 FSWA Basketball Writer of the Year award. Follow Mike on Twitter @rotomikebarner.