New Beginnings
Fri Apr 17 2:01pm ET
By JEFF PAUR
Sr Fantasy Writer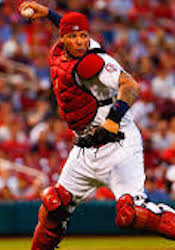 Molina might carry less value
There remains much uncertainty with the baseball season, but we remain optimistic that a season will be played at some point and our fantasy needs will be reached. The most likely scenario seems games will be played at Spring Training sites in Arizona and Florida with no fans. So with that said, what are some things you should be watchful of if this happens? We are here to take a closer look.
First off, the ball carries better in Arizona, so home runs and runs scored could be up some for all those teams playing in Arizona. This could result in some higher scoring games for all those teams. Obviously, the Diamondbacks and Rockies play at higher elevations and teams adjust, but there still is an impact when games are in those stadiums. If you are deciding between two very similar offensive players and one plays in Arizona and the other Florida, you might want to lean the Arizona player.
For further proof of this, I took a look at runs scored per game in both the Cactus and Grapefruit Leagues this season and teams in the Cactus league averaged almost a run per game more than the Grapefruit. Teams in Arizona averaged 5.86 runs per game compared to 4.96 runs per game in Florida. So please keep that in mind if you still have drafts. This changes the value of some players.
And for me, I think some Rockies pitchers look better going forward, especially German Marquez. These guys won't have to deal with pitching at Coors, which is a huge plus for their value. I know they are pitching in Arizona, but that is much better than Colorado. Keep that in mind come draft day.
There are going to be a lot of double headers most likely, so I think getting younger players in their prime is a smart strategy. I worry about older players holding up, playing a lot of games in a short period of time. Guys like Yadier Molina, Robinson Cano and Nelson Cruz are older players that I might stay away from because of the situations likely regarding this season.
I think the catcher position is devalued a little because many of these guys aren't going to be playing as many games as accustomed. Most catchers won't catch both ends of a double header. So for me, I still like getting a solid catcher since it is a thin position, but I think you can platoon the position more so this year than in past seasons. It is going to be harder for some of these guys to post big numbers.
I also wonder some about the starting pitcher spot for this year. These guys likely won't be ready to go deep into games when things get going. Plus, they are not going to get the near the work of past years in a shortened season. I am devaluing the position a little because of this. I still think getting an elite pitcher or two is a good idea, but I'm not going pitcher heavy early in drafts right now. I think you are better off loading up on hitting early and taking a lot of pitchers to stream late. I think streaming is going to be the way to go in many leagues, targeting pitchers with two starts to pad those pitching numbers across the board.
Now the closer position is a little different for me. I think getting a sure thing at closer is a good idea. There are always plenty of players that emerge at some point and become solid closers, but with the shortened season, I worry about that happening soon enough. So I think getting a top closer to stabilize that position is a good idea come draft day.
So in closing, I think there are some things you need to consider if baseball is playing at Spring Training sites. The good news is everyone is in the same boat. This is going to be something everyone is experiencing for the first time. There might be some bumps along the way but having baseball again is much better than nothing. Here is to hoping things get going again. And I sincerely hope everyone is staying healthy and safe during this time. My prayers are with you all.
Jeff Paur is a two-time finalist for FSWA Fantasy Football Writer of the Year and won the FSWA award for Best Fantasy Football Article on the Web in 2011. He also was the most accurate expert in 2012, winning the FSTA Fantasy Football Accuracy Award. If you have any questions for Jeff, email him at jeff@rtsports.com. Follow Jeff on Twitter @jeffpaur.