From The Godfather: Let the Games Begin
Tue Jul 21 11:40am ET
By CHARLIE WIEGERT
Contributing Writer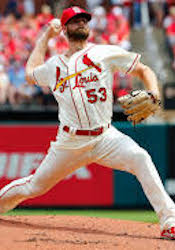 John Gant is worth picking up
Well, this has certainly been a strange time for fantasy baseball players. I had a draft Sunday with my original league. Eight teams decided to do a snake draft for fun and roll over our keeper league for next year. Two other leagues decided to take the year off. The three leagues that I drafted teams in months ago, FSGA/SiriusXM Experts league, Tout Wars Mixed Draft and the Fanball Memorial League are picking up where we left off. Waivers and FAAB pickups are going on and I'm trying to get healthy people in my starting lineups by Thursday.
With a 60-game season, it's now a sprint rather than a marathon. The strategy I used to draft those teams was different then what I think is needed now, and adjusting my roster to compete for a 60-game season is underway. If you're in the same boat I'm in, there's not a whole lot you can do, but here's some suggestions.
Pitching is going to be strange. At the beginning, starters are going to be on pitch counts and many will only last three to five innings. That makes it tough to get wins and accumulate strikeouts. My strategy in the draft I just completed was to get three to four premium starters, three to four reliable closers and two to three solid relievers that will pitch in four to five games per week with good strikeout numbers. Here's who I got; Walker Buehler, Mike Clevinger, Aaron Nola, Frankie Montas, Kirkby Yates, Edwin Diaz, Roberto Osuna, Nick Anderson and Ross Stripling. When you think about it, closers and set-up guys have just a good a chance for wins and strikeouts as starters. They'll pitch as many or more innings as a starter getting only one start and four to five innings.
Pitchers I'm going after in waivers and FAAB are Jonathan Loaisiga, Sean Newcomb, Adam Ottavino, Zach Britton, Aaron Bummer, Danny Duffy, Tyler Chatwood, Kyle Wright, Adam Wainwright, Amir Garrett, John Gant, Matt Andriese, Brusdar Graterol, Lucas Sims and Andrew Miller. A couple starters mixed in with a bunch of middle guys, who are on teams that I expect to be playing and winning a lot of close games. Note the Yankee relievers! It wouldn't surprise me if the Yankee relievers have more wins than their starters after 30 games. A surprise pick is Cardinal reliever John Gant, and it's not just a homer pick. Last year, he racked up seven wins in the first two months and I'm hoping for a repeat. Some guys just seem to get those vulture wins.
My next suggestion is do everything you can to keep players in your lineup that are playing. You can't get stats if you're not getting at bats. Seems pretty basic, but we've all used that idea, "he'll be back in a day or two" and we get burned a lot. Most races will be really tight this year, and leagues will be won (and lost) by a run scored or RBI, or other stats. Don't miss the opportunity to get stats by having an injured player in your lineup.
Look for opportunities to take advantage of situations. Guys going against a pitcher/catcher that give up a lot of stolen bases. Load your lineup up against weak pitching staffs. Make sure pitchers with two starts are in your starting lineup. Keep an eye out for somebody on a hot streak and grab them on waivers. After the first week (when teams can add a rookie and not lose service time) look for those guys, like Dylan Carlson, Kyle Lewis, Jo Adell, Nate Pearson and MacKenzie Gore.
A few other guys who might be available on your waiver wire to target are Aaron Hicks, Adam Engel, Matt Kemp (he's a Rockie now), Maikel Franco, Adam Duvall (picked up some at bats when the Puig deal fell through) and Alex Gordon. Looking for a catcher? Isiah Kiner-Falefa looks to be the Rangers starting third baseman, but is catcher eligible in most leagues.
It's going to be a challenge this year keeping your starting lineup full of healthy players. With some opting out of playing from the start and others that will test positive and miss a couple weeks to some (like Mike Trout) that might decide part of the way through they don't want to continue, so they can see their child born. It's going to be a struggle. Players that have multiple eligibility at different positions will be valuable. Hopefully, the Blue Jays find a place to play. My guess is most of their "home" games will be at PNC Park in Pittsburgh. Their pitchers might fair a little better there and their hitters might have a tougher time. Be aware!
Have fun and enjoy whatever baseball we get this year!
Charlie Wiegert was the sixth person to be inducted in the Fantasy Sports Hall Of Fame in 2001. He is a founder of CDM Fantasy Sports and Fantasy Sports Trade Association. He has been playing and winning fantasy baseball leagues since 1984. If you have any questions for Charlie, email them to cwiegert@cdmsports.com. Follow him on Twitter @GFFantasySports.