Pitching Primer: Week 6
Fri Aug 21 1:40pm ET
By MIKE BARNER
Contributing Writer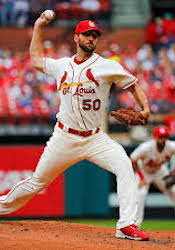 Wainwright has value this week
Major League Baseball is dealing with another positive COVID-19 test, this time on the Mets. The schedule can change at a moment's notice, but as things stand right now, there are some two-start pitchers that could provide excellent returns in Week 6, as well as some that might be better off left on your bench. Let's dive into the matchups and highlight a few pitchers to make note of.
Jose Berrios, Minnesota Twins: at CLE, at DET
Berrios is the Twins' ace, but he hasn't pitched like it this season. He's allowed at least four runs in three of his six starts, leaving him with a 4.75 ERA. His FIP has been a little better at 4.19, but his main issue has been a lack of control. He enters this week with a 10.7 percent walk rate, which is a significant jump from the 6.1 percent walk rate that that he had last season. On the bright side, he has seen an increase in strikeouts with his 25.2 percent strikeout rate checking in two percentage points higher than last season.
Although he hasn't been on top of his game, this could be an excellent week to deploy him in fantasy. First up is a matchup against the Indians, who he held to two runs across five innings earlier this season. The Indians entered play Friday with a .636 OPS as a team, which is the second-lowest mark in the majors. The Tigers haven't been much better with their .696 team OPS and they have also struck out the eighth-most times in the league.
Brandon Woodruff, Milwaukee Brewers: vs. CIN, vs. PIT
The good news with Woodruff is that he hasn't allowed more than three runs in any of his six starts this season. The bad news is that he's logged five or fewer innings four times. The Brewers are no strangers about going to their bullpen early and Woodruff tends to throw a lot of pitches with his strikeout stuff. He had a 29 percent strikeout rate last year and has followed that with a 26.2 percent strikeout rate so far this season.
As bad as the Indians have been offensively, the Pirates have been even worse with their .595 OPS ranking dead last in baseball. They are in the early stages of rebuilding and don't have many talented hitters, so they should continue to struggle most nights. The Reds are certainly a more dangerous team, but their .219 team batting average is the sixth-worst mark in baseball. Pitching deep into games might continue to be a problem for Woodruff this season, but he does carry significant upside this week.
Adam Wainwright, St. Louis Cardinals: vs. KC, vs. CLE
The Cardinals have only played 14 games this season and Wainwright has started three of them. After back-to-back one-run performances against the Pirates and White Sox, he did allow four runs across seven innings against the Reds on Thursday, although two of them were unearned. He's done a great job of keeping men off base with his 0.83 WHIP, but that might not last very long considering he's had a WHIP of at least 1.40 in each of the last four seasons.
While regression is likely on the horizon for Wainwright, that doesn't mean it's coming this week. As previously mentioned, the Indians have not been a good offensive team. Neither have the Royals, who have the 10th-worst OPS (.714) and are averaging only 3.9 runs a game. Still available in 31 percent of leagues, Wainwright isn't someone to overlook based on these two matchups.
German Marquez, Colorado Rockies: at ARI, vs. SD
We saw the bad Marquez on Thursday against the Astros when he was lit up for 10 runs across five innings. Before that, he had allowed a total of eight earned runs across his first 32 innings. However, that blowup did come at Coors Field, which is obviously one of the most hitter-friendly environments in the league. With Marquez pitching a significant portion of his games there, he can be hit hard in any given start.
There in lies the issue with starting Marquez this week. His first matchup against the Diamondbacks is not a bad one, especially since they have only hit 22 home runs across 26 games. However, facing the Padres at Coors Field could be a disaster. Despite the loss of Tommy Pham (hand), they are still extremely dangerous with Fernando Tatis Jr., Manny Machado and Eric Hosmer leading the way. If you have better options at your disposal, then benching Marquez might not be a bad idea.
Aaron Civale, Cleveland Indians: vs. MIN, at STL
While the Indians continue to ponder what to do with Mike Clevinger and Zach Plesac, they are lucky enough to at least have Civale lined up to make two starts. He made a strong impression last year with a 2.34 ERA and a 1.04 WHIP across 10 starts and has followed that with a 2.91 ERA and a 0.97 WHIP across his first five outings of 2020. His control has been excellent, leaving him with 32 strikeouts compared to just three walks.
Now the question is, can Civale keep things rolling in a tough matchup against the Twins? Well, he held up against them earlier this season, allowing three runs and recording nine strikeouts across six innings. The Twins can explode any given night, but at least Civale has a chance to succeed against them if he can continue to limit his walks. The Cardinals have been limited to 14 games because of an outbreak of COVID-19 within the organization, but they haven't been impressive when they have been on the field, recording just a .683 OPS as a team. As daunting as a matchup against the Twins looks, Civale is still someone to at least consider starting in most leagues.
Mike Barner has been covering fantasy sports since 2007. His work has appeared in Sports Illustrated, Yahoo, SportsLine and RotoWire. Mike was also a finalist for the 2018 FSWA Basketball Writer of the Year award. Follow Mike on Twitter @rotomikebarner.