Pitching Primer: Week 7
Fri Aug 28 2:05pm ET
By MIKE BARNER
Contributing Writer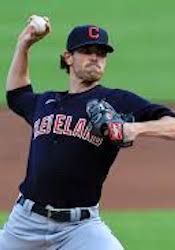 Bieber has been lights out
With a lot of things going on that are bigger than baseball, the schedule has been altered significantly the last two days. Still, in the fantasy world, we need to start focusing on Week 7 and the projected upcoming two-start pitchers. Let's discuss five of them and whether or not they could be productive in their outings.
Lucas Giolito, Chicago White Sox: at MIN, at KC
Giolito is coming off of a masterful performance against the Pirates in which he threw a no hitter. He recorded only one walk to go along with his 13 strikeouts, lowering his ERA to 3.09 for the season. He was originally slated to make his next start Sunday, but the White Sox decided to give him an extra day of rest, pushing him back to Monday and setting him up to start twice this week.
Giolito's first start against the Twins was a bit concerning. They crushed him in his season debut, scoring seven runs across 3 2/3 innings. However, they are dealing with some injuries right now with Josh Donaldson (calf), Mitch Garver (side) and Byron Buxton (shoulder) on the IL. His second matchup this week is much more favorable against the Royals, who have the eighth-lowest OPS (.710) in baseball. As daunting as facing the Twins might be, Giolito is still someone to lock into your starting lineups based on his second start against the Royals and his strikeout upside.
Shane Bieber, Cleveland Indians: at KC, vs. MIL
Bieber has been basically automatic this season. He has six wins across his seven starts and his 1.35 ERA is supported by an equally impressive 1.70 FIP. As if his 30.1 percent strikeout rate last season wasn't impressive enough, it's jumped up to a whopping 42.9 percent this year. In fact, he's registered at least 10 strikeouts in five of his seven starts.
Regardless of matchup, Bieber is obviously someone to have in your starting lineup. However, he's still worth using with two starts upcoming and both being against favorable opponents. The Royals' offensive woes have already been detailed and the Brewers have been even worse with their .658 OPS ranking as the third-lowest in baseball. They have also struck out the seventh-most times. Bieber could be a league-winner this week.
Christian Javier, Houston Astros: vs. TEX, at LAA
Injuries have taken a toll on the Astros' pitching staff, which has left opportunities for others to shine. Javier has done just that, posting a 3.77 ERA and a 1.03 WHIP across seven outings, six of which were starts. However, there is somewhat a cause for concern here. His FIP checks in at 5.15 and he's allowed seven home runs across 31 innings. He's also been aided by a .194 BABIP allowed.
While some regression might be in the cards for Javier, don't be surprised if he postpones that for at least a week. He has two favorable matchups upcoming, the first of which is against a Rangers team that has the second-lowest OPS (.623) and is averaging only 3.6 runs a game. Despite having Mike Trout, the Angels' .728 OPS is the 11th-lowest mark in the league. This is still an opportune time to keep Javier in your starting lineup.
Marco Gonzales, Seattle Mariners: at LAA, vs. TEX
Gonzales might not grab a lot of headlines, but he's been a valuable pitcher for the Mariners the last couple of seasons. He's carried that success into 2020, posting a 3.63 ERA that has been supported by a nearly identical 3.67 FIP. Strikeouts aren't his thing, evident by his career 18.9 percent strikeout rate. However, he is able to limit hard contact and has shown excellent control this year with a 2.1 percent walk rate that's enabled him to record a 1.01 WHIP.
Believe it or not, this will actually mark Gonzales' third start of the season against the Angels. He pitched well in the first two outings, allowing five runs (three earned) across 13 1/3 innings. He didn't have similar success in his only outing against the Rangers, giving up four runs across five innings. Still, with the struggles of their lineup having been already discussed, Gonzales could provide value this week.
Brad Keller, Kansas City Royals: vs. CLE, vs. CWS
Keller was brilliant through his first three starts, pitching 17 2/3 scoreless innings. That obviously wasn't going to last and he came crashing back to reality in his last start against the Cardinals, giving up five runs across four innings. The good news is that he still hasn't allowed a home run this season.
I'm not buying Keller's three scoreless outings to begin the season. His walk rate is 12.5 percent and he doesn't miss many bats. He's also been a bit lucky with his .250 BABIP allowed checking in 36 points below his career mark. His first start of the week against the Indians isn't a bad matchup, but the White Sox could bring trouble. Entering play Friday, they have averaged seven runs across their last 10 games and their overall .490 slugging percentage is the highest mark in the league. Since Keller doesn't provide much strikeout upside, to begin with, the risk that comes with starting him this week might not be worth the potential reward.
Mike Barner has been covering fantasy sports since 2007. His work has appeared in Sports Illustrated, Yahoo, SportsLine and RotoWire. Mike was also a finalist for the 2018 FSWA Basketball Writer of the Year award. Follow Mike on Twitter @rotomikebarner.