Pitching Primer: Week 9
Fri Sep 11 10:55am ET
By MIKE BARNER
Contributing Writer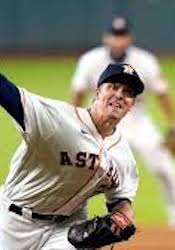 Greinke keeps getting it done
Believe it or not, there are only two weeks left in the regular season. Fantasy leagues could come down to the last day because of the shortened schedule, so every start from your pitchers counts. With that in mind, let's highlight what to expect from five two-start pitchers in Week 9.
Jack Flaherty, St. Louis Cardinals: at MIL, at PIT
If you spent one of your first two or three draft picks on Flaherty, he's mostly been a disappointment. The Cardinals had a long layoff because of a COVID-19 outbreak that forced Flaherty to go over three weeks without starting. Since he has returned, he hasn't pitched more than five innings in any of his four starts. Still, his numbers haven't been bad since he enters the week with a 3.08 ERA and a 1.03 WHIP.
All could be forgiven with Flaherty if he can come through with a couple of productive outings this week. The cards are certainly aligning for him based on these two opponents. Both the Brewers and the Pirates rank inside the bottom-third of the league in OPS with the Pirates actually posting the worst mark in all of baseball (.634) in that category. The Brewers have been strikeout machines, tallying the sixth-most strikeouts despite playing only 41 games.
Trevor Bauer, Cincinnati Reds: vs. PIT, vs. CWS
Bauer was lights out to start the season, giving up two runs and posting a 0.57 WHIP across 26 1/3 innings over his first four starts. His next three outings weren't as dominated, but he did allow three earned runs or fewer in two of them. He showed signs of regaining his dominance his last outing against the Cubs, holding them scoreless while recording 10 strikeouts across 7 2/3 innings.
With how poorly the Pirates have hit this season, Bauer could get off to an excellent start to the week. His next outing against the White Sox isn't nearly as favorable, but he could still provide a lot of strikeouts since the White Sox are tied with the Brewers for the sixth-most strikeouts in baseball. Make sure Bauer is locked into your starting lineup.
Zack Greinke, Houston Astros: vs. TEX, vs. ARI
The only real downside that comes with rostering Greinke is that he doesn't provide a lot of strikeouts. He's a model of consistency, though, since he is on pace to record an ERA under 3.50 for the eighth time over the last nine seasons. He's only allowed 0.5 HR/9 and has once again showed impeccable control with his 3.9 percent walk rate helping him generate a 1.01 WHIP.
These two matchups are about as good as it gets for Greinke. The Rangers have the second-lowest OPS (.637) in baseball and the Diamondbacks aren't much better with the third-lowest mark (.672). The Diamondbacks' lineup has also been weakened with Starling Marte being traded to the Marlins and Ketel Marte (wrist) on the IL. Greinke could single-handedly carry your team in ERA and WHIP this week.
Antonio Senzatela, Colorado Rockies: vs. OAK, vs. LAD
Senzatela has shown significant improvement this season, lowering his ERA to 3.69 after posting a 6.71 ERA last season. His 4.67 FIP is somewhat a cause for concern, but the major reason for his improvement has been his improved control. After struggling with a 9.8 walk rate last year, he's cut that number in half to 4.9 percent this season. Another positive stat is that he's decreased his hard-hit rate allowed by three percentage points.
If you've been reaping the rewards of Senzatela's improved performance, this might be the week to play it safe and put him on your bunch. Having both of his starts come at Coors Field is not ideal and a matchup there with the Dodgers is downright scary. Also factor in his mere 14.8 percent strikeout rate and the risk of starting him might not be worth the potential reward.
Carlos Carrasco, Cleveland Indians: at CHC, at DET
Carrasco has once again proven to be a valuable fantasy option now that he's healthy. Through his nine starts, he has a sparkling 3.12 ERA to go along with a 3.69 FIP. He's only allowed 1.1 HR/9 and hitters only have a 34.1 percent hard-hit rate against him. His recent performance has been even more impressive with him allowing two runs and recording 19 strikeouts across 19 innings in his last three starts.
We have seen Carrasco face both of these opponents already this year and he didn't pitch well against either of him. The Cubs scored three runs against him across 4 1/3 innings and the Tigers roughed him up for four runs across 3 1/3 innings. Still, neither team has an overly imposing lineup with both of them ranking in the bottom-half of the league in OPS. No need to overthink this one, keep Carrasco in your lineup.
Mike Barner has been covering fantasy sports since 2007. His work has appeared in Sports Illustrated, Yahoo, SportsLine and RotoWire. Mike was also a finalist for the 2018 FSWA Basketball Writer of the Year award. Follow Mike on Twitter @rotomikebarner.