Pitching Primer: Week 10
Fri Sep 18 10:51am ET
By MIKE BARNER
Contributing Writer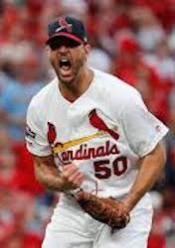 Wainwright gets two more starts
We have reached the final week of the MLB regular season. While it certainly didn't go without plenty of bumps along the way, at least most teams will end up playing around the 60 games that were scheduled for them at the onset. For those of you that are still battling for a title in your fantasy baseball league, let's discuss five pitchers that are scheduled to start two times each this week and what to expect from those outings.
Adam Wainwright, St. Louis Cardinals: at KC, vs. MIL
On the surface, it looks like Wainwright has had an incredible bounce-back season with his 2.87 ERA and 0.97 WHIP. However, his 4.03 FIP isn't much better than his FIP in each of the last four seasons, all of which he finished with an ERA of at least 4.19. The main difference this year has been his .228 BABIP allowed, which likely wouldn't be sustainable over the course of a 162-game season.
The good news is that we don't have to worry about that number holding up over the long haul. He has an excellent opportunity to finish out the season strong here with two favorable matchups. The Royals and Brewers both rank inside the bottom-third in the league in OPS. Wainwright actually faced the Brewers his last start, holding them to two runs and recording nine strikeouts across seven innings. Lock Wainwright into your starting lineup and enjoy the ride.
German Marquez, Colorado Rockies: at SF, at ARI
If you look at his overall numbers, Marquez hasn't been anything special with a 4.33 ERA and a 1.33 WHIP. However, a lot of damage was done to those categories when he allowed 10 runs and 12 base runners across five innings in a blowup against the Astros. Over the course of his other 10 starts this season, he's allowed three earned runs or fewer nine times. Another positive is that he hasn't allowed a home run in any of his last three starts, which is a span of 20 2/3 innings. He faced three dangerous lineups, too, in the Dodgers, Angels and Athletics.
The good news for his two starts Week 10 is that both of them come away from hitter-friendly Coors Field. One of them comes against a Diamondbacks' team that has the third-lowest OPS (.678) in baseball. Despite the Giants being a dangerous opponent, Marquez is still someone worth starting in the majority of leagues based on that matchup with the Diamondbacks.
Aaron Civale, Cleveland Indians: vs. CWS, vs. PIT
Civale is not an overpowering pitcher given his 22.5 percent strikeout rate. Still, he doesn't walk many batters and he's allowed just 0.98 HR/9, which has enabled him to post a 3.80 ERA and an even better 3.52 FIP. He's become an important part of the Indians' starting rotation, especially after they traded Mike Clevinger to the Padres.
His first start of the week against the White Sox might seem like a concern, but he's had success against them this season. In their two previous meetings, he allowed three runs and recorded 14 strikeouts across 13 innings. The Pirates offer a great matchup since they enter Friday with the lowest OPS (.631) in baseball. When Civale faced them in Pittsburgh earlier in the year, he pitched a complete game and allowed only one run. While asking him to duplicate that performance is a tall order, he should still be successful in their rematch.
Jon Lester, Chicago Cubs: at PIT, at CWS
Lester has not had a good season with his 4.91 ERA and 5.18 FIP. He is not striking out many hitters, which has resulted in just a 17 percent strikeout rate that would be the second-lowest mark of his career. He's also allowed a 38.8 percent hard-hit rate, which has contributed to him giving up a career-high 1.8 HR/9.
His first start of the week might seem like an easy matchup against the Pirates. However, he did struggle against them in their last meeting, giving up five runs across 5 1/3 innings. The last time he faced the potent White Sox lineup, he was crushed for eight runs over 3 2/3 innings. That's not a big surprise, either, when you consider that the White Sox have the highest OPS against left-handed pitchers (.915) by a wide margin. I want no part of Lester this week.
Brady Singer, Kansas City Royals: vs. STL, vs. DET
A first-round pick in the 2018 Draft, Singer had never pitched above Double-A heading into this season. Still, with no minor league season and limited quality options for their starting rotation, the Royals have turned to him to take the mound 10 times. He's held his own, recording a 4.14 ERA and a 4.24 FIP. He's actually been lights out across his last two starts, allowing six total baserunners across 14 shutout innings.
His last scoreless start came against the Tigers, who he has already faced two times this season. In his first start against them, he allowed two runs over five innings. Given that they have a .671 OPS against right-handed pitchers, he could have success in their third meeting, as well. The Cardinals haven't been much better with their .703 OPS versus righties, which makes Singer a viable streaming option that is still available in 60 percent of leagues.
Mike Barner has been covering fantasy sports since 2007. His work has appeared in Sports Illustrated, Yahoo, SportsLine and RotoWire. Mike was also a finalist for the 2018 FSWA Basketball Writer of the Year award. Follow Mike on Twitter @rotomikebarner.