Stolen Base Targets
Fri Mar 5 8:55am ET
By MIKE BARNER
Contributing Writer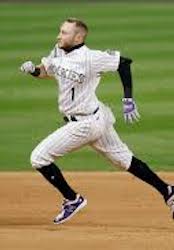 Hampson likely starts every day
The stolen base is not nearly as prevalent in baseball as it has been in seasons past. As a result, the category has become more difficult to fill in fantasy. So few players even attempt steals anymore, let alone at the rate that players did years ago. For example, in 2019, Mallex Smith led the American League with 46 steals, while Ronald Acuna Jr. led the National League with 37. In 2009, Jacoby Ellsbury led the AL with 70 steals and Michael Bourn led the NL with 61. If we go back to the 80s, six of the 10 seasons during the decade saw at least one player record at least 100 steals.
If you're in a head-to-head fantasy league, punting steals is a viable option. However, if you play in a rotisserie league, that strategy could be ill-advised. Let's go past the top options in terms of steals and highlight a few players who could help in the category that you can still grab in the later rounds of most drafts.
Victor Robles, Washington Nationals (ADP 166)
Robles made his mark on the fantasy world in 2019 when he recorded 17 home runs and 28 stolen bases across 155 games. His .255 batting average and .326 OBP left a lot to be desired, but any player who can threaten to hit 20 home runs and steal 30 bases can be a difference maker. The problem is, he tanked in 2020, collecting three home runs and four steals across 52 games. It's tough to steal bases when you only have a .293 OBP like he did.
The main reason for Robles' decline last season was his 28 percent strikeout rate. On top of that, he only had a walk rate of 4.8 percent. If he's going to approach 30 steals this season, returning to the 22.7 percent strikeout rate that he posted in 2019 would go a long way. With that being said, he only turns 24 years old in May, so he still has plenty of time left to develop. This late in drafts, he could provide significant value if he can finish with around 15 home runs and 25 steals.
Jarred Kelenic, Seattle Mariners (ADP 215)
Kelenic is one of the top prospects in the Mariners' organization. While he's not a blazing runner, he recorded 10 steals to go along with six home runs across only 46 games at High-A in 2019. He moved up to Double-A that same year, finishing with three steals and six home runs across 21 games.
The problem with Kelenic is that most of his experience has come in the lower levels of the minor leagues. The Mariners are a rebuilding team, so there isn't exactly a rush to have him on the team out of the gate and start his service clock. There was some hope that he could be up towards the middle or end of April, but with the recent news that the start of the Triple-A season has been pushed back to May, Kelenic could be down in the minors even longer. There is plenty of risk with drafting him, but if you've struck out in the steals department and want to take a chance on someone with a high upside, Kelenic could be your man.
Leody Taveras, Texas Rangers (ADP 216)
After having never appeared above Double-A, Taveras received his first taste of the majors in 2020. It didn't exactly go well with him posting a 32.1 percent strikeout rate and a .307 wOBA. On the bright side, he did record eight steals across 33 games and he produced a sprint speed that was in the 96th percentile. His speed is nothing new considering he stole 32 bases across 131 games in the minors in 2019.
The jump from Double-A straight to majors can be tough on even the best of prospects, but things were made even more complicated last season because of COVID-19 and the limited preparation time leading up to the regular season. Entering 2021, Taveras has a chance at being the Rangers' everyday center fielder and will have a somewhat normal offseason under his belt. Given his current ADP, he is one of the top players to target in the later rounds if you need steals.
Garrett Hampson, Colorado Rockies (ADP 290)
Hampson's stolen base numbers in the minor leagues jump off the page. Across just 68 games in Rookie Ball in 2016, he recorded 36 steals. The following season, he produced 51 steals across 127 games at High-A. The problem has been finding a spot for him in the major leagues. He finally saw his first significant action with the Rockies in 2019, which resulted in him recording 15 steals across 105 games. However, he followed that up with a disappointing 2020 campaign in which he had only six steals over 53 games. Like Robles, he struggled to make contact, leaving him with a 32.6 percent strikeout rate.
If there is a bright side to the Rockies' disastrous offseason that saw them trade away Nolan Arenado, while also not adding anyone of significance to their roster, it's that Hampson should be in line to play more. He could start at second base or end up being the team's starting center fielder, so there are a couple of paths to playing time. With an everyday role, he should reach 20 steals, even if he continues to struggle with strikeouts. If he can improve in that category, there's a chance that he could reach 30 stolen bases when all is said and done.
Mike Barner has been covering fantasy sports since 2007. His work has appeared in Sports Illustrated, Yahoo, SportsLine and RotoWire. Mike was also a finalist for the 2018 FSWA Basketball Writer of the Year award. Follow Mike on Twitter @rotomikebarner.