Extreme Pitching Stats
Wed Mar 10 10:40am ET
By MIKE BARNER
Contributing Writer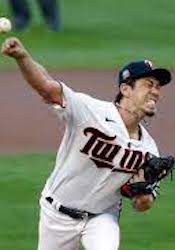 Maeda could regress a little
When projecting out the 2021 fantasy baseball season, it's difficult to decide how much of the 2020 stats to take into consideration. The unusual Spring Training and shortened regular season resulted in some strange final lines for both hitters and pitchers alike. Let's dive into four pitchers with some crazy stats, either good or bad, and discuss what to possibly expect from them in 2021.
Kenta Maeda, Minnesota Twins
Maeda's first season with the Twins couldn't have gone much better. His 2.70 ERA was the ninth-best mark in baseball. He had a sparkling 0.75 WHIP and earned a win in six of his 11 starts. He even recorded a 32.3 percent strikeout rate, which was the highest mark of his career. Those gaudy numbers have helped him produce an ADP of 49.4 heading into this season.
As impressive as Maeda was, there are plenty of stats that point to some regression coming for him this season. He only allowed a .208 BABIP, which was significantly lower than his career mark of .273. Of all the pitchers that benefited from the condensed schedule, Maeda stands out amongst the crowd. Seven of his 11 starts came against the Indians, Pirates and Tigers, three teams that all finished in the bottom-five in the league in wOBA. With a return to a normal schedule and a full 162-game season, expect Maeda to finish with an ERA much closer to his career 3.75 mark.
James Paxton, Seattle Mariners
Paxton really had some extreme numbers last season, considering he only made five starts for the Yankees. First, he had a cyst removed from his back in early February that, at the time, looked like it would force him to miss a good chunk of the season. The delayed start did give him added time to recover, but he never fully got back on track. He only made it past the fifth inning one of his five outings, finishing with a bloated 6.64 ERA and 1.48 WHIP.
The most alarming stat for Paxton is that his average fastball velocity was 92.8 mph, which was down from his career mark of 95.9 mph. Some of that might have to do with his injury, and it was only five starts, so there's a chance that he could rebound this season. He was also extremely unlucky with opponents posting a .365 BABIP against him. While there is plenty of injury risk that comes with drafting Paxton, he should still be a good source for strikeouts and could see his ERA check in around 4.00 when the season comes to an end. Despite his 6.64 ERA in 2020, he did have a 4.37 FIP.
Zach Davies, Chicago Cubs
Davies was right up there with Maeda last season, finishing with the 10th-best ERA in baseball at 2.73. He earned seven wins across his 12 starts for the Padres and finished with a 1.07 WHIP that was by far the best mark of his career. As encouraging as that was, though, maybe the biggest improvement in his game was increasing his strikeout rate to 22.8 percent. That's still not a huge number, but he only had a 15.2 percent strikeout rate in 2019.
While there was a lot to like about Davies' improvement last season, there were also some red flags. He allowed a 36.1 percent hard-hit rate, which was the second-highest mark of his career, and a career-high 10.3 percent barrel rate. His .249 BABIP allowed was almost 40 points lower than his career mark and his 3.88 FIP points to some regression possibly coming for his ERA. While he can still be a serviceable fantasy option, his ERA could very well finish closer to 4.00.
Adam Wainwright, St. Louis Cardinals
Wainwright has not been the same pitcher since suffering a torn Achilles in 2015. Prior to that injury, he never had an ERA above 3.94 or a FIP above 3.90. However, entering 2020, he had four straight seasons with an ERA of at least 4.19 and a WHIP of at least 1.40. He made the most of the abbreviated 2020 campaign, though, finishing with a 3.15 ERA and 1.05 WHIP across 10 starts.
The good news is that Wainwright's reduced WHIP last season was partially because of his improved 5.7 percent walk rate. The bad news is, he was also somewhat aided by an abnormally low .247 BABIP allowed, which was over 50 points lower than his career mark. Given that he usually provides little in the way of strikeouts, Wainwright probably shouldn't be considered as anything more than a late-round flier that might be better suited to only stream during favorable matchups.
Mike Barner has been covering fantasy sports since 2007. His work has appeared in Sports Illustrated, Yahoo, SportsLine and RotoWire. Mike was also a finalist for the 2018 FSWA Basketball Writer of the Year award. Follow Mike on Twitter @rotomikebarner.