Pitching Primer: Week 12
Fri Jun 17 12:06pm ET
By MIKE BARNER
Contributing Writer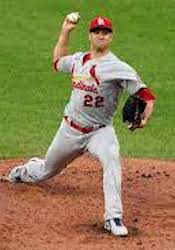 Flaherty gets two starts this week
There will be plenty of two-start pitchers scheduled for Week 12. Some of them could provide significant boosts for their fantasy managers, while others have the potential to do some damage. As we sift through all of them, let's discuss what to do with five projected two-start pitchers based on their respective matchups.
Nestor Cortes Jr., New York Yankees: at TB, vs. HOU
Cortes has exceeded all expectations, posting a 1.94 ERA and a 2.88 FIP through 12 starts. One of his biggest improvements has been keeping hitters inside the ballpark. He's allowed 1.6 HR/9 for his career, but only 0.8 HR/9 this season. While not an overpowering force in terms of velocity, he has still missed plenty of bats on his way to a 27.8 percent strikeout rate.
Cortes has the potential to continue his hot start based on these two matchups. The Rays have struggled offensively, recording the fourth-worst OPS in baseball. Cortes has already faced them two times this season, allowing a total of two runs over 13 1/3 innings. The Astros, who have been a potent offensive team in recent seasons, haven't been great this year, posting the eighth-fewest runs scored.
Lance Lynn, Chicago White Sox: vs. TOR, vs. BAL
A knee injury kept Lynn sidelined until he finally made his debut Monday against the Tigers. It didn't go well, with him allowing three runs and 10 hits across 4 1/3 innings. What makes that line even more concerning is that the Tigers have one of the worst, if not the worst, lineups in all of baseball.
The White Sox don't have any off days in Week 12, so even if they decide to go with a six-man rotation, Lynn would be lined up to start twice. However, he could be in trouble against the Blue Jays, who have the third-highest OPS in baseball. The Orioles are a more favorable foe, but the damage to his ratios could have already been done by the time he takes the mound against them. If you play in a 15-team league, Lynn is probably still worth starting. However, if you play in anything shallower, it might not be a bad decision to sit him this week while he continues to work his way back into shape.
Jack Flaherty, St. Louis Cardinals: at MIL, vs. CHC
Speaking of veteran pitchers who have been sidelined because of injury, Flaherty has been out for the Cardinals while battling a shoulder issue. He made his season debut against the Pirates on Wednesday, allowing four runs (two earned) over three innings. Not only did he log just three innings, but he only threw 60 pitchers.
With Flaherty's limited pitch count in his debut, don't expect him to throw much more than 80 pitches versus the Brewers. He may not be stretch out to 100 pitchers by the time he faces the Cubs, either. Like Lynn, Flaherty is probably only a viable option for Week 12 in deeper formats.
Trevor Rogers, Miami Marlins: at NYM, vs. NYM
Rogers is one of the biggest disappointments among starting pitchers in all of baseball. Last season looked so promising with him sporting a 2.64 ERA, 2.55 FIP and a 28.5 percent strikeout rate over 25 starts. This season, he has a 5.87 ERA, 5.23 FIP and an 18.7 percent strikeout rate. He's already allowed nine home runs over 53 2/3 innings, which is in stark contrast to the six that he allowed across 133 innings last year.
This has the potential to be a disastrous week for Rogers since the Mets have scored the most runs in baseball. The question isn't whether he's a viable starting option this week, it's should he even be on rosters in 12-team or shallower leagues at this point. If you want to stream his roster spot with pitchers who have more favorable matchups, I'm ok with dropping him in those formats.
Roansy Contreras, Pittsburgh Pirates: vs. CHC, at TB
Contreras was one of the players that the Pirates received in the deal that sent Jameson Taillon to the Yankees. Taillon is currently shining in the Bronx, while Contreras has already worked his way into the Pirates' rotation. His 1.30 WHIP across eight total appearances this season isn't great, but the bright side is, he has yet to allow more than three earned runs in a start.
As far as favorable matchups go, Contreras has two of them this week. The Cubs' lineup has continued to struggle, scoring the 10th-fewest runs in baseball. We already detailed the issues that have plagued the Rays, so if you need a viable streaming option, Contreras might be your man.
Mike Barner has been covering fantasy sports since 2007. His work has appeared in Sports Illustrated, Yahoo, SportsLine and RotoWire. Mike was also a finalist for the 2018 FSWA Basketball Writer of the Year award. Follow Mike on Twitter @rotomikebarner.