RTFFC Week 2 Wrap Up
Tue Sep 17 2:19pm ET
By ChrisToeFer
Contributing Writer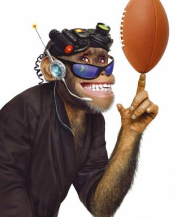 Bobo's Monkeys leads all RTFFCs
Greetings from RTFFC Headquarters and the desk of Commissioner Toe. We're traveling through the RTFFC leagues this year covering and highlighting a different league color each week. This week, we're highlighting the RTFFC Red.
For those not familiar, RTFFC is the RealTime Fantasy Football Championship. Each RTFFC color includes 12 leagues. Each league competes individually for prizes, and at the end of the season the top 16 teams from those 12 leagues compete for an overall $10,000 prize. This season there are 9 RTFFC colors.
First, a little update on the Purple 3 league. The Flying Purple People Eaters team from P3© crashed and burned this week with only 87 points. In addition to that, two P3© teams are in the top 15 now. The league office pucker factor has been raised from Defcon 2 to Defcon 3.
Top Teams
The overall Red leader after Week 2 is R.Lucas' Ribeye Express team highlighted by Dak Prescott, Dalvin Cook, Marlon Mack, Austin Ekeler, Amari Cooper, and Michael Thomas with A.J. Green patiently waiting on the bench. Lots of familiar names on the leaderboard in this one with A.Curry creeping up along with RTSports' #1 ranked player Swiper, and perennial top players C.Schroeder and D.Terminiello all in the top 10. In another indication that fantasy football is not fair, second overall in Red is B.Miller's Strike Back team that is currently 1-1 after losing this week 146.35 – 145.25.
R.Offerson's Bobo's Monkeys (Purple) team is the top team across all the RTFFC colors with 354.05 points and a nine point lead over Luke's Darkside team (Black). Bobo's Monkeys are led by Patrick Mahomes, Le'Veon Bell, Dalvin Cook, Sammy Watkins, Calvin Ridley and Zach Ertz with Darren Waller and DeSean Jackson on their bench.
Bottom Teams
Last place overall is the same team as last week, although they picked it up and scored 93 this week after a 58-point performance in Week 1. The all-disappointment team's lineup this week was Garoppolo, Jones II, Michel, Adams, Allen Robinson, Kittle, Waller, Prater, Bills.
Waiver Gems and Gaffs
With Week 1 in the books and some actual performances to overreact to, there were some interesting waiver claims this week. The highest priced win in the Red leagues was $600 for Malcolm Brown (six points). He actually went for a high of $799 in a Silver league and low of $111 in a Red league. He's essentially a Gurley handcuff against injury, so while his six points in Week 2 was disappointing, only time will tell the true value on this one.
Other top dollar waiver wins across all leagues were $801 for Marquise Brown (17 points), $645 TJ Hockenson (two points), $641 John Ross (21 points), $575 Rex Burkhead (nine points), $555 Jamison Crowder (eight points), $555 Terry McLaurin (17 points), $536 Giovani Bernard (two points), $425 DeSean Jackson (no points), $422 Darren Waller (12 points).
The top waiver gem of Week 2 would have to be the $2 Patriots Defense that put up 32 points on the hapless Dolphins. There should be a weekly stampede to pickup whichever defense plays the Dolphins the rest of the season. Other top waiver gems by Week 2 value would have to be these guys all picked up for $1: Demarcus Robinson (35 points), Raheem Mostert (24 points), John Ross (21 points), DJ Chark (19 points) Jeff Wilson (15 points).
Current League Leaders
| | | | |
| --- | --- | --- | --- |
| League Color | Points | Team | Owner |
| RTFFC Purple​ | 354.05 | Bobos Monkeys 1 | R.Offerson |
| RTFFC Black | 345.9​0 | DARKSIDE | Luke |
| RTFFC Red | 341.20 | Ribeye Express | R.Lucas |
| RTFFC White | 339.05 | WHITESWIPES | A.Dwight |
| RTFFC Green | 337.20 | Code Green Rain | A.Curry |
| RTFFC Silver | 336.05 | Vikes 103 | R.Mogard |
| RTFFC Blue | 328.55 | Bippidi Boppidi Broke​ | A.Klein |
| RTFFC Gold | 318.85 | Diputsbakwards2 | A.Rosso |
| RTFFC Platinum | 309.60 | Hiluss | MM |
Good luck and don't forget to get those waiver claims in before Wednesday and Friday night waivers this week.
ChrisToeFer has been working in the fantasy industry since 2008. His day job is developing apps and other software such as DFS, draft, and auction rooms. His alter-ego is chief cat-herder in the RTSport chat rooms, trying to maintain some semblance of order.