Lineup Prep: Week 13
Wed Nov 27 1:07pm ET
By JEFF PAUR
Sr Fantasy Writer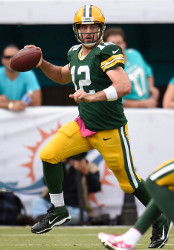 Rodgers can get it going again
Notice
: Undefined variable: league in
/rtfs/football/php/syndicated-news.php
on line
136
Notice
: Trying to get property of non-object in
/rtfs/football/php/syndicated-news.php
on line
136
This is my favorite Lineup Prep to write for the season. This addition features all things I'm thankful for when it comes to fantasy football. I do a Thanksgiving theme every year. So without further ado, here is my list for 2019. . . .
First off, I am truly thankful for all of you - my readers. Without you, I'm not doing this. I really believe I have the best audience out there on a weekly basis. I always get insightful questions and thoughts from all our users. The RTSports community is the best out there. Thank you for making my job the best it can be.
I am thankful for Patrick Mahomes and Lamar Jackson. These two guys are changing the quarterback position and are just getting started. They have a lot of time left in their careers and will be huge fantasy factors for seasons to come. These guys are as exciting as any talent I have ever seen in the game. I love watching them on a weekly basis.
I only have him in a couple leagues, but I am sure thankful for Christian McCaffrey. This guy is first overall in running back scoring and by a wide margin. He averages more than seven points a game than Dalvin Cook, the second rated back. That is a huge margin and why so many McCaffrey owners are sitting pretty this year. If you own McCaffrey, you should be very thankful for him.
I am thankful for breakout fantasy players. I had Chris Godwin pegged as a breakout and took him on nearly all of my fantasy teams. Well, that is paying off for me. Godwin is second overall in receiver scoring right now and certainly well worth his draft position from this year. He has been a difference maker for me and all his fantasy owners. Guys like Godwin, Lamar Jackson, Darren Waller and Aaron Jones have all taken their games to new levels this year, becoming the top breakout players for 2019.
Like every year, I am thankful the kicker position always has players that emerge out of almost nowhere and serve as top fantasy starters. There is no need to waste a pick early on a kicker. We have relative unknowns every season that become the top players at the position. This year is no different. Right now, Zane Gonzalez, Matt gay and Joey Slye are top-10 fantasy kickers. So please don't waste early picks on kickers. Be thankful for these guys that emerge every year and serve as dependable fantasy options.
I am thankful for the NFL Network. I can get my football fix all day long with this 24-hour NFL channel. They have some great programming on the NFL Network and this channel gives me my football fix whenever I need it all year long. Great stuff.
I am thankful my son Henry is really into fantasy football. He loves it and I couldn't be any more proud. He turns 13 this week and has been in a league with his friends the last few years. All of them talk about it nonstop and even have a group text chat they use to propose trades, talk trash and commiserate about the fantasy games. It is great stuff. Henry also is super knowledgeable about fantasy football. He has been on our podcast and does a great job. I have even received a handful of emails from listeners, saying they really enjoy listening to Henry and I on the podcast. Proud dad right here!
I am thankful that the quarterback position is super deep and I don't have to use an early-round pick on the position. Jameis Winston, Josh Allen and Kirk Cousins are all top-10 fantasy quarterbacks and could be had for a good price come draft day. This should continue to be the case going forward. This position is crazy deep with a lot of great options, making it a good one to platoon on your teams. I can't see myself using a first or second round pick on Lamar Jackson or Patrick Mahomes next year with so many quality options behind those guys.
I am thankful for innovative coaches in the NFL. The always ever changing league has some great minds calling plays these days, making for some big fantasy performances on a weekly basis. There are new coaches that emerge every season, changing the way the game is played. It is a copycat league, so expect more teams to try to emulate what Lamar Jackson is doing in Baltimore. It will be interesting to see how drafts play out in the coming years as teams try to find the next Lamar Jackson. Either way, I am thankful for all the great offensive minds in the NFL, helping shape the fantasy world in a new way on a yearly basis.
Lastly, I am thankful for this job. I love being able to do this on a weekly basis. I never take this job for granted and will continue to work hard to bring you the best content to help you get ready for your games. This has been a dream for me and I look forward to producing all my content on a weekly basis. Thanks for reading and have a great Thanksgiving!
As always, don't forget to check out my weekly rankings here: Week 13 rankings.
News and Notes: The Jaguars signed safety Marcus Gilchrist on Tuesday. Gilchrist provides some veteran depth in the secondary for the Jaguars. . . . .The Panthers signed defensive tackle Stacy McGee on Tuesday. McGee has some past success and could get some playing time with Carolina dealing with injuries along the defensive line.
HOT PLAYS
LeVeon Bell, RB, Jets. Bell keeps getting his yards on a weekly basis. HIs rushing numbers are not very good but he gets his catches, which helps make up for that low rushing totals. Bell had 49-rushing and 59-receiving yards last week, giving him 108 total yards in the game. He has at least four receptions three of four games. The Jets passing attack is looking much better these days, which is a plus for Bell. He is getting more goal-line chances with the offense moving better, having scores two of three games. Expect more goal-line work and good yardage numbers in his matchup this week against the lowly Bengals. Cincinnati allows the fifth most fantasy points to running backs and are dead last against the run, allowing 166-rushing yards per game.
Aaron Rodgers, QB, Packers. Normally, Rodgers would never hit this list because he is a must start every week. But that hasn't been the case this year. Rodgers has been pretty mediocre many weeks, especially lately. He has just two touchdowns his last three games and fewer than 200-passing yard two of those games. This offense hasn't been nearly as prolific as past seasons, focusing on running the ball a little more while taking fewer chances down the field. But even with that said, Rodgers is capable of the huge game any given week. And we think this week could be one of those big games. He gets the Giants, a team that allows the ninth most fantasy points to quarterbacks and rank 26th against the pass.
Phillip Lindsay, RB, Broncos. Lindsay isn't having quite the season as his rookie year but been solid in a starting role. And his chances could be increasing going forward with Royce Freeman struggling some. Lindsay has 68 or more total yards four straight games. He also has double-digit carries all but two games. He gets his weekly work and produces for fantasy teams. He had his best game of the season against his opponent this week, the Chargers. He had his only 100-yard game against the Chargers and finished with 147 total yards in the game. Los Angeles allows the seventh most fantasy points to running backs.
DeVante Parker, WR, Dolphins. Parker has been one of the few bright spots for the Dolphins this season, finally playing like a No. 1 receiver. He has double-digit fatness points all but two games. He has at least 55 yards six straight games. Parker also has at least four receptions six straight games. He has been targeted double-digit times three straight. Parker is getting a weekly workout as Ryan Fitzpatrick's favorite target. Expect more of the same this week against the Eagles, a team that allows the eighth most fantasy points to receivers.
Jarvis Landry, WR, Browns. Landry is red hot right now, having touchdowns four straight games. He had his best game of the season last week, catching 10 passes for 148 yards and two touchdowns on 13 targets. He has double-digit targets four of five games. He plays the Steelers this week, a team he scored a touchdown against just two weeks back. Landry is a must start for fantasy teams at the moment. He is second overall in receiver scoring his last three games.
COLD PLAYS
Chris Carson, RB, Seahawks. Carson had his worst game of the season last week, rushing eight times for just 26 yards. He had just under 10 fantasy points, making it just the second time all year he had fewer than 10 fantasy points. He has been very consistent all year. Rashaad Penny had a great game last week and could be playing his way into a bigger role, meaning a few less touches for Carson. This makes Carson a bit of a scary play this week against the Vikings, a team that struggles against the pass but is solid against the run. Minnesota allows the fourth fewest fantasy points to running backs.
Amari Cooper, WR, Cowboys. Cooper has just 38 yards his last two games. He was even shutout last week against the Patriots. He is battling a knee injury but doesn't seem too slowed by the injury. Things won't get any easier for him this week against the Bills and shutdown corner Tre'Davious White. Buffalo allows the eighth fewest fantasy points to receivers and are third overall against the pass. Cooper could have another down showing in Week 13.
Philip Rivers, QB, Chargers. Rivers is finally showing signs of slowing down. He has really struggled in recent weeks, having seven interceptions his last two games. Rivers also has just four touchdowns his last four games. He is doing very little for fantasy teams and should be left on benches, especially this week against the Broncos. Rivers failed to score a touchdown against the Broncos earlier this season. Denver allows the fourth fewest fantasy points to quarterbacks.
Carlos Hyde, RB, Texans. Hyde is having a fine season as the starter for the Texans, but has been just OK as a fantasy player. His big issue is a lack of work in the passing game. He does not have a reception since Week 6 and has just six receptions all season. This lack of work in the passing game makes him a bit of a touchdown dependent player. He needs to score to have that productive fantasy game. And we aren't sure he scores this week against the Patriots, a team that has allowed just five rushing touchdowns all season and 11 points per game. If you have better options, go with them in Week 13.
Tyrell Williams, WR, Raiders. Williams has really fallen on hard times lately. He has fewer than 50 yards three of four games and hasn't scored since Week 8. He has not been much of a help to fantasy teams after finding the end zone four straight games to start his season. Some might look at this matchup this week and think it is a good one for Williams, getting the Chiefs. But Kansas City has done a great job of limiting wide receivers this season, allowing the second fewest fantasy points to receivers. Williams could struggle once again in Week 13.
SLEEPERS
Nick Foles, QB, Jaguars. Foles hasn't been great since his return to the starting lineup but is showing promise. He has 270-plus passing yards each of his last two games and one multiple touchdown showing. He is getting plenty of chances to air it out having 95 pass attempts in two games. If he gets that many chances this week, expect big things from Foles. He plays the Bucs, a team that allows the second most fantasy points to quarterbacks and 31 points per game. Foles is a legit low-end No. 1 fantasy quarterback in this prime matchup.
Kenyan Drake, RB, Cardinals. David Johnson is around, but Drake is the lead back for the Cardinals right now. Drake has double-digit carries three straight games and at least four receptions all three of those games. He is getting a lot of work in the Cardinals potent offense. He can do some damage with that workload this week against the Rams. Los Angeles is reeling, especially against the run. The Rams allowed 285-rushing yards last week and more than 100-rushing yards two of four games. Drake is setup for more success in Week 13.
Russell Gage, WR, Falcons. Gage has emerged as the No. 3 receiver for the Falcons and done well in that role. He had season highs last week, catching eight passes for 76 yards on 10 targets. He has seen his play pickup in recent weeks, though, having 21 receptions his last four games. The Falcons/Saints game could be a high scoring one this week, making many players enticing fantasy options for Week 13, including Gage. He has some flex appeal in this matchup.
Kyle Rudolph, TE, Vikings. Rudolph has become fantasy relevant once again. He has touchdowns four of five games and at least three receptions six straight games. He did next to nothing his first five games but his workload has really changed in recent weeks, especially in the red zone. Things are looking good for Rudolph to continue his success this week against the Seahawks, a team that struggles to stop the tight end. Seattle allows the fourth most fantasy points to tight ends.
Tarik Cohen, RB, Bears. Cohen has seen his workload in the passing game increase in recent weeks. He had seven receptions last week and has 16 catches his last three games. He still isn't getting a ton of work in the rushing game, but as long as he keeps getting that much work in the passing game, Cohen has fantasy value. He has 13-plus fantasy points three straight games. Another good showing is likely this week against the Lions, a team that allows the second most fantasy points to running backs.
High/Low Scoring Games
Each week we will take a look at some of the high and low scoring games for the coming week. In high scoring affairs, get your marginal players on those teams in your lineup to take advantage of the possible points barrage. And in the low scoring games, keep those marginal players on the bench and make sure to have your defenses involved in those contests.
High Scoring Games: Saints/Falcons, Bucs/Jaguars, 49ers/Ravens, Rams/Cardinals, Raiders/Chiefs, Vikings/Seahawks.
Low Scoring Games: Bears/Lions, Chargers/Broncos.
Jeff Paur is a two-time finalist for FSWA Fantasy Football Writer of the Year and won the FSWA award for Best Fantasy Football Article on the Web in 2011. He also was the most accurate expert in 2012, winning the FSTA Fantasy Football Accuracy Award. If you have any questions for Jeff, email him at jeff@rtsports.com. Follow Jeff on Twitter @jeffpaur.