Waivering: Week 14
Tue Dec 3 8:39am ET
By JEFF PAUR
Sr Fantasy Writer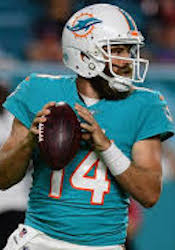 Fitzpatrick has favorable finish
There actually are a few position changes this week, mostly at quarterback. But that means some players most likely on waivers will have some value going forward. There could be a few players out there this week that could help down the stretch. Here are the top options for Week 14. . . .
QUARTERBACKS
Ryan Fitzpatrick, Dolphins. Fitzpatrick had a season high 31.45 fantasy points last week. He had a three-touchdown game, giving him multiple scores four of six games. He has produced well in the Dolphins pass-first offense. The Dolphins play the Jets, Giants and Bengals their next three games, making Fitzpatrick an intriguing fantasy play gong forward. He has some real potential in these matchups.
Gardner Minshew, Jaguars. Minshew replaced Nick Foles last week and gave the offense a spark, going 16-of-27 for 147 yards and a touchdown with an interception. He is likely to return to the starting lineup going forward. Remember, he had five multiple touchdowns five of eight games before Foles was healthy and returned to the starting lineup. He can help fantasy teams in a starting role.
Andy Dalton, Bengals. Dalton returned to the starting lineup and led his team to their first victory of the season. He was 22-of-37 for 243 yards and a touchdown. The Bengals have the Browns and Dolphins two of their next three games, making Dalton a player to consider streaming if you are in need of quarterback help. He has six games with 20-plus fantasy points this year.
RUNNING BACKS
Alexander Mattison, Vikings. Mattison hasn't gotten a ton of chances his rookie year, but impressed with his work. He averages 4.8 yards per carry and has nearly 500 total yards on just 94 touches. Dalvin Cook injured his shoulder Monday night, making Mattison a must add for any league that still has him available. We aren't sure if Cook misses any time, but if so, Mattison will have big fantasy value in this offense.
Raheem Mostert, 49ers. Mostert was the leading rusher for the 49ers last week and had his first 100-yard game of his career. He is outplaying Tevin Coleman right now and should be setup for more work down the stretch. He has touchdowns two straight and had a 146-yard performance in Week 13 against a good Ravens defense. Mostert remains available in 66 percent of leagues.
Derrius Guice, Redskins. Guice showed his potential last week, rushing 10 times for 129 yards and two touchdowns. He brings a lot to the table in a starting role for the Redskins. His workload could be increasing down the stretch after having 10 carries each of the last two games. Guice is available in 20 percent of leagues.
Bo Scarbrough, Lions. Scarbrough has emerged as the lead back for the Lions, running well in place of Kerryon Johnson. He has 80-plus rushing yards two straight games and at least 14 carries three straight. He doesn't catch the ball but will get his yards and the goal-line work for the Lions. Scarbrough is averrable in 34 percent of leagues.
Benny Snell, Steelers. Snell scored his first touchdown of the season last week, rushing 16 times for 63 yards and a touchdown. He has 37 carries his last two games, getting the starter's nod for the Steelers with James Conner out of the lineup. Snell has fantasy value as long as Conner is sidelined.
WIDE RECEIVERS
John Ross, Bengals. Ross returns from his broken collarbone this week. He had 100-yard games each of his first two to start the season before getting injured in Week 4. He will return to the starting lineup and could have a big game or two the rest of the way. He is worth a speculative add if you need receiver help.
James Washington, Steelers. Washington continues to excel as the No. 1 receiver for the Steelers. He hit the 100-yard mark for the first time all season last week, catching four passes for 111 yards and a touchdown. He has 90 or more yards three of four and touchdowns three of those games. He has some good matchups down the stretch, facing the Cardinals and Jets two of the next three. Washington is available in 55 percent of leagues.
Cole Beasley, Bills. Beasley has touchdowns two straight and at least 74 yards three of four. He also has found the end zone five of his last seven games. Beasley is getting consistent work in the Bills offense and is a top red-zone target for the team. He is available in 38 percent of leagues.
Russell Gage, Falcons. Gage continues to emerge in the Falcons passing game, especially with Julio Jones hurting. Gage scored his first touchdown of the season last week. He has at least four receptions four of five games. He can be a good spot play for fantasy teams in the Falcons pass-first offense.
TIGHT ENDS
Tyler Higbee, Rams. Higbee got the start last week with Gerald Everett injured. Higbee made the most of his start, catching seven passes for 107 yards and a touchdown. He played great against a Cardinals defense that can't stop the tight end. So don't overvalue Higbee, but he could have another big game or two before the season is out. He has some potential in this offense.
Mike Gesicki, Dolphins. Gesicki found the end zone last week for the second straight game. He has double-digit fantasy points three of five games. He has some fantasy value in the Dolphins pass-heavy offense. Plus, Gesicki has some great matchups down the stretch, facing the Jets, Giants and Bengals.
Jeff Paur is a two-time finalist for FSWA Fantasy Football Writer of the Year and won the FSWA award for Best Fantasy Football Article on the Web in 2011. He also was the most accurate expert in 2012, winning the FSTA Fantasy Football Accuracy Award. If you have any questions for Jeff, email him at jeff@rtsports.com. Follow Jeff on Twitter @jeffpaur.