Lineup Prep: Wild Card Weekend
Thu Jan 2 1:47pm ET
By JEFF PAUR
Sr Fantasy Writer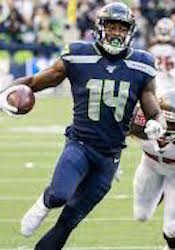 Metcalf setup for big showing
Notice
: Undefined variable: league in
/rtfs/football/php/syndicated-news.php
on line
133
Notice
: Trying to get property of non-object in
/rtfs/football/php/syndicated-news.php
on line
133
The regular season might be over but that doesn't mean your fantasy season has to end. There are a lot of fun playoff contests and leagues out there these days. We run several on our site. I highly suggest getting involved in a league if you can. It is a great way to get your fantasy fix a little longer. Plus, there are a lot of interesting formats for leagues, giving you a different fantasy dynamic than during the regular season. So we'll continue with this column throughout the playoffs, getting you ready for your games each week. With that said, here are my random thoughts for the week. . . . .
I always like to give my playoff predictions before the start of the playoffs. So here ya go. All signs point towards the Ravens being the AFC representative in the Super Bowl. I just think they are the most complete team in the NFL, so they are my pick in the AFC. I also like the way the Chiefs are playing, mainly because their defense has taken a big step forward. I just think the Ravens are a tad better, though, but don't count out the Chiefs.
The NFC is much tougher. I know they have to play this weekend, but I like the Saints. Again, this is a complete team in my view. The defense has really made strides and the offense is playing the best it has all season. New Orleans is going to be a really tough out and I like them to go all the way. I know they might have to play on the road more than a game, but this team is a veteran team that is playing their best football right now. San Francisco is my next choice in the NFC, but I think the lack of experience of this team right do them in. So I'm looking at a Ravens and Saints matchup in the Super Bowl. And I'll go with the Ravens to win it all. I just think Lamar Jackson will continue his magical season all the way through the playoffs.
I think the end of the season for Kenyan Drake has really solidified him as the lead back for the Cardinals for next year. He scored touchdowns three straight to end his year and had 100-plus rushing yards two of his last three games. He just seems a great fit for the Cardinals offense and it makes sense for the team to stick with I'm as the starter. And if that happens, I think he can be a top-10 fantasy back. I know he has burned fantasy teams in the past, but he hasn't played in an offense like this before. Drake can be the real deal for fantasy teams in 2020 if he is starting for the Cardinals.
I could not be more excited about the futures of both A.J. Brown and Deebo Samuel. I think these guys are going to be special players. Both are big, strong receivers that make a ton of plays after the catch. They can be elite fantasy receivers for years to come as the top targets in their respective offenses. I like Brown more a little more when it comes to that superstar fantasy factor, but both are very exciting players to me.
Rookie Drew Lock was 4-1 as the starter for the Broncos this year. He played well and looked the part of a legit NFL quarterback. He has a swagger about him and a short memory, giving him a bit of that "it" factor. But with that said, I'm not sold on him being a prolific fantasy starter just yet. He topped 200-passing yards just two of five games and had multiple touchdowns only two games. He will makes some mistakes and miss on some throws down the field. I think he'll be up and down for fantasy teams in 2020. He might be worth some spot starts but don't expect a big leap in fantasy production for Lock.
I'm not discounting Saquon Barkley as an elite fantasy back just because of this past season. I don't think he was healthy much of the year, which really impacted his fantasy numbers. He was healthy down the stretch and showed his fantasy potential when at full strength. He has 20-plus fantasy points each of his last three games and led all fantasy backs in scoring during that stretch. I don't think you can take him first overall in PPR leagues over Christian McCaffrey next year, but Barkley can still be a top-three pick in my views. He was 11th overall in fantasy running back scoring in a down season that he missed three games because of injury. Barkley can rebound in a big way next year, especially if the Giants hire the right coach to maximize his abilities.
I'm not sure I ever remember such a dominating season from a fantasy back like the one Christian McCaffrey had this year. He scored more than 150 fantasy points than the second rated back. That is a crazy number, averaging nearly 10 more points a game than the No. 2 fantasy back. He carried nearly all the fantasy teams that draft him to the playoffs this year. He had one of the greatest fantasy seasons ever.
As always, don't forget to check out my weekly rankings here: Wild Card Weekend Rankings.
HOT PLAYS
Josh Allen, QB, Bills. Allen had a breakout year for the Bills. He was ninth overall in fantasy quarterback scoring. He had 20-plus fantasy points 11 of 16 games. And remember, he played just a handful of snaps the last game of the season. Allen has been rock solid all year. Expect more of the same good production this week against the Texans. This game might be the highest scoring of the bunch this week. The Texans have really struggled defensively much of the year, allowing the second most fantasy points to quarterbacks.
D.K. Metcalf, WR, Seahawks. Metcalf had a season high 12 targets last week, catching six passes for 81 yards and a touchdown. He has touchdowns two of his last three games. He also has 75-plus yards three of five games. He has emerged as a top target in this offense and is getting consistent work in the passing game. Metcalf is going to be a star in this league and could have his breakout performance this weekend against the Eagles. Philadelphia allows the fourth most fantasy points to receivers.
Miles Sanders, RB, Eagles. Sanders was injured last week but seems to be battling a fairly minor ankle injury. He should be ready to play, which is great news for the Eagles offense. Sanders has been great as the lead back for the Eagles. Sanders is fifth overall in fantasy running back scoring his last three games. Sanders has touchdowns three of five and more than 100 total yards there of those games. As long as he is healthy and playing, Sanders is setup for good things this week against the Seahawks. Seattle is 27th overall against the rush and allow the 13th most fantasy points to running backs.
COLD PLAYS
Marshawn Lynch, RB, Seahawks. Lynch might have led the Seahawks in carries last week but didn't produce great numbers with all those touches. He ran 12 times for just 34 yards but did score a touchdown, helping his fantasy numbers a little. Either way, he did not produce a much with his touches. And he didn't catch a pass, which is another mark against him. Lynch probably will do more of the same this week against the Eagles. Philadelphia struggles to stop the pass but do well against the run, ranking third overall against the run while allowing the seventh fewest fantasy points to running backs. Lynch probably isn't worth the risk on playoffs rosters.
Will Fuller, WR, Texans. Fuller seems to have a decent chance to return from his groin injury this week. He has been practicing on a limited basis. But even if he returns, we might just stay away. Fuller has not scored a touchdown since Week 5 and has more than 70 yards just two gams all season. He has been pretty mediocre much of the year. The Bills allow the sixth fewest fantasy points to receivers and rank fourth overall against the pass.
Tom Brady, QB, Patriots. Brady has been pretty mediocre, especially for his standards. His fantasy numbers are down. He has fewer than 20 fantasy points four straight games and six of his last seven games. Look for more mediocre numbers this week against the Titans. Tennessee allows just over 20 points per game. We would not count on Brady to produce big in this matchup.
SLEEPERS
Ryan Tannehill, QB, Titans. Tannehill has been red hot since taking over as the starter for the Titans. He is fourth overall in fantasy running back scoring his last three games. He has multiple touchdowns everyone on his starts this years. Tannehill also has 270-plus passing yards three of four games. He gets the Patriots, a team that has been very good defensively much of the season, but had some issues down the stretch. This unit is not invincible by any means. The Patriots allowed 326-passing yards to the Dolphins last week and given up 270-plus passing yard two of four games. Look for Tannehill to have success throwing the ball in this one.
Dallas Goedert, TE, Eagles. Zach Ertz has a chance to play this weekend but he will not be 100 percent if he suits up for the game. Ertz is pretty beat-up right now. Either way, Goedert will play a big role in the passing game. The Eagles still lack options at receiver, so Goedert will get his targets. He is seventh overall in fantasy tight end scoring his last three games. Goedert has double-digit targets each of his last two games. The Seahawks allow the most fantasy points to tight ends of all the teams playing this week. This bodes well for Goedert to continue his hot play.
Rex Burkhead, RB, Patriots. Burkhead has picked up his game down the stretch. He has touchdowns two of his last three games and topped 50 total yards in all three teams. He is getting a few more chances and taking advantage. This game seems to be best suited for the Patriots to run the ball, allowing the 14th most fantasy points to running backs. If you want to take a chance on a back this weekend that might not be owned by mean, Burkhead is worth a look in this matchup.
High/Low Scoring Games
Each week we will take a look at some of the high and low scoring games for the coming week. In high scoring affairs, get your marginal players on those teams in your lineup to take advantage of the possible points barrage. And in the low scoring games, keep those marginal players on the bench and make sure to have your defenses involved in those contests.
High Scoring Games: Bills/Texans, Vikings/Saints, Seahawks/Eagles.
Low Scoring Games: None.
Jeff Paur is a two-time finalist for FSWA Fantasy Football Writer of the Year and won the FSWA award for Best Fantasy Football Article on the Web in 2011. He also was the most accurate expert in 2012, winning the FSTA Fantasy Football Accuracy Award. If you have any questions for Jeff, email him at jeff@rtsports.com. Follow Jeff on Twitter @jeffpaur.