Rookie Preview
Tue May 5 2:22pm ET
By JEFF PAUR
Sr Fantasy Writer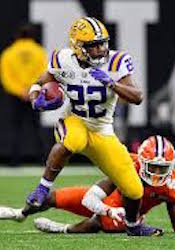 Edwards-Helaire is top rookie
There is nothing more exciting than a rookie. There is a lot of unknown but the potential is always there for big things. Fantasy owners love to find that next big thing, so rookies are normally a hot item come draft day. Just remember, rookies don't always pan out in year one.
We don't want to rain on anyone's parade but if you look at last year, there are only a handful of real impactful rookies. Kyler Murray was the top fantasy rookie, finishing sixth overall in fantasy quarterback scoring. He was the only rookie quarterback to score in the top 20 in scoring, though, with Daniel Jones finishing 21st overall in quarterback scoring.
The running back position had just one rookie back, Miles Sanders, finish in the top 20. Sanders was 15th overall in fantasy running back scoring. Josh Jacobs was the next best rookie back, finishing 21st overall in running back scoring.
A.J. Brown was top rookie receiver last year, ranking 22nd overall in receiver scoring. So he was the best rookie receiver and was just a low-end No. 2 for fantasy teams. Other rookies of note were D.K. Metcalf (29th), Terry McLaurin (30th) and Deebo Samuel (31st). These receivers were mainly No. 3 or fill-in plays for fantasy teams.
The tight end position was really impacted by just one rookie, Noah Fant. He was 14th overall in fantasy tight end scoring. Fant had a few big games but was nothing more than a spot play for fantasy teams in year one.
So as you can see, rookies don't always make a huge impact their first year in the league. Just temper your expectations some when it comes to rookies. Loading your team with rookies is usually a recipe for disaster.
With that said, here is a position-by-position look at the rookie class for the coming season. We'll start with the quarterback spot. . . . .
ROOKIE QUARTERBACKS
Joe Burrow, Bengals

Tua Tagovailoa, Dolphins

Justin Herbert, Chargers

Jalen Hurts, Eagles

Jacob Eason, Colts
Burrow is the clear top rookie quarterback, getting picked first overall by the Bengals. He'll start from day one and has a chance to have some big games in this offense. His value is probably better down the road as the Bengals improve the team around him, especially their offensive line. For now, Burrow is likely a spot starter for fantasy teams. He won't be consistent enough at the loaded quarterback position to be worth using every week for fantasy teams.
The rest of the quarterbacks carry a lot more question marks. We aren't sure there is another rookie that opens the season as the starter for their team. Tagovailoa and Herbert might start at some point this year, but that likely doesn't happen right away. And Hurts might be a guy that gets playing time but more so in a Taysom Hill-type role for the Eagles. Overall, Burrow might be the only rookie that makes a fantasy impact in year one.
ROOKIE RUNNING BACKS
Clyde Edwards-Helaire, Chiefs

D'Andre Swift, Lions

Cam Akers, Rams

Jonathan Taylor, Colts

Ke'Shawn Vaughn, Bucs

J.K. Dobbins, Ravens

Zack Moss, Bills

Antonio Gibson, Redskins

Anthony McFarland Jr., Steelers

A.J. Dillon, Packers
The running back spot has some rookies that have a good chance to make an impact this year. Edwards-Helaire is the most exciting of the group. He has a great chance to start in the Chiefs explosive offense and get plenty of weekly work. His ceiling is the highest of any rookie back. Edwards-Helaire could be a low-end No. 1 back before the season is out.
Swift and Akers are two more backs with some competition to start, but should be the starter's on their respective teams to open the season. And both look like good fits for the offenses they play, giving them some good fantasy upside. Both have a chance to be dependable No. 2 backs.
Taylor is similar to the previous two backs mentioned but probably has the toughest competition for carries, which is why he landed behind those two. Marlon Mack had a 1,000-yard season last year, so don't discount him to still get work this year. Taylor and Mack might be in more of a timeshare than the other two guys.
Vaughn is another back similar to Taylor with decent competition for carries but his talent level isn't quite that of Taylor. Vaughn could very well start for the Bucs but this offense isn't quite built to run. Ronald Jones also performed well down the stretch last year, so he isn't going to just move out of the way for Vaughn.
The rest of the backs on this list are in tougher situations to garner a bunch of playing time. All should play and a few might emerge to get double-digit touches per week, but for now, expect erratic production in their current roles.
ROOKIE RECEIVERS
Justin Jefferson, Vikings

Denzel Mims, Jets

Jerry Jeudy, Broncos

Michael Pittman Jr., Colts

Henry Ruggs, Raiders

Jalen Reagor, Eagles

Bryan Edwards, Raiders

CeeDee Lamb, Cowboys

Tee Higgins, Bengals

Brandon Aiyuk, 49ers
The receiver class was loaded this year. Many called this the most talented rookie class in several years, so don't be surprised if many of these guys make an impact their rookie seasons. A lot of the value for these talented players comes down to landing spot. And for us, Jefferson landed in a great spot to make a big impact as a rookie. He should start for the Vikings from day one and should get plenty of weekly targets. He also is a very talented player, which helps his case even more to be the top rookie receiver.
Mims is another player that fits the same category as Jefferson. Mims might not be the most talented player in this class, but he could actually lead the Jets in targets as a rookie. He has a chance to post big numbers.
Jeudy, Pittman, Ruggs and Reagor also are rookies that should come in and start right away. These guys might have a little more competition for work, though, which puts them down the list a little more. All are talented players with a high ceiling. It wouldn't surprise if any one of them makes a strong push to be the top rookie receiver in the game.
Lamb might have the most talent of any of the receivers in this draft, but he has Amari Cooper, Michael Gallup and Ezekiel Elliott to compete with for targets. He did not land in a great spot to have a big rookie season. His future is very bright, though.
One player to keep an eye on that made this list is Edwards. He went a little later than most of these guys on this list, but his potential is high. He is a big receiver that won't get pushed around in coverage and should start from day one. He could be the surprise of this rookie receiver class.
ROOKIE TIGHT ENDS
Devin Asiasi, Patriots

Cole Kmet, Bears

Dalton Keene, Patriots

Josiah Deguara, Packers

Adam Trautman, Saints
The tight end spot is probably the least exciting of the rookie class. Kmet is the most talented of the group, but he landed with the Bears. Chicago already has a veteran tight end on the roster, Jimmy Graham, and several other options at tight end for Kmet to compete with for targets and playing time. Plus, Kmet lands with a team that has quarterback questions. He still might be worth some spot starts for fantasy teams but that is about it for now.
Our top rookie tight end for this year is Asiasi. He takes over as the starter for the Patriots and should get plenty of chances to produce in an offense that likes to use the tight end. Plus, New England has some questions at receiver, which could open the door for more targets at the tight end spot.
So in closing, the rookie class has some promise this year, especially the receiver spot. Just remember, there aren't a lot of rookies that become big-time fantasy players in year one. Proceed with caution!
Jeff Paur is a two-time finalist for FSWA Fantasy Football Writer of the Year and won the FSWA award for Best Fantasy Football Article on the Web in 2011. He also was the most accurate expert in 2012, winning the FSTA Fantasy Football Accuracy Award. If you have any questions for Jeff, email him at jeff@rtsports.com. Follow Jeff on Twitter @jeffpaur.