WR Strength of Schedule
Mon May 11 10:16am ET
By JEFF PAUR
Sr Fantasy Writer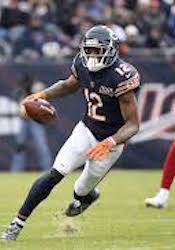 Robinson could do well again
The NFL schedule was released last week, so we thought it was a good time to see how it impacts the fantasy world. Below is a look at the fantasy strength of schedule for the receiver position.
Using our rules for our money leagues, we came up with a schedule strength ranking for the wide receiver position. We are using our fantasy defenses report to calculate the rankings. This report can be found in all of our leagues under the "reports" heading. We took the schedule of each team and entered the average number of fantasy points allowed to receivers last season from all of their opponents to get our fantasy points allowed number. This is a good indication of the receivers with the most favorable schedules for fantasy scoring for the coming season.
Bears receiver Allen Robinson had a big season last year and could build on that with the most favorable schedule for receivers. He might deserve to be bumped up a few spots in your rankings this year. The Cowboys trio of top receivers get the second easiest schedule for receivers. These guys might be hit or miss with so many mouths to feed but are going to have some huge games along the way.
A few other teams with favorable schedules for receivers are the Packers, Panthers, Redskins and Seahawks. Davante Adams has little competition for targets and an easy schedule, so he seems setup for a big season. D.J. Moore had a breakout season last year and could do even better this year. D.J. Metcalf seems ready to take a step forward in years two for the Seahawks. Lastly, the Redskins have quarterback concerns, but Terry McLaurin is their top receiver and produced despite that last year. He could do well again this coming season.
The Texans lost DeAndre Hopkins and get the toughest schedule for fantasy receivers. This doesn't bode well for Will Fuller and Brandin Cooks to post big numbers. These guys could struggle some despite getting a chance for more targets with Hopkins gone.
A few other receivers with concerns are DeVante Parker, Henry Ruggs and John Brown. Parker finally had that huge season last year, but gets the second toughest schedule for receivers. Plus, Preston Williams should be healthy, which will cut into his targets. Williams was producing big before getting hurt. Ruggs was the first receiver drafted, but gets the fifth toughest schedule for receivers. He could have some growing pains. And Brown was the top receiver for the Bills last year, but has Stefon Diggs to compete with for targets now and the seventh hardest schedule for receivers.
All the receiver rankings are below. These rankings are something to take a close look at before your draft. Adjust your rankings accordingly.
FANTASY
POINTS
ALLOWED
1.
Houston
508.8
2.
Miami
510.6
3.
Jets
512.4
4.
Baltimore
517.2
5.
Las Vegas
518.8
6.
Tennessee
519.7
7.
Buffalo
522.6
8.
Denver
525.7
9.
Indianapolis
526.8
10.
Cincinnati
529.9
11.
Chargers
530.7
12.
Jacksonville
531.4
13.
Pittsburgh
534.6
14.
New England
536.8
15.
Kansas City
539.8
16.
Minnesota
541.7
17.
Cleveland
544.5
18.
Tampa Bay
545.9
19.
Detroit
549.4
20.
Philadelphia
549.6
21.
Giants
552.0
22.
New Orleans
556.1
23.
Arizona
556.9
24.
Rams
558.6
25.
Atlanta
558.8
26.
San Francisco
559.8
27.
Seattle
561.7
28.
Washington
563.0
29.
Carolina
563.2
30.
Green Bay
566.8
31.
Dallas
570.3
32.
Chicago
575.9
Jeff Paur is a two-time finalist for FSWA Fantasy Football Writer of the Year and won the FSWA award for Best Fantasy Football Article on the Web in 2011. He also was the most accurate expert in 2012, winning the FSTA Fantasy Football Accuracy Award. If you have any questions for Jeff, email him at jeff@rtsports.com. Follow Jeff on Twitter @jeffpaur.