Training Camp Preview: AFC North
Thu Jul 16 2:23pm ET
By JEFF PAUR
Sr Fantasy Writer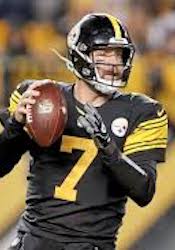 Steelers get back Big Ben
This is the second preview in a series of training camp previews. We will continue to release the previews throughout the week. The previews give you a quick look at each team, going over position battles and injuries to watch in camp. The season is right around the corner.
Steelers
The Steelers had an uneven season last year because of the injury to Ben Roethlisberger. This offense didn't function will with Roethlisberger out. So the big key for this camp will be the health of Roethlisberger. Pittsburgh needs him healthy if the team hopes for a return to the playoffs. Big Ben and the rest of the team will train at Heinz Field in Pittsburgh.
Position battle: The Steelers have a lot to sort out at receiver this coming year. JuJu Smith-Schuster might be the only sure thing of the group. After that, Diontae Johnson, James Washington and rookie Chase Claypool are all vying for a big role in the offense. Johnson is the best bet to start opposite Smith-Schuster, but he won't be handed anything. This depth chart will be one to watch because any player getting a lot of playing time in this pass-heavy offense can have success.
Injury watch: Ben Roethlisberger missed about the entire season last year because of an elbow injury, which required surgery. He is making good progress from the injury and should be ready for Week 1. The Steelers will take it easy with their veteran quarterback in camp, though, to make sure he doesn't have any setbacks. You also will want to keep an eye on his arm strength during camp and preseason action to make sure he is still throwing with the same zip of past seasons. Age and injuries are a concern for Roethilsberger going forward.
Browns
Cleveland was the hot team last year, making a splash in the offseason, but disappointed once again. The Browns have a new coach, so much of camp will be monitoring if Kevin Stefanski can change the culture in Cleveland. Will this team find their winning ways once again? Much of this might depend on Baker Mayfield taking a step forward. The Browns training camp will take place this year at the Cleveland Browns Training Complex in Berea, Ohio.
Position battle: The Browns signed Austin Hooper to a big contract this offseason, but that doesn't mean David Njoku will go away quietly. Njoku remains a very talented player with a high ceiling. If he has a strong camp and preseason, he could a bigger role in the offense than expected. The Browns aren't just going to give Hooper all the playing time at tight end if he doesn't earn it.
Injury watch: Jarvis Landry needed hip surgery this offseason and is a little iffy to be ready for Week 1. He has really made great progress since the surgery, though, and things are looking good for him to be ready for the opener. He will be brought along slowly in camp to help ensure he can take the field Week 1. Hip surgery is a serious surgery for a football player, especially a receiver, so it will be interesting to see if Landry is running and cutting like before the injury.
Ravens
Baltimore was maybe the best team in football all of last year but didn't advance in the playoffs. Much of this camp will focus on Baltimore taking a step forward from last year and getting over the playoff hump. Lamar Jackson was the most exciting player in football last year, so many onlookers will be interested to see if he made any more strides this offseason. Jackson and his teammates will start their quest for the Super Bowl at the Under Armour Performance Center in Owings Mills, Maryland.
Position battle: Marquise Brown is the No. 1 receiver for the Ravens, but after him, there is a lot to be sorted out at the receiver position. Miles Boykin, Willie Snead, Chris Moore and Devin Duvernay will all look to start opposite Brown. This competition is wide open. The Ravens do like to rotate receivers but the starters to hold more fantasy value, making this a position battle to keep an eye on.
Injury watch: Marquise Brown missed just two games his rookie year but was apparently less than 100 percent for some games because of a Lisfranc injury. He had surgery to remove the screw from his foot this offseason and has been rehabbing to get ready for the season. Brown should be ready for Week 1, but we will have a better idea of his status after seeing him in camp and preseason action. A healthy Brown could produce big in this Ravens' offense.
Bengals
The Bengals had the first overall pick in the draft and took a franchise quarterback, selecting Joe Burrow. The team also has a new coach, Zac Taylor, so there is plenty of new with the Bengals franchise this season. Much of camp will be focused on Burrow as the starter and the new coaching staff implementing their style of play. Burrow and company train at the Paul Brown Stadium in Cincinnati, Ohio.
Position battle: The Bengals were thin at receiver last year but suddenly got a lot deeper this offseason. A.J. Green and Tyler Boyd should be near the top of the depth chart, but after those two, there is a big fight for playing time. Rookie Tee Higgins, John Ross, Auden Tate and Alex Erickson are vying for playing time after Green and Boyd. The one to watch is Higgins, who is a talented player with a high ceiling. If he starts, he could have some real fantasy value in year one.
Injury watch: Auden Tate injured his knee late in the season and missed the last three games. Tate was having a pretty solid season in an expanded role before the injury. Tate will need to prove he is healthy this camp and preseason if he hopes to earn a big role for this coming year. His knee injury should not be an issue going forward, but keep an eye on him during camp just to be safe. Any setback would really hurt his chances to carve out a role with the team.
Jeff Paur is a two-time finalist for FSWA Fantasy Football Writer of the Year and won the FSWA award for Best Fantasy Football Article on the Web in 2011. He also was the most accurate expert in 2012, winning the FSTA Fantasy Football Accuracy Award. If you have any questions for Jeff, email him at jeff@rtsports.com. Follow Jeff on Twitter @jeffpaur.