Training Camp Preview: NFC North
Fri Jul 24 10:02am ET
By JEFF PAUR
Sr Fantasy Writer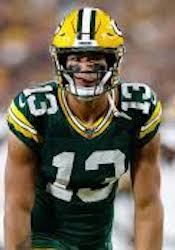 Lazard could start for Packers
This is the sixth preview in a series of training camp previews. We will continue to release the previews throughout the week. The previews give you a quick look at each team, going over position battles and injuries to watch in camp. The season is right around the corner.
Packers
The Packers should have an interesting training camp because of friction between Aaron Rodgers and head coach Matt LaFleur. The two will need to get along if the Packers hope to reach their potential, which is high. Green Bay holds training camp at the Don Hutson Center in Ashwaubenon, Wisconsin.
Position battle: The Packers continue to search for a legit No. 2 receiver opposite Davante Adams. The candidates to start this year are Allen Lazard, Devin Funchess and Marquez Valdes-Scantling. Lazard might have the leg up to start right now but this job is up for grabs. There is nothing certain with this position. Hopefully, one of these guys can emerge and be a real help to the passing game, which hasn't been the case in recent years.
Injury watch: Star receiver Davante Adams missed four games last year because of injury and has failed to play a full season three straight years. The Packers need a healthy Adams in their lineup for a full season if they hope the passing game has any success. There is a huge drop in talent after Adams.
Vikings
Minnesota is close to making a Super Bowl run but just haven't gotten over the hump in recent years. The Vikings will hope to take things up a notch this season, starting in training camp. Minnesota needs Dalvin Cook to stay on the field a full year and for Kirk Cousins to play a little more mistake free football. Training camp for the Vikings takes place at the TCO Performance Center in Eagan, Minnesota.
Position battle: Kyle Rudolph has been the starter for years in Minnesota but second-year tight end Irv Smith could push him for the job this year. Rudolph is a better blocker, which probably helps his chances to start over Smith. But Smith is a better, more explosive player in the passing game. Both should play a role offensive even if they don't start, but the starter might hold a little more fantasy value, especially if Smith can wrestle away the job from Rudolph.
Injury watch: Dalvin Cook is a supreme talent but injuries have been an issue for him to start his career. He is yet to play a full season in three years. He had a huge season last year despite missing two games. Cook needs to shed his injury prone label and get a full season under his belt. He also is threatening a holdout this year because he is searching for a new contract, which is something else to watch during camp.
Lions
The Lions didn't have quite the season as expected last year, mainly because Matthew Stafford went down with injury. Getting a healthy Stafford back might be the key to the season for the Lions. The offense just didn't function nearly as well with Stafford out. Stafford and teammates will train at the Detroit Lions Training Facility in Allen Park, Michigan.
Position battle: Kerryon Johnson has performed well in a starting role the last two seasons but hasn't been able to stay on the field. The Lions added D'Andre Swift in the draft this year to give Johnson some competition for the job. Swift is a very talented back that can be a three-down player in the NFL. He has a good chance to unseat Johnson for the starter's job in Detroit. You'll want to keep a close eye on the competition in camp. It should be a good one.
Injury watch: Marvin Jones battled an ankle injury much of last year, causing him miss games while playing hurt in others. This impacted his production. He should be just fine for the start of training camp, but keep an eye on his health just to be sure. Jones could be a surprise fantasy player this year after his injury issues last year. He has the talent to produce well in this pass-friendly offense opposite Kenny Golladay.
Bears
The Bears should have a very interesting training camp, mainly because of their quarterback battle. This should be something entertaining to watch, seeing who emerges as the starter for the Bears. Obviously, getting solid quarterback play is very important for the success of the Bears season. They need one of these guys to steady the ship. Chicago holds training camp at Halas Hall in Lake Forest, Illinois.
Position battle: The Bears brought in some competition for Mitchell Trubisky, adding Nick Foles to the roster. This will be a wide open competition for the starter's job. Trubisky has a lot of talent but just hasn't progressed as expected. Foles is a steady veteran that seems a good fit for the Bears offense. Foles might have the upper hand right now, but don't rule out Trubisky if he can show improvements from the last few years.
Injury watch: Anthony Miller needed shoulder surgery this offseason. He might not be quite 100 percent for the start of training camp. His health is something to watch, especially since he has injured the same shoulder two straight years. This is an injury concern going forward for Miller. He has a wealth of talent but hasn't quite reached that potential and this injury might be something that holds him back from reaching that potential.
Jeff Paur is a two-time finalist for FSWA Fantasy Football Writer of the Year and won the FSWA award for Best Fantasy Football Article on the Web in 2011. He also was the most accurate expert in 2012, winning the FSTA Fantasy Football Accuracy Award. If you have any questions for Jeff, email him at jeff@rtsports.com. Follow Jeff on Twitter @jeffpaur.