Training Camp Preview: NFC West
Wed Jul 29 11:02am ET
By JEFF PAUR
Sr Fantasy Writer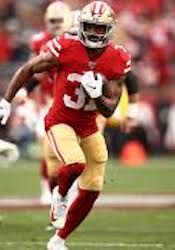 Mostert hopes to have big role
This is the final preview in a series of training camp previews. We will continue to release the previews throughout the week. The previews give you a quick look at each team, going over position battles and injuries to watch in camp. The season is right around the corner.
Rams
The Rams should have an interesting back, mainly because they have a real running back battle on their hands. This should make for some quality entertainment for fantasy owners. The winner of that job will have obvious fantasy value in this offense. The big battle will happen this year at California Lutheran University in Thousand Oaks, California.
Position battle: The Rams will be without Todd Gurley as their starting running back for the first time in several seasons. This leaves the job up for grabs. The Rams drafted Cam Akers with a high pick, making him maybe the favorite for the job. Darrell Henderson and Malcolm Brown are still around, though. These three will battle it out for the job. Akers is the favorite, but he'll need to perform in camp and preseason action to hold off Henderson and Brown .
Injury watch: Cooper Kupp played a full season last year for the first time in his career. He has missed games two of three seasons because of injury. Kupp has struggled to stay healthy at times, but last year was a big step forward. Either way, injury is a concern when it comes to Kupp. He is a huge part of the Rams offense and can be a top fantasy player, but needs to be on the field for that to happen. Make sure he has a healthy camp, though, before taking him come draft day.
Cardinals
Arizona is a team on the rise with a lot of young talent on both sides of the ball. The offense made a big splash this offseason, acquiring DeAndre Hopkins. The offense has a chance to be really good if all the pieces fall into place this season for Arizona. It should be interesting to see how the offense plays out this training camp. The Cardinals hold camp at State Farm Stadium in Glendale, Arizona.
Position battle: The Cardinals starting tight end spot is up for grabs. Maxx Williams seems to have the best shot to start of the group, but will be challenged by Dan Arnold and Darrell Daniels. Arizona's starting tight end doesn't have a ton of fantasy value, but the starter could be worth a spot start or two in a pinch, making this a job some might want to keep an eye on.
Injury watch: Larry Fitzgerald just keeps chugging along. He plays every game and produces on the field. It is pretty amazing. He is 37 years old, though, so you have to wonder if he can keep his current pace. It just seems natural that he will slow down sooner than later, maybe because of injury. This makes Fitzgerald a player to keep an eye on in training camp to make sure he comes out healthy and ready for the season.
49ers
The 49ers made it to the Super Bowl last year but lost in the big game. Expectations will be high for this team once again this year. There should be a lot of pressure on Jimmy Garopppolo, who wasn't great in the playoffs. He might need to up his game a little more if the 49ers hope to win the Super Bowl. Garoppolo and his teammates will train at the San Francisco 49ers Training Facility in Santa Clara, California.
Position battle: Raheem Mostert is threatening a holdout because he wants a new contract. He is expected to start for the 49ers but a possible holdout could open the door for Tevin Coleman. This is a situation to watch going forward. Coleman's value would take a big step forward if Mostert missed any amount of time. And even if Mostert doesn't holdout, don't forget about Coleman as part of a rotation at running back for the 49ers. It is not a slam dunk that Mostert is going to be handed the starting job. (UPDATE: Mostert restructured his contract and ended his holdout)
Injury watch: Deebo Samuel injured his foot in offseason workouts, suffering a Jones fracture. There is a good chance he is not ready for the start of the season, missing a few games to start the year. We'll have a better idea when camp opens, though. Big things are expected from Samuel this year, but this injury clouds those expectations.
Seahawks
Seattle just keeps chugging along, winning a lot of games while making the playoffs. The big issue is getting over the hump of recent years and making a legit run at the Super Bowl. The team will need to get a little better on both sides of the ball for that to happen. Seattle will need some of that young talent to make progress this year, so that might be the big thing to watch this training camp. The Seahawks hold training camp at the Virginia Mason Athletic Center in Renton, Washington.
Position battle: Chris Carson is the starter for the Seahawks but his backup is up in the air. Carlos Hyde and Rashaad Penny are the top options to backup Carson. Hyde is coming off a 1,000-yard season, so he has the leg up on Penny. But Penny is a talented player that has struggled with injury start his career. When healthy, Penny has made plays for the Seahawks. Penny is recovering from a torn ACL, though, so he will need to prove he is healthy if he hopes to win the job over Hyde. This clouds things even more for Penny.
Injury watch: Chris Carson had his season cut short because of a hip injury last year. He is not 100 percent certain to be ready for the start of training camp. He might be brought along slowly to make sure he is ready for the start of the year. He'll need to get up to speed in camp to show the team he is 100 percent and ready for the start of the year. Make sure he has an injury free camp before taking Carson come draft day.
Jeff Paur is a two-time finalist for FSWA Fantasy Football Writer of the Year and won the FSWA award for Best Fantasy Football Article on the Web in 2011. He also was the most accurate expert in 2012, winning the FSTA Fantasy Football Accuracy Award. If you have any questions for Jeff, email him at jeff@rtsports.com. Follow Jeff on Twitter @jeffpaur.