Random Draft Thoughts
Tue Aug 11 1:41pm ET
By JEFF PAUR
Sr Fantasy Writer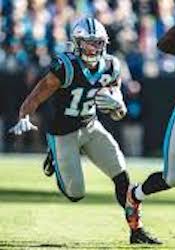 Moore can build on last season
It is early, but I have already done a lot of drafts. I have participated in drafts on our site, drafts for magazines/other websites, and "expert" drafts. So I thought now would be a good time to talk about some things I have been seeing in those drafts. I want to give our readers an inside look at some things happening in drafts and how I have approached drafts this season.
And away we go. . . . .
I don't quite understand the disdain for D.J. Moore this season. He had a breakout year last season, finishing with nearly 90 receptions for 1,200 yards. The only thing that held him back from being an elite receiver was a lack of scores (four touchdowns). Much of the reason people don't like Moore is the addition of Teddy Bridgewater. Many think he is not a positive for Moore, lacking the ability to make big plays while being more of a dink or dunk quarterback. My counter to that is Moore had Kyle Allen as his quarterback much of last year and still produced his big numbers. Is Bridgewater really a downgrade over Allen? I don't think so. I think the opposite, so I have been getting Moore in a lot of drafts this year, being able to nab him in the fourth or so round.
Moore is one player not getting much love, but a receiver that is getting plenty of hype is Allen Robinson. He had a big year last season, finishing with nearly 100 receptions for about 1,200 yards. And he did this with Mitchell Trubisky as his starting quarterback. There is debate on the quarterback this year with Trubisky getting challenged by Nick Foles. The way I look at it, though, is Foles isn't much of an upgrade if he does beat out Trubisky. I really think Robinson hit his ceiling last year. I don't think he can do better. With that said, I don't want to use a second or third round pick to get him. I would rather go with a guy like Kenny Golladay or the aforementioned Moore. I just think they have a higher ceiling than Robinson, who is not on a single roster of mine right now.
Running backs are going super quick again this year. Teams are not messing around with the position. If you wait on the position, you are going to need some lesser options to hit for you. The top backs don't last long. Finding a solid No. 2 back in the fourth round or later is going to be hard this season. Sometimes you have to go against the group think if you want to win big, but I'm not sure I do that this year. I have been getting two backs in the first three rounds of nearly every draft. I just don't feel comfortable trying to salvage the position later in the draft. Plus, the receiver position is really deep this year. I think some receivers that you can get in the middle rounds can really outperform their draft slots.
I love Patrick Mahomes and Lamar Jackson from a fantasy perspective but I don't think I'll get them on any of my teams this year. You are going to have to use a second or third round pick to grab them. I just can't do it. The quarterback position remains deep and I feel I can get somewhat close to the production of both those studs with guys I get later, using a platoon method based on matchups and hot play. I really like going back-to-back with my quarterback picks, getting them in like the eighth and ninth rounds. You can get guys like Matt Ryan, Drew Brees and Matthew Stafford in those spots. Plus, I have been getting Kyler Murray at times in the seventh round. I would much rather have Murray in the seventh than Jackson in the second.
Kenyan Drake has been a target of mine in early drafts, but it seems like many are feeling the same way about him. I have seen his price continue to get higher as the season draws closer. He is getting nabbed in the first round of nearly every draft I'm in now, so if you want him, you are going to have to pay up. And I don't have a problem getting him at the end of the second round. I think his ceiling is huge in this offense. Remember, if he plays a full season with the Cardinals last year, he finishes with more than 1,600 total yards and 16 touchdowns.
I mentioned how I believe the receiver position is really deep this year. Here are some of my mid-round targets that I think can produce big: Jerry Jeudy, Marquise Brown, Justin Jefferson, Brandin Cooks, Tyler Boyd and Preston Williams. These guys are all capable of outproducing their current ADP and can be solid fantasy options in their current situations. I have a lot of shares of these guys on my current teams.
Running back Tevin Coleman is one player I have been targeting in early drafts. You can get him in the mid to late rounds of drafts. He was a disappointment last year but for his price tag, I think he is worth the risk. Raheem Mostert is the only back ahead of Coleman on the depth chart right now. And Mostert remains unproven in my eyes, especially as a workhorse back. Coleman should get double-digit touches on a weekly basis in this offense and is an injury away from starting for one of the best run offenses in all of football.
If I can get a Zach Ertz or Mark Andrews in the sixth round, I will do it. But for the most part, that hasn't happened much outside of a few drafts. With that said, I'm waiting on tight end, much like the quarterback spot. I will grab a couple tight ends in the middle rounds, using a platoon system for the position this year. I like the potential of some of the guys you can get later, especially players like Noah Fant, Mike Gesicki, Eric Ebron and Jack Doyle. I think you can get by with going with two of those guys instead of acting early on Travis Kelce or George Kittle. With the running back position going so early this year, I think using a second or third round pick on a tight end might be a mistake. The only way I take one of the elite tight ends early is if I have two solid backs already on my roster. You might be able to get away with that strategy since the receiver position has so many quality options this year.
Jeff Paur is a two-time finalist for FSWA Fantasy Football Writer of the Year and won the FSWA award for Best Fantasy Football Article on the Web in 2011. He also was the most accurate expert in 2012, winning the FSTA Fantasy Football Accuracy Award. If you have any questions for Jeff, email him at jeff@rtsports.com. Follow Jeff on Twitter @jeffpaur.