Waivering: Week 3
Tue Sep 22 9:58am ET
By JEFF PAUR
Sr Fantasy Writer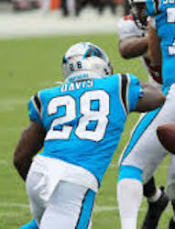 Davis gets a chance to start
Last week was a rough one, seeing several players get injured. This is going to make the waiver wire a busy place in many leagues. You can never count on a backup to produce like a starter but you can hold out hope they can at least get close. Hopefully, all the injuries didn't ravage your lineup too badly. But if it did, here are some players to consider adding to your roster.
QUARTERBACKS
Gardner Minshew, Jaguars. Minshew topped 22 fantasy points for the second straight week. He hit the 300-yard mark last week and threw the ball 45 times in the game. He has three touchdown passes in each of his first two games. Minshew has the Dolphins, Bengals, Texans and Lions his next four games. He is worth using in all matchups. Minshew remains available in 46 percent of leagues.
Ryan Tannehill, Titans. Tannehill is proving his finish to last season wasn't a fluke. He is off to a great start, having six touchdowns without an interception. He had a four-touchdown performance his last time out and did that without his top receiver, A.J. Brown, in the lineup. He should be owned in all formats but remains available in 30 percent of leagues.
RUNNING BACKS
Darrell Henderson, Rams. Henderson was a not a factor in the opener but led the Rams in rushing last week. He had 121 total yards and a touchdown in the game. With Cam Akers injured, this could open the door for Henderson to lead the way at running back for the Rams. Some owners dropped Henderson after Week 1, so go grab him if he is available.
Mike Davis, Panthers. Davis likely is the next man up for the Panthers, getting a chance to start while Christian McCaffrey is out of the lineup. Davis made some plays with his chances last week, catching eight passes for 74 yards. He has some potential as a flex player going forward.
Dion Lewis, Giants. Lewis carried the load for the Giants last week after Saquon Barkley was hurt, but ran just 10 times for 20 yards. He did score a touchdown, though, and caught four passes for 36 yards. It isn't certain he will start for the Giants but should get some more weekly touches and maybe some more targets in the passing game.
Wayne Gallman, Giants. Gallman was not active last week but should be back in the lineup for the Giants this week. He has a chance to start, especially since he might be best suited for the job out of the backs currently on the Giants roster. Gallman has some past success as a starter for the team.
Jerick McKinnon, 49ers. McKinnon hasn't gotten a ton of touches this year but just keep making plays with his work. He has touchdowns each of his first two weeks. He ran three times for 77 yards and a score last week. The 49ers are going to be without Raheem Mostert and Tevin Coleman this week, leaving McKinnon as the lead back for the 49ers. He could post big numbers in this role.
Devonta Freeman. Freeman is not currently on a team but trying out for the Giants. It makes sense for the Giants to add Freeman, having a huge void to fill at running back. Freeman could have a big role in the Giants offense the rest of the year if the team happens to sign him. He will be worth adding for fantasy teams.
WIDE RECEIVERS
Chris Hogan, Jets. Hogan was the top receiver for the Jets last week, getting a chance for increased playing time because of injury. He made some plays with his chances, catching six passes for 75 yards on eight targets. He could have a bigger role in the offense the next few weeks. Someone has to catch passes for the Jets, right?
Chase Claypool, Steelers. Claypool isn't getting a ton of weekly chances but making the most of his work. He had three receptions for 88 yards and a touchdown last week. The rookie receiver has been very impressive and deserves more targets in the offense, which could be coming for Claypool.
Cole Beasley, Bills. Beasley is kind of the forgotten man in the Bills offense but he gets his weekly work. He isn't an exciting fantasy play but consistent. He has four receptions each of his first two games and has been targeted 13 times on the season.
Isaiah Ford, Dolphins. Ford had seven receptions for 76 yards last week and was targeted nine times. He has 14 targets in two games, so he is getting some weekly chances. He'll be hit or miss in his current role but might be worth using in the right matchup on occasion.
KJ Hamler, Broncos. With Courtland Sutton out, Hamler has a chance to play a big role in the Broncos offense the rest of this season. He had three receptions for 48 yards last week and was targeted seven times in the game. He has some upside as a spot play for fantasy teams going forward.
TIGHT ENDS
Jordan Akins, Texans. Akins found the end zone Week 1 and followed that with a seven-catch, 55-yard performance last week. He is emerging as a top option in the Texans passing attack. He is making plays and seeing his targets increase. Akins is a good speculative add if you need some tight end help.
Mo Alie-Cox, Colts. Alie-Cox had a career day last week, catching five passes for 111 yards. The former basketball star is getting more accustomed to playing tight end and has some value as long as Jack Doyle is out of the lineup. He can make some big plays in the passing game.
Dalton Schultz, Cowboys. Schutlz did a great job in a starting role for the Cowboys last week. He had nine receptions for 88 yards and a touchdown. He made several big plays and was targeted 10 times in the game. Many thought this was going to be a breakout season for Blake Jarwin, so maybe Schultz can be that guy now as a starter for Dallas.
Jordan Reed, 49ers. Reed found the end zone twice, filling in for George Kittle last week. He showed his potential in this offense as a starter. As long as Kittle is out, Reed has real value as a starter for fantasy teams. The 49ers like to target the tight end and Reed has plenty of talent to produce with his chances.
Jeff Paur is a two-time finalist for FSWA Fantasy Football Writer of the Year and won the FSWA award for Best Fantasy Football Article on the Web in 2011. He also was the most accurate expert in 2012, winning the FSTA Fantasy Football Accuracy Award. If you have any questions for Jeff, email him at jeff@rtsports.com. Follow Jeff on Twitter @jeffpaur.