Lineup Prep: Week 3
Wed Sep 23 10:47am ET
By JEFF PAUR
Sr Fantasy Writer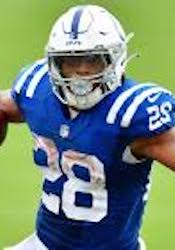 Taylor can produce big again
Notice
: Undefined variable: league in
/rtfs/football/php/syndicated-news.php
on line
143
Notice
: Trying to get property of non-object in
/rtfs/football/php/syndicated-news.php
on line
143
Here is to hoping this week is a little more calm on the injury front. Last week was devastating for so many fantasy teams, seeing so many top players go down. It was hard to watch. The good news for last week was there were a lot of big fantasy performances. It looks like players and offenses are rounding into form in a hurry. Let's hope that is the trend going forward and the injuries stop. We can hope, right?
Now for my random thoughts for the week. . . . .
I like the Devonta Freeman signing in New York. Sure, their line is terrible and Freeman isn't quite the same player as past seasons, but I think he can be somewhat productive for fantasy teams in a starting role. He topped 1,000 total yards in 14 games last year and is 28 years old. Freeman also has 50-plus receptions three of the past five seasons. He is a three-down back with a track record of success. He won't be Saquon Barkley but he can help ease his loss a little for the Giants and fantasy teams.
I love the way Josh Allen is playing right now. He is throwing the ball with more confidence and seems on the same page with his receivers. Plus, the offense is really doing a great job of utilizing his strengths and receivers in this offense. I just want to temper expectations for him going forward. He played the Jets and Dolphins to open the season, two of the worst defenses in football. He is not going to do this every week. I do think he is a top-10 fantasy quarterback this year, though, and could maybe even be top five. But just don't get too carried away with his great start.
This year is showing more than ever that staying away from running back committees is good idea for fantasy owners. There are all sorts of situations causing headaches for fantasy teams, including the Ravens, Dolphins, Rams and Lions. Who knows if these situations will sort out any time soon? Keep this in mind when drafting next year. It is better to just let someone else in your league deal with these running back committees.
Sure, he made a few mistakes but I was really impressed with Justin Herbert in his NFL debut. He was thrown into action at the last minute on the road against the defending Super Bowl champs but almost led his team to victory. He just brings a lot more to the Chargers offense, so I hope he gets the nod going forward for the team. He would be a plus for all playmakers on that side of the ball, especially at receiver.
So all the offseason Calvin Ridley hype was warranted. He leads all fantasy receivers in scoring after two games. He has multiple touchdowns and 100-yard performances each of his first two games. Ridley has really taken his game to a new level. Julio Jones and Ridley might be the best receiver duo in football right now. I expect both these players to be top-10 fantasy receivers by the end of the season, especially since this offense throws the ball so often.
I really didn't think Darren Waller was going to be able to repeat his big season from last year. I don't have any shares of him. I will be the first to admit a mistake and I made one here. He is still getting tons of looks in this offense despite the team upgrading at receiver. He has 24 targets in two games and already a double-digit reception, 100-yard performance under his belt. Waller is the real deal and should continue to post big numbers in this offense.
I hope the Raiders scale back the usage of Josh Jacobs a little. He already looks beat up and we are just two weeks into the season. He has 25-plus carries each of his first two games, though, and 59 total touches. Jacobs might not hold up at this current rate, especially if you consider how he looked late in the Week 2 game. The Raiders might be wise to manage their franchise back a little better going forward.
So Nyheim Hines scores two touchdowns and has 15 touches in Week 1. The Colts starting back, Marlon Mack, gets hurt in the game and Hines sees his touches actually go down the following week. He has just one touch last week. Yeah, I can't explain it. I thought he would at least get double-digit touches or near that. It seems the Colts are all in on Jonathan Taylor as their three-down back - at least for now. I would avoid using Hines until you see some steady production from him on a weekly basis.
There are some great games to watch this weekend. I have several that I'm looking forward to watching, including the Raiders/Patriots, Cowboys/Seahawks, Packers/Saints and Chiefs/Ravens. This is shaping up to be a great weekend of football. Hopefully, it plays out that way. Plus, many of these games are setup to be high scoring, which is always good for fantasy owners.
Don't forget to check out my weekly rankings here: Week 3 rankings.
News and Notes: The Broncos signed Blake Bortles on Tuesday. He should serve as the backup this week but could move into the starting role before long. . . . .The Giants signed running back Devonta Freeman on Tuesday. He could be the starting lineup in a hurry once he gets up to speed in the Giants offense.
HOT PLAYS
Gardner Minshew, QB, Jaguars. Minshew is off to a great start this season, having three touchdowns in each of his first two games. He also topped the 300-yard mark last week. Minshew is playing with confidence and making plenty of plays in an offense that is airing it out more often. He should continue his hot ways this week against Miami, a team that allows the third most fantasy points to quarterbacks. Minshew is a solid starter for fantasy teams in this one.
Jonathan Taylor, RB, Colts. Taylor was the featured back last week for the Colts because of the injury to Marlon Mack and excelled in that role. He got a ton of work and enjoyed his first 100-yard game, rushing 26 times for 101 yards and a touchdown. Taylor has 199 total yards in two games. He should continue to get a lot of chances in this offense and is setup for a big rookie year, especially with Mack hurt. Taylor can produce his best game to date this week against the Jets, a team that allows the seventh most fantasy points to running backs.
D.K. Metcalf, WR, Seahawks. Metcalf has posted similar numbers to start the season. He has four receptions, topped 90 yards and scored a touchdown in each of his first two games. He is off to a solid start, showing his huge ceiling for the coming season. Metcalf might be able to best his first two games this week against the Cowboys. Dallas has been burnt by the pass each of their first two games. The Cowboys allow the seventh most fantasy points to receivers and allow 268-passing yards per game.
Melvin Gordon, RB, Broncos. Gordon is off to a decent start to his Broncos career. He has 80-plus total yards in each of his first two games and scored in both those games. He hasn't enjoyed the big game just yet but is producing consistent numbers. This week might be his first big fantasy performance of the season. Gordon could be counted on for more work with the Broncos ravaged by injury. He might be the focal point of the offense for the next few weeks. Gordon gets the Bucs, a team that allows the fifth most fantasy points to running backs.
CeeDee Lamb, WR, Cowboys. Lamb had his first 100-yard game as a pro last week, catching six passes for 106 yards. He has at least five receptions each of his first two games. He is getting plenty of chances to make plays his rookie season in the Cowboys offense. Expect more of the same this week against the Seahawks, a team that allows more than 400-passing yards per game. Seattle also allows the most fantasy points to receivers. Look for Lamb to build on his big showing from Week 2.
COLD PLAYS
David Johnson, RB, Texans. Johnson did very little in a tough matchup last week against the Ravens, running 11 times for 34 yards. He also caught two passes for 16 yards. He had just 50 total yards. He has a similar tough matchup this week against the Steelers. Pittsburgh allows the fifth fewest fantasy points to running backs and are first overall against the run after two games. If you have better options, go with them.
Marvin Jones, WR, Lions. Jones has disappointed some to start his season, especially if you consider he was the No. 1 target for the Lions with Kenny Golladay out of the lineup. Jones didn't take advantage, having 78 yards in two games. He also has just four receptions each of his first two games. Golladay is expected back this week, which could take away a few targets from Jones. Plus, Jones plays the Cardinals, a team that has done well against the pass to start the season. Arizona allows the fewest fantasy points to receivers.
Drew Brees, QB, Saints. Brees is off to a bit of a rough start for his standards, having three touchdowns and an interception in two games. He did top 300-passing yards last week but got many of those yards late with the game in hand. He has struggled to make plays down the field. And the loss of Michael Thomas clearly doesn't help matters for Brees. He probably is best suited on fantasy benches until Thomas is back in the lineup. Brees gets the Packers this week, a team that is 13th overall against the pass.
Malcolm Brown, RB, Rams. Brown has double-digit carries each of his first two games and produced pretty well with his chances. Darrell Henderson emerged last week, though, and could be cutting into Brown's playing time. Plus, Brown has limited upside because he doesn't get a ton of work in the passing game. He did not catch a pass last week. He ran 11 times for 47 yards, giving him fewer than five fantasy points. Brown should be pretty ho hum again this week against the Bills, a team that allows the 14th fewest fantasy points to running backs.
Philip Rivers, QB, Colts. Rivers might have a favorable matchup this week against the Jets, but that doesn't mean you should use him. He will likely be without two of his favorite targets, Parris Campbell and Jack Doyle. Plus, Rivers had a good matchup last week and did little, throwing for just 214 yards and a touchdown against the Vikings. Rivers also has three interceptions in two games, having more interceptions than touchdowns for the season. Go with other options.
SLEEPERS

Joe Burrow, QB, Bengals. Burrow had a big performance last week, throwing for 316 yards and three touchdowns against the Browns. He has attempted at least 36 passes each of his first two games. The Bengals aren't a very good team and could be playing from behind often, giving Burrow many chances to air it out. This is a positive for his fantasy value. Burrow might get a chance to win the game this week, though, playing a reeling Eagles team. Philadelphia has allowed four passing touchdowns without getting an interception in their first two games. Burrow is a good spot start for fantasy teams.
Joshua Kelley, RB, Chargers. Kelley has been getting plenty of work as the Chargers backup running back. He had 23 carries last week and 12 in the opener. He has 173 total yards in two games. It also was good to see him getting some work in the passing game last week, catching two passes for 49 yards. But if he gets 23 carries this week against the Panthers, look for Kelley to have a big game. Carolina has really struggled to stop the run, allowing the most fantasy points to running backs. The Panthers allow 127.5-rushing yards per game. Kelley should garner flex consideration for fantasy teams.
Steven Sims, WR, Washington. Sims is off to a decent start to his season. He has three receptions and 50 or more yards each of his first two games. He is getting some work as the slot receiver for Washington. It would not surprise to see him have his best game of the season this week against the Browns. Cleveland is 27th overall against the pass and allow the sixth most fantasy points to receivers.
Marquez Valdes-Scantling, WR, Packers. Valdes-Scantling is off to a solid start, having 60-plus yards each of his first two games. He has been targeted 13 times, which is very encouraging for his fantasy value. He is getting a lot of looks on a weekly basis in a suddenly potent passing attack. He should produce another solid game this week against the Saints, a team that allowed the Raiders to throw all over them in Week 2.
D'Andre Swift, RB, Lions. Swift hasn't done a whole lot running the ball to start his career, but is making plays in the passing game. He has eight receptions in two games, including a five-catch, 60-yard performance last week. He has been targeted five teams each of his first two games. The Lions aren't getting much from Adrian Peterson and Kerryon Johnson, so it makes sense to see what Swift can do with more chances. Maybe this is the week he gets even more looks. Swift could have a breakout game against the Cardinals if that happens. Arizona allows the sixth most fantasy points to running backs.
High/Low Scoring Games
Each week we will take a look at some of the high and low scoring games for the coming week. In high scoring affairs, get your marginal players on those teams in your lineup to take advantage of the possible points barrage. And in the low scoring games, keep those marginal players on the bench and make sure to have your defenses involved in those contests.
High Scoring Games: Dolphins/Jaguars, Bears/Falcons, Lions/Cardinals, Cowboys/Seahawks, Packers/Saints, Chiefs/Ravens.
Low Scoring Games: Jets/Colts.
Jeff Paur is a two-time finalist for FSWA Fantasy Football Writer of the Year and won the FSWA award for Best Fantasy Football Article on the Web in 2011. He also was the most accurate expert in 2012, winning the FSTA Fantasy Football Accuracy Award. If you have any questions for Jeff, email him at jeff@rtsports.com. Follow Jeff on Twitter @jeffpaur.