Waivering: Week 6
Tue Oct 13 9:46am ET
By JEFF PAUR
Sr Fantasy Writer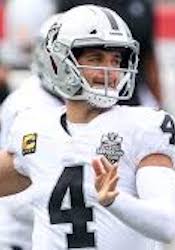 Carr has been pleasant surprise
This is the theme every season, but as the season progresses, it gets tougher to find quality options on the waiver wire. There are a couple receivers and some good streaming quarterback options available this week, but just keep this in mind going forward. It gets tougher and tougher to find options on the waiver as the season goes on. Here are some players to consider for this week. . . . .
QUARTERBACKS
Teddy Bridgewater, Panthers. Bridgewater keeps getting it done for fantasy teams. He hit the 300-yard mark last week for the second time this season. He has multiple scores two straight and at least 235-passing yards every game this season. He has really done well as the starter for the Panthers and excelled in Panthers new offense. Bridgewater remains available in 33 percent of leagues.
Derek Carr, Raiders. Carr has 22-plus fantasy points four straight games. He had his best game of the season last week against the defending Super Bowl champs on the road, going 22-of-31 for 347 yards and three touchdowns with an interception. Carr is getting overlooked, having at least 239-passing yards every game. He is available in 46 percent of leagues.
Ryan Fitzpatrick, Dolphins. Fitzpatrick is on a hot streak, having at least 26 fantasy points four straight games. He had arguably his best game last week, going 22-of-28 for 350 yards and three touchdowns without a turnover. Fitzpatrick has multiple scores three of four games. As long as he keeps playing this well, he is worth some weekly starts. He is available in 58 percent of leagues.
Andy Dalton, Cowboys. Dalton is the starting quarterback for the Cowboys going forward, trying to replace Dak Prescott. Dalton isn't going to produce like Prescott, but he has some potential in this high-powered passing game. Dalton has a track record of success and gets a chance to start for a great offensive team. He has some value a spot play for fantasy teams going forward.
RUNNING BACKS
Devonta Freeman, Giants. Freeman had his best showing as a Giant, rushing for 60 yards and a touchdown. Freeman isn't available in many leagues but is still out there in 13 percent of leagues. If he is still out there in your league, go grab him. He is rounding into form, getting up to speed in the Giants offense. He could have some big games going forward.
Brian Hill, Falcons. Hill ran six times for 39 yards last week. He also caught two passes for 15 yards, giving him 54 total yards. Hill has topped 50 total yards two of three games. He is getting a little more work in the Falcons offense as the top backup to Todd Gurley. The running back spot has little to choose from this week, so Hill should at least draw some consideration.
Alexander Mattison, Vikings. Mattison is owned in most leagues but available in about 28 percent on our site. If he is out there, go get him now because Dalvin Cook is banged up once again. Mattison was great in relief of Cook last week, rushing 20 times for 112 yards. He has huge potential in a starting role in this offense.
WIDE RECEIVERS
Chase Claypool, Steelers. Claypool had a breakout game last week, scoring four touchdowns while hitting the 100-yard mark receiving. He has scores two of three games. Claypool is going to be a big part of this offense the rest of the season. He is the real deal and available in 66 percent of leagues.
Travis Fulgham, Eagles. Fulgham continues to emerge in the Eagles offense. He had a breakout performance last week, catching 10 passes for 152 yards. He has scores two straight and you can't ignore his production in recent weeks. He isn't going to repeat his big game every week but is going to be capable of some good showings along the way, especially as he keeps gaining confidence.
Christian Kirk, Cardinals. Kirk had his best game of the season last week, finishing with five receptions for 78 yards. He has double-digit fantasy points two straight games. He is getting more chances in the Cardinals offense after a slow start to the year. He was dropped in many leagues and is available in 48 percent of leagues.
Tyler Johnson, Bucs. Johnson got his first significant action of the season last week and made some plays, catching four passes for 61 yards on six targets. With Scotty Miller and Chris Godwin banged up, Johnson could have a bigger role in the offense the next few weeks. He might be worth a look of you need some help at receiver.
Demarcus Robinson, Chiefs. Sammy Watkins is out a few weeks, opening the door for Robinson to play a much better role offensively. His playing time and targets should go up way up in the Chiefs explosive offense. Robinson will be capable of producing a big game, making him a good boom or bust fill-in player for fantasy teams.
TIGHT ENDS
Gerald Everett, Rams. Everett has been getting more work than Tyler Higbee in recent weeks. He had his best showing in Week 5, catching four passes for 90 yards. He has seven receptions for 134 yards his last three games. He is a boom or bust play but his recent workload is somewhat encouraging for him going forward.
Jeff Paur is a two-time finalist for FSWA Fantasy Football Writer of the Year and won the FSWA award for Best Fantasy Football Article on the Web in 2011. He also was the most accurate expert in 2012, winning the FSTA Fantasy Football Accuracy Award. If you have any questions for Jeff, email him at jeff@rtsports.com. Follow Jeff on Twitter @jeffpaur.