Waivering: Week 13
Tue Dec 1 9:12am ET
By JEFF PAUR
Sr Fantasy Writer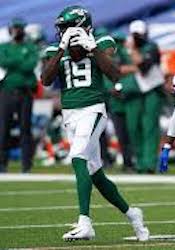 Perriman is getting his chances
There are a lot of crucial lineup decisions to be made this week with so much on the line. Regular seasons are in the last week in some formats and in others there are just a few weeks left. Either way, it is crunch time. Some teams might need to hit the waiver wire this week because of injury or suspension (thanks Will Fuller!), so take a look at this list closely. And don't forget to examine the matchups for the rest of the season to try to get any advantage you can the rest of the way. Every point matters!
QUARTERBACKS
Kirk Cousins, Vikings. Cousins has really picked up his game in recent weeks. He has two consecutive three-touchdown games and hit that mark three of his last four. He has 20-plus fantasy points each of his last four games. He is playing with confidence and making plays to a host of receivers. Cousins remains available in 21 percent of leagues.
Teddy Bridgewater, Panthers. Bridgewater returned from his knee injury last and threw for 267 yard with a touchdown. His numbers aren't off the charts this year but very consistent in a good passing game. He has 20-plus fantasy points three of five games. He isn't out there in a lot of leagues but available in 30 percent.
RUNNING BACKS
Frank Gore, Jets. Gore is the clear lead back for the Jets now because of injury. He had a season high in rushing yards last week, running 18 times for 74 yards. He also caught three passes for 12 yards, giving him 11.6 fantasy points. He has double-digit fantasy points two straight games. Gore isn't going to have a huge game but get you around double-digit fantasy points each week in this offense. He remains available in 60 percent of leagues.
Brian Hill, Falcons. Hill started last week because of the injury to Todd Gurley. He led the team in rush attempts, running 13 times for 55 yards. He has some value in this offense if he gets some more starts because Gurley is out, which is possible.
Ito Smith, Falcons. Smith led the Falcons in rushing last week despite not getting the most work. He ran 12 times for 65 yards and a touchdown. He also pitched in four catches for 10 yards, giving him more value than Hill. Smith is the better pass catcher of the two. Smith is worth grabbing if Gurley misses any more time.
DeAndre Washington, Dolphins. Washington got his most work of the season last week, serving as the lead back for the Dolphins. He ran 13 times for 49 yards and caught two passes for 11 yards. He might get a chance to start again next week, giving him some value to fantasy teams. He should get double-digit touches in a starting role.
Devontae Booker, Raiders. Josh Jacobs is banged up and no sure thing to play this week. This would boost Booker into the starting role for the Raiders. Booker has been getting a little more work in the running game anyway, having at least five carries five straight games. If you have Jacobs, he is almost a must grab. And even if you don't have Jacobs, Booker might be worth grabbing for fantasy teams because of a possible start this week.
WIDE RECEIVERS
Deebo Samuel, 49ers. Samuel should be owned in all leagues but is not at this point, being available in 25 percent of leagues. That won't be the case after this week. He had season highs across the board after returning from his hamstring injury. He had 11 receptions for 133 yards against a good Rams secondary. He displayed his huge potential when on the field and healthy. Samuel could really be a factor down the stretch.
Breshad Perriman, Jets. Perriman continues to emerge late in the year for the Jets. He had four receptions for 79 yards on eight targets. His targets tied a season high. Perriman now has double-digit fantasy options three straight games. He is posting consistent numbers as a top target in this passing game. Perriman remains available in 79 percent of leagues.
Gabriel Davis, Bills. Davis has made some plays when given the chance this season. He had three catches for 79 yards and a touchdown with John Brown out last week. He has 16-plus fantasy points two of three games. As long as Brown is out, Gabriel has a fairly high ceiling in this good Bills passing attack.
Collin Johnson, Jaguars. Johnson played his most football of the season last week and formed a nice rapport with new starter Mike Glennon. He had season highs across the board, catching four passes for 96 yards and a touchdown on eight targets. With the Jaguars season going nowhere, it would not surprise to see Johnson getting more chances the rest of the way. He might be worth a speculative add.
Keke Coutee, Texans. Coutee has a chance to play a much bigger role in the offense going forward with Will Fuller suspended and Randall Cobb banged up. Coutee could produce some decent numbers in this pass-first offense. He is a decent speculative add for the rest of the season.
TIGHT ENDS
Kyle Rudolph, Vikings. Rudolph had season highs last week, finishing with seven recetptions for 68 yards on eight targets. He has played well with Irv Smith hurt. Rudolph has double-digit fantasy points two of three games. He has some value at a very thin tight end position.
Trey Burton, Colts. Burton has touchdowns two straight games and at least three receptions five of seven. He has become a top red-zone target for the team and is getting pretty consistent work in the passing game. The tight end position isn't very good, so if you are looking for a spark, Burton might be worth grabbing.
Jeff Paur is a two-time finalist for FSWA Fantasy Football Writer of the Year and won the FSWA award for Best Fantasy Football Article on the Web in 2011. He also was the most accurate expert in 2012, winning the FSTA Fantasy Football Accuracy Award. If you have any questions for Jeff, email him at jeff@rtsports.com. Follow Jeff on Twitter @jeffpaur.