Lineup Prep: Wild Card Weekend
Wed Jan 6 9:36am ET
By JEFF PAUR
Sr Fantasy Writer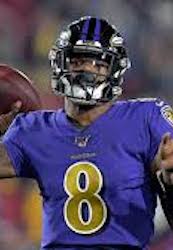 Jackson looks to stay red hot
More and more fantasy owners are playing in playoff leagues, and for good reason. They are a lot of fun contests and leagues out there these days. We run several on our site. Your fantasy leagues don't have to come to an end because the regular season is over. I highly suggest getting involved in a league if you can. It is a great way to get your fantasy fix a little longer. Plus, there are a lot of interesting formats for leagues, giving you a different fantasy dynamic than during the regular season. So we'll continue with this column throughout the playoffs, getting you ready for your games each week. With that said, here are my random thoughts for the week. . . . .
I do this every postseason and this year will be no different. I'll give you my picks for the Super Bowl, including the champion. I think the NFC isn't quite as open as the AFC. For me, it is either the Packers or Bucs. Both these teams are peaking at the right time, so they are my favorites to represent the NFC. I am leaning the Bucs right now with Tom Brady upping his game in recent weeks. This offense looks top notch and the defense is underrated. I think Brady makes one more trip to the Super.
Now the AFC is a much tougher call for me. I really think there are five teams that have a legit chance to go the Super Bowl in the AFC. This side of the bracket is deep and talented. It is a really tough call. It is hard for me to bet against the Chiefs and Patrick Mahomes right now, though. I know the Chiefs have played some close games this year, but this is the most complete team in the AFC. Their defense gets overlooked at times, but is very good, especially the pass defense.
So I'm looking at the Bucs/Chiefs matchup in the Super Bowl. I know it is very rare for a repeat champion, but I think the Chiefs repeat and win it all. Patrick Mahomes is having another special season and leads his team to the promise land once again. But any way you look at it, I think we are setup for great games in the playoffs. There are a lot of teams playing at a high level right now. It should be a lot of fun.
I think the MVP race is as tight as ever this year. There are four players that have a legit chance to win it all. Josh Allen, Patrick Mahomes, Aaron Rodgers and Derrick Henry all can make a case to be the league MVP this year. It is hard to pick against any of them. If I had to pick, I probably lean Rodgers at this point. He had a near flawless season for the best team in the NFC. Rodgers had an astounding 51 total touchdowns to just five interceptions. Again, you can make a case for all four but Rodgers is my guy right now.
Of all the coach openings, the Chargers is the most intriguing to me from a fantasy perspective. Justin Herbert is one of the best young quarterbacks in the game, so I'm hoping the Chargers find a coach that can get him to grow even more. This offense could be really special with Herbert at the helm, Austin Ekeler as the lead back, and Keenan Allen serving as the No. 1 receiver. And I can't forget about Hunter Henry at tight end. He has the potential to be an elite fantasy tight end if he can stay on the field. The talent is there for the Chargers to have one of the best offenses in football. Let's hope they get a coach that can take the team to another level in the coming seasons.
Can we know trust David Montgomery? I think that is a tough question going forward. He had a monster finish to the season and ended fourth overall in fantasy running back scoring. I think the volume is there for Montgomery to keep his pace from late in the year. Plus, Montgomery was banged up early in the year, which led to his down production. When he got healthy and started getting a ton of work, Montgomery took off. So I think he is a legit top-10 fantasy back going forward.
It is going to be a tough call to pick a No. 1 overall fantasy player next year. You have several candidates to take that spot. I think Christian McCaffrey is my likely choice, though. He is just 24 years old and has plenty left in the tank. His dual threat ability separates him from other backs, playing like an elite receiver and running back. I think his injury issues from this past year are more of a fluke and not a trend. This guy keeps himself in top shape and showed he can handle a big workload in past seasons.
News and Notes: The Bills signed Kenny Stills to their practice squad on Monday. Stills gives the Bills some veteran depth at the position, providing some insurance for Cole Beasley.
HOT PLAYS
Jonathan Taylor, RB, Colts. Taylor is playing his best football of his young career right now. He hit the 200-yard rushing mark last week and is second overall in fantasy running back scoring his last three games. Taylor has touchdowns five straight games. Expect more of the same this week against the Bills. Buffalo allows the 10th most fantasy points to running backs this season. The Bills have allowed 140-plus rushing yards two of three games.
Lamar Jackson, QB, Ravens. Jackson is peaking at the right time. He has 25-plus fantasy points five straight games. Jackson has three-touchdown games four of those last five games. He also has 80-plus rushing yards four of five games. Jackson is playing with a lot of confidence once again. He should be able to post big numbers this week against the Titans. Tennessee has a great offense but their defense is shaky. The Titans allow the fourth most fantasy points to quarterbacks and rank 29th overall against the pass.
Antonio Brown, WR, Bucs. Brown is starting to gain a great rapport with Tom Brady. It is showing with his play late in the year, scoring touchdowns three straight games. Brown is fourth overall in fantasy receiver scoring his last three games. He had his best game of the season last week, catching 11 passes for 138 yards and two scores on 14 targets. He could be in for a big workload again this week with Mike Evans hurting.
COLD PLAYS
Jarvis Landry, WR, Browns. Landry has been a top producer in recent weeks for the Browns, emerging as the go-to target for the Browns. But even with that said, he has more than 65 yards just one time his last nine of 10 games. He is getting his catches but the rest of his numbers are pretty mediocre. It would not surprise to see him have a ho-hum game this week against the Steelers. In two games against Pittsburgh, Landry has eight receptions for 91 yards. The Steelers allow the 10th fewest fantasy points to receivers and are third overall against the pass.
Russell Wilson, QB, Seahawks. Wilson had a bit of a late-season fade. He had fewer than 20 fantasy points four of his last eight games. He has cooled since a red-hot start to his season. He is setup for another mediocre showing this week against the Rams. Wilson had two touchdowns and two interceptions in two games against the Rams this season. Los Angeles is first overall against the pass and allow the fewest fantasy points to quarterbacks.
Devin Singletary, RB, Bills. Singletary might be the lead back for the Bills but that doesn't mean he is much help for fantasy teams. He has 13 carries for 43 yards his last two games. He has fewest than eight fantasy points three of four games. He is a hard player to trust right now in a pass-first Bills offense. Plus, he plays the Colts, a team that is second overall against the run.
SLEEPERS
Mitchell Trubisky, QB, Bears. Trubisky has looked like a different quarterback since his return from the bench. He has 25-plus fantasy points three of six games. He has three three-touchdown games during that stretch. Trubisky is playing with more confidence and making big plays with this receivers. He should get plenty of chances to air it out this week against the Saints. You could see New Orleans getting up in this game, meaning Trubisky and teammates need to play catch-up.
Eric Ebron, TE, Steelers. Ebron missed the game last week because he was placed on the COVID list. He should be ready to go for this weekend. Ebron scored a touchdown his last game out and has at least five receptions three of his last six games. He is getting more looks and producing. Ebron could surprise this week once again, playing Cleveland. The Browns really struggled to stop the tight end, allowing the third most fantasy points to tight ends.
Dez Bryant, WR, Ravens. Bryant is a touchdown dependent player but he has been finding the end zone, scoring two of his last three games. It would not surprise to see him score again this week in what should be a high-scoring game. The Titans can't stop anyone defensively right now. Tennessee allows the second most fancy points to receivers. The Titans have allowed 22 touchdowns to receivers this year.
High/Low Scoring Games
Each week we will take a look at some of the high and low scoring games for the coming week. In high scoring affairs, get your marginal players on those teams in your lineup to take advantage of the possible points barrage. And in the low scoring games, keep those marginal players on the bench and make sure to have your defenses involved in those contests.
High Scoring Games: Ravens/Titans.
Low Scoring Games: Rams/Seahawks, Bears/Saints.
Jeff Paur is a two-time finalist for FSWA Fantasy Football Writer of the Year and won the FSWA award for Best Fantasy Football Article on the Web in 2011. He also was the most accurate expert in 2012, winning the FSTA Fantasy Football Accuracy Award. If you have any questions for Jeff, email him at jeff@rtsports.com. Follow Jeff on Twitter @jeffpaur.