Studs and Duds: Wild Card Weekend
Mon Jan 11 9:21am ET
By JEFF PAUR
Sr Fantasy Writer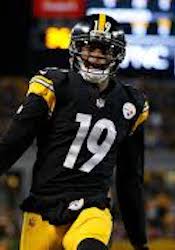 Smith-Schuster has huge game
For the most part, the games this weekend were entertaining. Most of them were fairly close, coming down to the end. And there were plenty of big fantasy performances throughout the weekend. We did have a few top players do little, which was disappointing, but that is fantasy football. There are uneven performances throughout the season. The good news is there were some monster games as well, especially in the Browns/Steelers game. Hopefully, you had some players from those rosters in your fantasy lineups.
Bills 27, Colts 24
Fantasy Stud: Josh Allen. Allen continued his red hot play in this playoff opener, going 26-of-35 for 324 yards and two touchdowns without a turnover. He also led the team in rushing, running 11 times for 54 yards and a score. He had three touchdowns in the game, giving him 35.6 fantasy points. Allen has 35-plus fantasy points three of four games.
Fantasy Dud: T.Y. Hilton. Hilton struggled to do much, catching two passes for 32 yards. Hilton had touchdowns four of six games before this showing. His 5.2 fantasy points was his lowest total since Week 8 of the fantasy season.
Game Notes: Zack Moss left the game with a leg injury. He had seven carries for 21 yards and caught four passes for 26 yards. Moss was getting most of the work at running back before the injury. He seems to have avoided something too serious, but still could miss some time.
Stefon Diggs hit the 100-yard mark once again, fishing with six receptions for 128 yards and a touchdown. Diggs has 100-yard games four of his last five.
Rams 30, Seahawks 20
Fantasy Stud: Cam Akers. Akers got a huge workload once again and made the most of it with a great performance. He ran 28 times for 131 yards and a touchdown. He also had two catches for 45 yards, giving him 176 total yards. Akers has 20-plus carries four of his last five games. He is clearly the top back for the Rams and should be their franchise back for years to come.
Fantasy Dud: Tyler Lockett. Lockett had just two receptions for 43 yards after a 12-reception performance his previous time out. Lockett scored just 6.3 fantasy points, his lowest total since Week 12 of the season. It was a fitting end to his season, though, because Lockett was a little up and down all year.
Game Notes: Cooper Kupp suffered a knee contusion and had to leave the game. The injury is believed to be fairly minor, though, and the Rams are optimistic he will be fine going forward. Kupp had four receptions for 78 yards in the game.
D.K. Metcalf had five receptions for 96 yards and two touchdowns. This was his third two-touchdown game of the season. He was targeted 11 times in the game.
Bucs 31, Washington 23
Fantasy Stud: Taylor Heinicke. Heinicke was the surprise starter and played very well against a good Bucs defense. He made a ton of big plays, going 26-of-44 for 306 yards and a touchdown with an interception. He had six rush attempts for 46 yards and a touchdown, giving him 28.9 fantasy points. It was a really impressive showing for Heinicke, who likely earned himself an NFL job next season with this great game.
Fantasy Dud: Antonio Gibson. Gibson was really held in check despite a good amount of work. He ran 14 times for just 31 yards and caught two passes for four yards. It was a really disappointing showing for Washington's star rookie back. Gibson has a really bright future, though, and should be a fixture in this offense for years to come.
Game Notes: Mike Evans looked just fine on his knee injury. He had six receptions for 119 yards. Evans has 100-yard games three of his last four.
Ronald Jones injured his quad in pregame warmups and did not play a snap in the game. Leonard Fournette got most of the work at running back and played well. Fournette ran 19 times for 93 yards and a touchdown. He also had four receptions for 39 yards, giving him 132 total yards. This injury for Jones is something to watch because he could be out some time after missing this game.
Ravens 20, Titans 13
Fantasy Stud: A.J. Brown. Brown was one of the few bright spots for the Titans offense. He had six receptions for 83 yards and a touchdown. Brown topped 20 fantasy points in the game, giving him 20-plus fantasy points three of his last five games. Brown had a breakout season and will continue to be a huge part of this passing game for years to come.
Fantasy Dud: Derrick Henry. Henry did next to nothing for once. He had 18 carries but only 40 yards. He did catch three passes for 11 yards, giving him a few fantasy points on the day. But overall, it was really a disappointing game for Henry. The Ravens did a great job of bottling up Henry throughout the game. Henry still had a monster year, though, and will be a top fantasy pick in 2021.
Game Notes: Lamar Jackson didn't have a passing touchdown but produced well for fantasy teams, hitting the 100-yard rushing mark for the third time this season. Jackson ran 16 times fro 136 yards and a touchdown, scoring 27.6 fantasy points.
Marquise Brown hit the 100-yard mark for the first time since Week 1. He had seven receptions for 109 yards. Brown has really been great down the stretch, having 12-plus fantasy points seven straight games.
Saints 21, Bears 9
Fantasy Stud: Michael Thomas. Thomas returned to action and had one of his best games of the season, looking healthy once again. He caught five passes for 73 yards and a touchdown. Thomas scored his first touchdown of the entire season. It doesn't help all the fantasy owners that used a first-round pick on him this year, but it was good to at least see Thomas find the end zone.
Fantasy Dud: David Montgomery. Montgomery was a huge bust after a great second half to his fantasy season. He had his worst game in a long time, rushing 12 times for just 31 yards and didn't catch a pass. His 3.1 fantasy points was a season low for Montgomery. The Saints did a great job of taking away the Bears hottest player.
Game Notes: Deonte Harris was a surprise top performer for the Saints at receiver, catching seven passes for 83 yards. His reception and yardage totals were season highs for Harris. He did not have a reception since Week 11.
Alvin Kamara had a season-high 23 carries, rushing for 99 yards and a touchdown. He also had two receptions for 17 yards, giving him 116 total yards. Kamara has 17-plus fantasy points five straight games.
Browns 48, Steelers 37
Fantasy Stud: JuJu Smith-Schuster. His team might have lost, but Smith-Schuster had a monster game. He got a ton of work with the Steelers playing from behind, catching 13 passes for 157 yards and a touchdown. He scored a season high 34.7 fantasy points in the game. Smith-Schuster ends his season scoring touchdowns three straight and seven of his last 10 games.
Fantasy Dud: Rashard Higgins. Higgins might have been the only player on either team to have a down offensive performance. There were a ton of points and yards in this one, but Higgins was really quiet compared to everyone else. Higgins had two receptions for 28 yards. Higgins had 55 or more yards four straight games before this showing.
Game Notes: Ben Roethlisberger had a rough start but posted huge numbers for his fantasy teams in the end, getting a chance to air it out often. He was 47-of-68 for 501 yards and four touchdowns with four interceptions. He scored 39.1 fantasy points, which was a season high.
Jarvis Landry continued his hot way, finishing with five receptions for 92 yards and a touchdown. Landry has five or more receptions six straight games.
Jeff Paur is a two-time finalist for FSWA Fantasy Football Writer of the Year and won the FSWA award for Best Fantasy Football Article on the Web in 2011. He also was the most accurate expert in 2012, winning the FSTA Fantasy Football Accuracy Award. If you have any questions for Jeff, email him at jeff@rtsports.com. Follow Jeff on Twitter @jeffpaur.