Studs and Duds: Divisional Round Games
Mon Jan 18 11:00am ET
By JEFF PAUR
Sr Fantasy Writer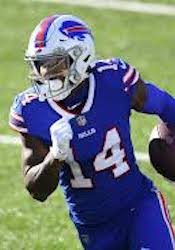 Diggs comes up big for Bills
If you were hoping for big fantasy scores this week, your wish did not come true. It was a really disappointing week for fantasy players. There were few big fantasy performances. Games were pretty low scoring and many of the top players were held in check. This was a bit of a surprise, especially if you consider some of the matchups. Many, including myself, were looking for some high-scoring, shootout games. It didn't happen, though. The games were fairly entertaining, though, so that was a plus.
Packers 32, Rams 18
Fantasy Stud: Davante Adams. Despite a matchup against maybe the best corner in the game, Jalen Ramsey, Adams still produced a very good game for fantasy teams. He had nine receptions for 66 yards and a touchdown. Adams showed why he has been the best receiver in the game this season. Adams has touchdowns three straight games and at least six receptions all but a game. He is having one of the best seasons ever for a receiver
Fantasy Dud: Jared Goff. Goff actually didn't play too bad, considering his thumb issue. Plus, he had a tough matchup on the road in cold, windy conditions, which isn't ideal for his injury situation. But even with that said, he gave minimal help to fantasy teams. He was 21-of-27 for 174 yards and a touchdown without a turnover. Goff had an erratic season and could be in a make or break season next year.
Game Notes: Cam Akers had all the carries for the Rams at the running back position. He ran 18 times for 90 yards and a touchdown. Akers dominated carries down the stretch for the Rams, having 15 or more rushes six straight games.
Rookie Van Jefferson filled in nicely for the injured Cooper Kupp. He had six receptions for 46 yards and a touchdown. All totals were season highs for Jefferson.
Bills 17, Ravens 3
Fantasy Stud: Stefon Diggs. Diggs had his usual big performance for the Bills. He had eight receptions for 106 yards and a touchdown. Diggs has 100-yard games five of his last six. He also has touchdowns four of six games. Diggs just keeps getting it done on a weekly basis as the top target in the Bills pass-first offense.
Fantasy Dud: Lamar Jackson. Jackson had been red hot but the Bills did a great job of containing him in this one. And to add insult to injury, Jackson was injured late in the game and had to leave. He suffered a possible concussion. Before leaving the game, Jackson was 14-of-24 for 162 yards with an interception. He also had nine carries for 34 yards. His 10.5 fantasy points was the lowest total of his entire season.
Game Notes: John Brown had eight receptions for 62 yards. This was his highest reception total since Week 9 of the season. He also tied a season high in targets, getting 11 in the game.
Marquise Brown finished with four receptions for 87 yards on seven targets. He really came on at the end of the year, having eight straight games with double-digit fantasy points to finish his year.
Chiefs 22, Browns 17
Fantasy Stud: Travis Kelce. Kelce posted his usual great numbers for the Chiefs. He had eight receptions for 109 yards and a touchdown. Kelce has touchdowns five straight and six of seven games. He is having one of the best seasons ever for a tight end. He just gets it done every week.
Fantasy Dud: LeVeon Bell. Clyde Edwards-Helaire was out, but Bell took a backseat to Darrel Williams. Bell ran two times for just six yards. He is clearly No. 3 on the depth chart for the Chiefs right now, which doesn't bode well for his fantasy value the rest of the season. Bell has done very little for the Chiefs since joining the team.
Game Notes: The big news in this game was Patrick Mahomes was knocked from the game with a concussion. He was unable to return and his status going forward is a question mark. Mahomes was 21-of-30 for 255 yards and a touchdown without a turnover before leaving the game. He also ran three times for 14 yards and a touchdown, giving him two total scores.
Rashard Higgins led the Browns in receiving. He had five receptions for 88 yards. Higgins finishes his season with at least four receptions four of his last six games. He played well in an expanded role for the Browns after Odell Beckham went down with an injury.
Bucs 30, Saints 20
Fantasy Stud: Tre'Quan Smith. Smith was the surprise leading receiver for the Saints. He had three receptions for 85 yards and two touchdowns. He scored 23.5 fantasy points, which was a season high for Smith. He had an uneven season but has shown flashes of big things. He could be setup for a bigger role in the offense from day on next year.
Fantasy Dud: Michael Thomas. Thomas had maybe a fitting end to his season, going without a catch for all his fantasy owners. It ends a very disappointing season for Thomas, who seems at a bit of a crossroads at this career. He had a monster year last season but was a dud this year, struggling with injury while doing little on the field.
Game Notes: Drew Brees had a terrible game to end his season and maybe his career. It was a shame to see him go out this way, going 19-of-34 for 134 yards and a touchdown with three interceptions. Jameis Winston attempted just a pass in the game and finished with more fantasy points than Brees. Winston threw a 56-yard touchdown pass on a trick play.
Ronald Jones returned to the lineup and ran 13 times for 62 yards. He looked pretty healthy and ran well. Leonard Fournette started for the Bucs, though, and rushed 17 times for 63 yards. He also caught five passes for 44 yards and a score, giving him 107 total yards and a touchdown in the game.
Jeff Paur is a two-time finalist for FSWA Fantasy Football Writer of the Year and won the FSWA award for Best Fantasy Football Article on the Web in 2011. He also was the most accurate expert in 2012, winning the FSTA Fantasy Football Accuracy Award. If you have any questions for Jeff, email him at jeff@rtsports.com. Follow Jeff on Twitter @jeffpaur.