Lineup Prep: Championship Games
Wed Jan 20 8:58am ET
By JEFF PAUR
Sr Fantasy Writer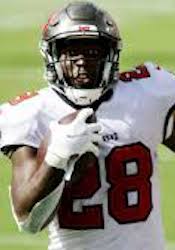 Fournette is trending up for Bucs
The games last weekend weren't too riveting. Let's hope that changes this weekend. The matchups are great on paper for this weekend. I think you can make a case for all four teams to advance. It should be a great weekend of football. Here is to hoping it plays out that way.
Now for my random thoughts for the week. . . . .
It is interesting to see Rams head coach Sean McVay noncommittal on Jared Goff going forward. There are new reports out there now that says the two have a fractured relationship. Goff signed a huge deal to be the franchise quarterback just a few years back, but his play this past season was a concern. He really struggled at times, holding back a Rams offense that was setup to post some big numbers. His inconsistent play could give the Rams a reason to bring in some competition for Goff this offseason. This will be a situation to keep an eye on.
You hate to see Drew Brees likely finish his career with a dismal showing, but that shouldn't take away from his tremendous career. Brees was a fantasy star for several seasons, posting huge numbers in the Saints explosive offense. He was one of the best to ever play the position. The Saints have a lot to address this season with Brees likely to retire and the team way over the salary cap. This could be a really different looking team in 2021.
And speaking of the Saints. What the heck happened to Michael Thomas? I think he might be the toughest fantasy player to rank next season. He has all sorts of question marks after this past season. He had one of the best seasons of all time just two years back, though, so it is hard to write him off at age 27. He doesn't have a long injury history and been great throughout his career. Personally, I'm not giving up on him after this year, but a lot will depend on who the Saints will have at quarterback next year or if Thomas lands on a new team, which is possible. He'll be a player to watch this offseason.
Watching Travis Kelce is a real treat. That guy runs the best routes for a tight end. He is so tough to cover. He gets open even with top cover corners shadowing him. Kelce is so, so good. And he plays with such passion, which is fun to watch. Kelce might be having the best season ever for a tight end. Enjoy it.
Cam Akers is really trending up in my view. He carried the load down the stretch and was a huge factor in the Rams offense. He should be the workhorse back for the team going forward. He showed he can handle the load and produce at a high level. It took some time for Akers to get going but once he got it going, he really produced. It was an impressive finish to his rookie year. Akers has a chance to be a high-level fantasy back from day one next year. He is a player to watch.
News and Notes: Quarterback Philip Rivers announced he is retiring from the NFL on Wednesday. He retires after 17 seasons in the NFL . . . .The Ravens released running back Mark Ingram on Tuesday. Ingram was a healthy scratch down the stretch this season, so this move isn't a surprise. It does pave the way for J.K. Dobbins and Gus Edwards to lead the backfield next season, though. . . . . .Saints receiver Michael Thomas is likely to have multiple surgeries on the torn deltoid and other injured ligaments in his high ankle this offseason. This likely explains his down season, trying to play through major injury this season. . . . .Titans receiver A.J. Brown said he had surgery on both of his knees on Tuesday. He also said he would have been out for the season after Week 2, but instead battled through his injuries and played at a high level.
HOT PLAYS
Leonard Fournette, RB, Bucs. Fournette continues to start for the Bucs even with Ronald Jones healthy last week. Fournette had 107 total yards and a touchdown in the game. He has 17-plus carries two straight games and at least 14 carries three of five. He has 15-plus fantasy points four of five games. He should get a workout again this week against a Packers defense that has struggled against the run this year. Green Bay allowed the fifth most fantasy points to running backs in the regular season.
Tyreek Hill, WR, Chiefs. Hill had another 100-yard game last week, catching eight passes for 110 yards on 10 targets. He scored double-digit fantasy points all but a game this year. His consistency has been off the charts in the Chiefs pass-first offense. Expect more of the same against the Bills this week. Buffalo played well defensively last week but allowed some big games through the air during the regular season. The Bills allowed six 300-yards passers this season.
Josh Allen, QB, Bills. Allen didn't have his usual huge game last week but still played well, leading his team to a victory against a good Ravens pass defense. He has an easier test this week against the Chiefs. Kansas City allowed the 12th most fantasy points to quarterbacks during the regular season. Allen has 35-plus fantasy points three of five games. Look for him to keep his hot ways this week in what should be a high-scoring game.
COLD PLAYS
Tom Brady, QB, Bucs. Brady has really been playing his best football of late. He has multiple touchdowns his last six games and just one interception during that stretch. He did fail to throw for 200 yards last week, though, against a good Saints secondary. He has a similar matchup this week against the Packers. Green Bay allowed the fourth fewest fantasy points to quarterbacks during the regular season and ranked seventh overall against the pass. Brady has the toughest road of the four quarterbacks playing this week.
Gabriel Davis, WR, Bills. Davis played on a gimpy leg last week and it showed in his play. He failed to catch a pass on four targets. He should be available to play this week but is going to be less than 100 percent for the game. This is a concern, especially after his poor showing last week. He'll be a hard player for fantasy teams to trust. Plus, the Chiefs allow the second fewest fantasy points to receivers.
Devin Singletary, RB, Bills. Singletary has 10 carries for 46 yards in two playoff games. He has fewer than double-digit fantasy points five of six games. He has double-digit carries just one of six games. He is a hard player for fantasy teams to have any faith in right now, getting few chances in the Bills pass-heavy offense. Expect more of the same this week against the Chiefs. Singletary might have a hard time cracking 10 touches once again.
SLEEPERS
Cole Beasley, WR, Bills. Beasley didn't catch a pass last week on just two targets. That was against a really good Ravens secondary, though. Beasley should be a lot more involved in the passing game this week, especially with Gabriel Davis hurting. Remember, Beasley had at least five receptions four of five games before last week. His workload should be a lot higher last week. Don't be scared to play Beasley despite his catch total last week.
Robert Tonyan, TE, Packers. Tonyan continues to be a big part of the Packers offense. He didn't score a touchdown last week but had four receptions for 60 yards. He also has touchdowns six of eight games, being a huge part of the red-zone offense for the Packers. His reception and yardage totals are a bonus. He gets a Bucs team this week that allowed the 10th most fantasy points to tight ends during the regular season.
Allen Lazard, WR, Packers. Lazard tied a season high with eight targets last week. He had four catches for 96 years and a score. He has double-digit fantasy points two of four games. The Bucs have a really good secondary but should focus their coverage on slowing Devante Adams. This means Lazard could get more favorable looks, having a chance to make some big plays. It would not surprise to see Lazard have another good showing in this one.
High/Low Scoring Games
Each week we will take a look at some of the high and low scoring games for the coming week. In high scoring affairs, get your marginal players on those teams in your lineup to take advantage of the possible points barrage. And in the low scoring games, keep those marginal players on the bench and make sure to have your defenses involved in those contests.
High Scoring Games: Chiefs/Bills, Bucs/Packers.
Low Scoring Games: None.
Jeff Paur is a two-time finalist for FSWA Fantasy Football Writer of the Year and won the FSWA award for Best Fantasy Football Article on the Web in 2011. He also was the most accurate expert in 2012, winning the FSTA Fantasy Football Accuracy Award. If you have any questions for Jeff, email him at jeff@rtsports.com. Follow Jeff on Twitter @jeffpaur.